Skip on the yellow brick road with the Savannah Children's Theatre presentation of "The Wizard of Oz." All ages and fans can come see this stage adaptation of L. Frank Baum's beloved tale, featuring the iconic musical score from the original MGM movie.
The show's opening weekend was May 19, but the show will be running May 26, 27, and June 2 and 3 at 8 p.m. and May 20, 21, 27, 28, and June 3 and 4 at 3 p.m. with a yellow cast and a green cast because on different nights different actors will be playing center roles.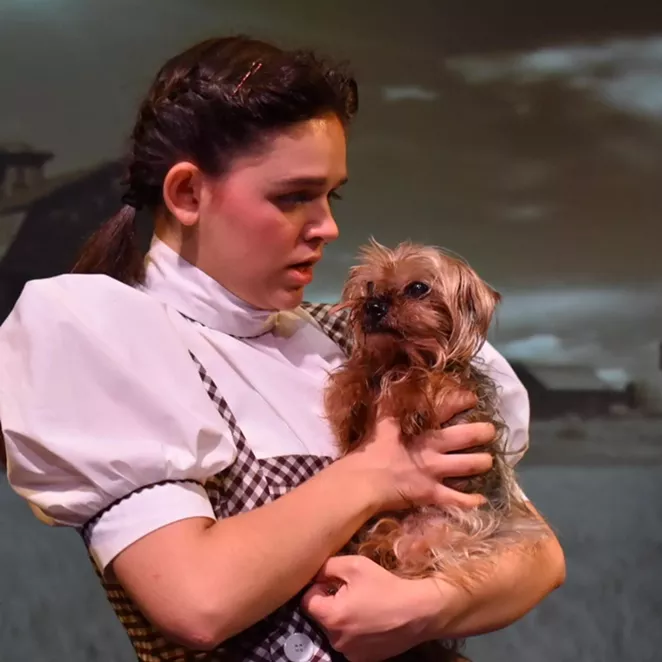 "It's exciting because his character is very true to life. Someone who is a bit of a salesman, a bit of a duplicitous type of individual, and yet ultimately has good intentions—at least this is portrayed in the iconic movie," said Joe Steffen, who is playing the Wizard in the yellow cast.
Steffen has been a supporter of the Savannah Children's Theatre for years. His daughter has been active with them, which is the strongest reason Steffen got involved—to support her. Steffen also serves on the Savannah Children's Theatre board.
"It's crucially important to me to support the Savannah Children's Theatre because of what it does in the community. It is important that we reach out to schools; we reach out to community centers and churches, and we get kids involved in theater," said Steffen.
Playing the Wizard in the green cast is Alexander Holcey. He has been involved in the Savannah Children's Theatre for many years as a cast and crew member.
"Even if you don't get the role that you want, there's always something to do, whether that's another role in the cast or something in the crew. There are many opportunities to volunteer or help the Savannah Children's Theatre family with different shows," said Holcey.
Dorothy is being played by Hanna Richmond and Taylor Rigsbee and the Wicked Witch is being portrayed by Jin Hi Soucy Rand, and Jaden Hathaway plays Glinda.
"This past year has been extremely challenging for me physically and emotionally. Once again, theater and community have saved my life," said Jin Hi Soucy Rand in a Facebook post. Rand has not been on stage in over five years.
These actors are bringing brains, heart, and courage to the stage. Jack Webber is the brains behind the Scarecrow; Joel Cadoff is bringing a big heart to the Tinman; and Joel Altherr is bringing a whole lot of courage to the King of the Forest, the Lion.
"Not taking anything from the other actors, but the three guys that play the Scarecrow, Tinman, and the Lion are triple threat guys. They can sing, they can dance, and they have physicality. They're really good," said Steffen.
ZFX Flying Effects provided flight training for the show and original video effects by the amazing Maria Negrin, a local animator.
"People will come away from this production seeing all of the wonderful effects we've managed to do. It won't shortchange anybody from the standpoint of getting to see something that's pretty amazing visually," said Steffen.
The Savannah Children's Theatre also announced their 20th season on May 19. Upcoming shows for the 20th season will include "The Hobit," "Sweeny Todd: School Edition," "The Little Mermaid," and more.
Take a journey somewhere over the rainbow with the Savannah Children's Theatre. Tickets can be purchased at savannahchildrenstheatre.org