Grilling is a summer pastime. Families and friends gather around the grill for fun backyard barbecues that are best enjoyed during this time of year. Every barbecue buff has their own tricks and tips for great grilling, but we're here to share some solid advice from a seasoned professional. Thompson Savannah, the opulent hotel perched along the Eastern Wharf, is home to the upscale dining concept Fleeting, which offers a hyperlocal and seasonally-focused menu. The restaurant also boasts a large wood-fired grill that is overseen by Fleeting's Chef de Cuisine, Cameron Dempsey.
"With a wood-fired grill, you get a lot more flavor and depth of smoke on everything that you cook on it," said Dempsey. "It also gives you the ability to control hot spots and how you cook on the grill because you're feeding that fire constantly. The wood is burning down to a coal base and that coal base can be manipulated so that you can establish a hot spot. You have slow cooking and smoking that happens too. I think all the variables that you get with cooking with wood is what gives you an edge over charcoal or gas."
The restaurant offers several satiating dishes that come hot off of that wood-fired grill.
"One of those is a carrot dish that has some farro verde, pomegranate seeds, pumpkin seeds and carrot puree. It's actually one of our vegan offerings. It has a bit of mint and pomegranate molasses, which is really tasty. Then, we have our wood-grilled steak. It comes with a bit of parmesan frico and green peppercorn. It gets a porcini and turbinado rub on it. That rub has a good bit of sugar, which allows a nice caramelization to happen," said Dempsey.
He also mentioned Fleeting's whole fish, which is served with chanterelle butter, roasted cabbage and bread crumbs. The fish is sourced locally from individual fishermen rather than mass fishing boats.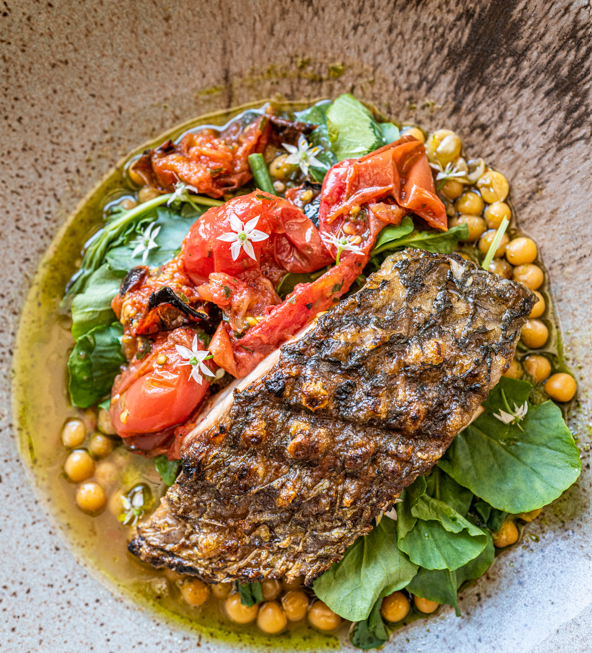 "Our fish is taken care of from the moment it was caught. It's super fresh. It's from our coastline. I think it's a good representation of what it means to cook in Georgia and in the South like we do," he expressed.
The key to all of these delectable dishes is the grilling method, and Dempsey shared his secrets for sizzling success when grilling out this summer:
Using enough oil or fat is crucial.
"Using enough oil or fat is really important when you're on a grill. If you don't, you get that lean meat to dry out and you lack caramelization because there's no way for that heat to transfer to the item that you're cooking. That's what oils and lubrication and fats are going to do for you," Dempsey explained.
While most lean meats like chicken and fish will dry out quickly in the heat of a grill, Dempsey recommends using high heat resistant oils like grapeseed or sunflower oil to make things easier to handle, improve sear and develop depth of flavor.
Keep it hot.
To lock in sear and achieve caramelization, Dempsey says direct heat is the way to go. Whether you're using gas, charcoal, wood or any combination thereof, maintaining a hot level cook surface is essential.
Avoid flare ups.
Lots of open flame and flare ups are things to avoid when grilling. Open flame will burn seasoning or fats leaving the item being grilled. It can also leave an unpleasant carbon taste, particularly with gas grills. Dempsey advises grillers to build up a coal base and avoid feeding the fire's direct center.
"I like to add wood from the edges of the coal bed and allow it to burn out before combining with the main coal bed," he said.
With these helpful tips, any barbecue enthusiast can take their grilling game to the next level. The key is to embrace the heat, which is Dempsey's favorite part of grilling.
He said, "I like the heat of it and how violent that heat can be. Once you develop that characteristic to be able to control the fire and cook on that really violent heat, it's very rewarding."
For more information about Fleeting, visit fleetingrestaurant.com/.