Daniel Herget, Executive Chef at Emporium Kitchen and Market, does what chefs do. He plays with his food when he is at home.
"I've been working on this dough at home for maybe a year." he says
The dough he is referring to is what he has created to be the new Detroit-Style pizzas his kitchen will be preparing on Monday nights.
"Everything about this type of pizza is a little different." he explained.
For those who aren't familiar, we discussed it in this space a year or so ago with a local pizza enthusiast who was making them at home and selling them on the side. Detroit style pies are different in that the doughs have a higher hydration level. A very 'wet' crust, if you will. The result is a chewy crust but crispy around the edges. The self-proclaimed pizza nerds will tell you they aren't all that easy to perfect. They will also tell you that when they are done right, they are delicious.
"I even did research on which pans would be best for these pizzas, when you consider how they conduct heat around the edges." chef says.
I'm not prepared to say the result is perfection, frankly I've not had enough true Detroit style pizza in my life to make those types of claims. But what I can tell you that is the pizzas that you will find on Monday nights at the Wayward Lounge inside the Perry Lane Hotel going forward are nothing short of exceptional.
Welcome to Motor City Mondays.
If you've never been, Wayward is one of Savannah's coolest bars, literally and figuratively. It's located toward the back of the Perry Lane footprint and offers a more casual feel than the Emporium bar along Drayton Street. Wayward has a room for video games back there and even rocks a popcorn machine up front for munchies. Carnival style fresh-popped popcorn, too. You know, the salty kind you put into a colorful bag? Yeah, it's great, but we can talk about that another time.
The problem was, that's the only food Wayward offers. Popcorn doesn't always cut it. So on Mondays you will now have the option for these Detroit style pizzas. In limited quantities.
"I made 20 doughs for this first night." chef says in reference to last Monday night. "Well see how it goes, we'll probably make some more on Mondays but they will be limited." Point being, when they are gone, they will be gone. Until the next Monday of course.
They are offering four different kinds of pies: Pepperoni, Quatro: a four cheese pie featuring their standing Wisconsin 'brick cheese', Fontina, Parmesan and topped with Burrata, a Mushroom Pizza topped with Roasted Mushrooms and Bagna Cauda (a garlic/anchovy paste) and finally the pizza that I think could become a signature item here, the "Coffee" pizza. Yes, coffee.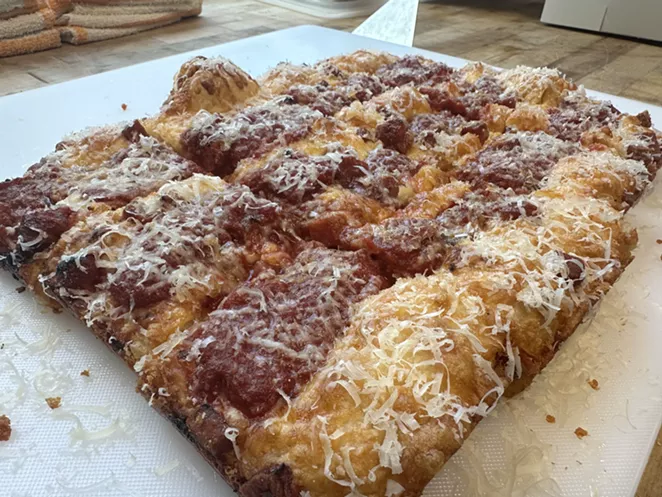 When chef described it to me, I wasn't exactly sure what to think, to be honest. The pizza is topped with regular brick cheese, which incidentally is like a mozzarella, then topped with bleu cheese crumbles and coffee grounds. Once it comes out of the oven, it is drizzled with hot honey. It sounds ridiculous, until you try it. It is an amazing combination of flavors. Highly recommended if you like bleu cheese.
As we said, these pizzas will be available in limited quantities only on Mondays at the Wayward Lounge. When they are gone, they are gone for the night. I suspect they will be so on the regular. They are large enough for 2, maybe 3 people to share, depending on the appetites of course.
See you next Monday for some coffee pizza.