Tall, lanky, and softly spoken, Henry Dean has been a professor in the School of Foundation Studies at SCAD since 1999. He recently received a 2023 Presidential Fellowship and a 2024 Sabbatical Award from the university; we meet in his Talahi Island studio to discuss the project he plans to complete during the upcoming sabbatical.

With his slight, but distinctive, English accent, Dean tells me, "I was born in the UK in County Kent. My mother was from Houlton on the Canadian border of Maine, and my dad was from Manchester, England." The family moved to the United States when he was ten, but he later returned to the UK to attend the University of St. Andrew's, graduating with an MFA in Fine Arts and Geography in 1980. He says of this unusual coupling of subjects, "Geography is very much art. It's an interest in landscape and landscape processes." And indeed, as we will see, his art today is "interested in the way things form and erode, are created, and are destroyed."
Following graduation, Dean received a job offer at a Shaftesbury Avenue theater in London where he planned to pursue his passion for directing and acting. However, he says, "I just had this epiphany when I was reading the acceptance letter. I suddenly realized that all I was doing was drawing, drawing, drawing, and thinking about visual art all the time. So, I went off to London and embraced being an artist. It was tough; I was living in Brixton during the civil unrest of the early 80's and barely making it, but I started carving stone and having exhibitions."
Four years later Dean moved back to America to be with his brother who was just finishing medical school in Philadelphia. He continued as an artist, painting in his Roxborough, Philadelphia studio four days a week and supplementing his income through carpentry work on the other three days. He says, "1993 was a big year for me. It was the end of a big relationship, and I had to decide what I was seeking. The answer was to go out on long three-month drive-arounds throughout the US. I'd teach workshops at a friend's art school in Telluride, and travel through Texas and New Mexico absorbing lots of different landscapes."
In 1999, Dean came to Savannah to show a sculpture he had worked on with his friend and Philadelphia studio partner, Alan Greenberg. It was installed as part of the city-wide show 'Functional Follies: 20 Architectural Objects of Delight' celebrating SCAD's first twenty years. [I remember Patrick Dougherty's building of maple saplings constructed in Forsyth Park.] Greenberg's piece 'Shelter' was displayed on the bluff on Turner Street. Based on a demonstration Dean gave during that visit, and of course based on the strength of his portfolio, he was invited to interview with the university and was offered a position. He began teaching drawing in the School of Foundation Studies in the fall of that same year, and gradually fell in love with our landscape of tidal creeks and marshlands.
Eventually, Dean became the coordinator of the SCAD Drawing Minor, earned an MFA in Painting in 2003, and was granted a Sabbatical Award on the Isle of Skye in Scotland in 2014. Drawing, journaling, and sketching are the foundation of his creative process, and over the years he has shown his multi-media work extensively.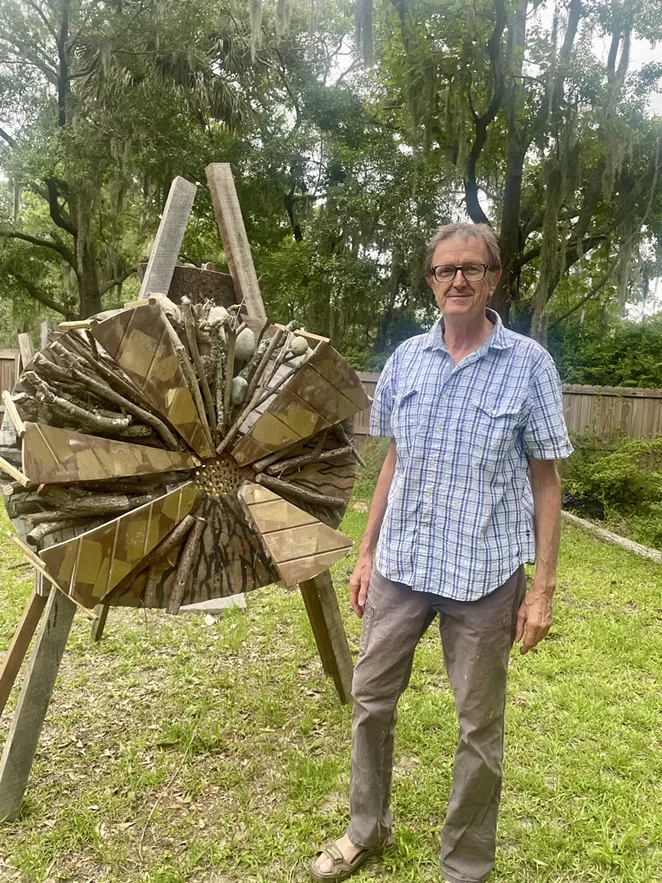 One of his early projects, 'Dig,' was a performance piece where he excavated a half-buried canvas by hand and by machine after it had spent 18 months degrading in an earth mound he built on DeSoto Row, before the construction of Starland Yard. Works he created on the Isle of Skye were shown at Savannah's Cultural Arts Gallery along with ten canvases he had immersed on easels in the marsh on the Chechessee River in Beaufort County. Over a two-month period the panels were often fully submerged and were eventually "painted" by the tides. This curiosity of how nature and geography intersect through such site-specific ephemeral installations informs his art practice…
…Savannahians may remember his 'Margins' solo show at Sulfur Studios in early 2018 or recall his participation in the 'Making Waves: A Collective Perspective on the Pollution of Our Waterways' exhibition at the Ships of the Sea Maritime Museum later that year. There, along with such local artists as Charlie Ellis, Harry Delorme, Cynthia Knott, and Lisa D. Watson, he again explored the comingling of artistic process and landscape.
Much of Dean's time-based work is available to view on his website, henrydean.com, and usually comes with the descriptor "Harvested from Installation." I am particularly intrigued by a six-foot piece hanging in his studio entitled 'Mud Shroud, year 20' as it was first created back in 2003. In collaboration with SCAD ceramic arts professor Yves Paquette, the large unstretched canvas has, over time, incorporated spiders and their delicate webs into the cracked and strangely beautiful remnants of red and gray clays.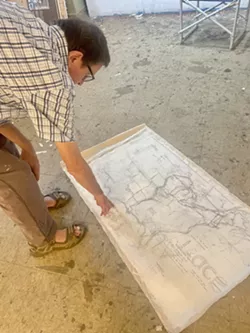 Such a comingling of art and landscape is at the crux of his next project to be completed during his 2024 sabbatical. Entitled 'Then and Now,' it incorporates a series of art installations that will follow the total solar eclipse occurring on April 8, 2024, when the moon's shadow traces a line across North America. As much as four-minutes, 27-seconds of totality will be visible from a narrow path through Mexico, 14 US states, and Canada.
Dean's idea is based on a previous pop-up installation he created on August 21, 2017, during the total eclipse so many of us experienced [remember buying eclipse glasses?!]. He drove to Elloree, South Carolina to install reflective panels, which were filmed during the eclipse, and resulted in a five-minute, 55-second real time video capture entitled 'Crescent Sun' shown during his 2018 Sulfur Studios show.
Dean has already driven the route of the coming eclipse's 60-mile-wide path of totality and has identified six or seven locations from Texas to Maine at which to install site-specific sculptures. Each sculpture features a starburst design on a tripod easel, and each will be filmed to document the stages of the eclipse: the arrival time, enveloping shadow, totality, return of light, and passing shadow. Interestingly, he tells me the umbra (the darkest part of the moon's shadow within which the entirety of the sun's face is blocked) will move at 1,000-miles-an-hour.
Finding locations, getting permission, and partnering with the local community is, by necessity, a large part of Dean's process. He recently received permission from the tribal chief of the Houlton Band of the Maliseet in Maine to build installations on their reservation along the banks of the Meduxnekeag River. Three sculptures in Vincennes, IN, on a former golf course transformed into a nature park, have already been installed over the course of an 18-days visit. QR codes will be installed at each location to explain the project and its scope to passers-by.
We go out to his yard to look at a prototype of the mixed media radial starburst sculptures that he fabricates on-site with local materials. As in his 2017 eclipse installation, he has added gold leaf, this time on to what he calls the "fins" so that, depending on the time of day and the season, light will reflect differently, altering the appearance of the sculpture.
Interested readers can celebrate Henry Dean's spiritual exploration of the connection between sun, moon, and earth by following his (eventual) Instagram posts @nowandtheneclipse24. And surely his ambition to have a gallery or museum grant him a retrospective of his fascinating full body of work will be realized soon. He is most definitely a thoughtful and important conceptual artist worthy of our attention.