On Saturday, Sept. 16 from 3-11 p.m., Big Blue will be hosting eight freaking bands at Southbound Brewery for a fundraiser. It will have a full set of local acts, and all ages are welcome.
So what's the fundraiser for? And why are "all-ages" shows important?
Well, Big Blue is on a mission (and a much needed one when it comes to our music scene): not another bar venue, but a space for all ages to listen and appreciate live music. They're looking at a spot in the downtown area.
And that's why Big Blue rules.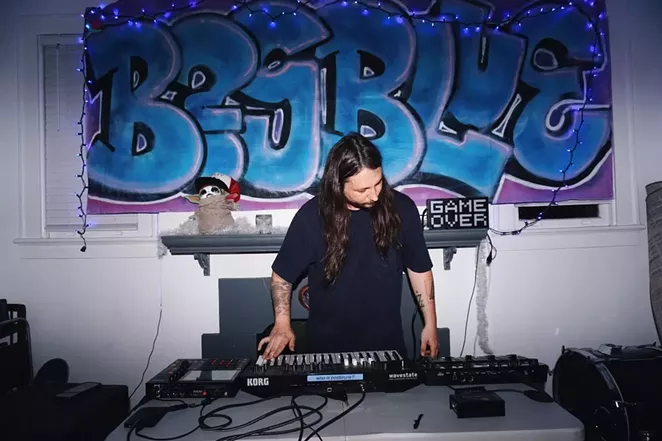 You see, over the past year, Big Blue's home renovations has flipped living rooms, garages, backyard patios, into well… house venues for a night or two or ten. The music lovers of Savannah have a hankering for this unique style of interior design. It's music's version of NFL Redzone: bringing the entertainment right to you. But then there was a problem; too many people started showing up.
Sure, a floorboard, or two, or an entire floor may or may not have busted through, but that's why Big Blue is fundraising for a venue with a very solid, concrete floor.
As big media productions go, there's a lot that goes into it. But Big Blue isn't even a big media production, which takes about every ounce of hard work you can possibly muster. Believe it or not, one does not simply find 80 people head-banging in their living room by mere accident. Since last year alone, Big Blue has uprooted a handful of living spaces over 20 times. That's a lot of renovating.
Pretty soon, you won't be needing to DM Big Blue for the address. Big Blue plans to have one centralized, not-house location, and they currently have their eyes set on an ideal spot with immovable objects.
So why do they do it?
Well at this point, why don't they do it?
"People enjoy it," said Gabby Hardesty. "I see X amount of people showing up to a show -I just think, 'I can't stop doing this. What are they going to do?'"
Hardesty, who books and promotes Big Blue (a formal way of saying "they pretty much do everything"), remembers her first show: her dad took her to a bluegrass festival when she was 14. She didn't need to be 21 to enjoy live music.
She doesn't have a background in marketing. She didn't go to a college to learn the chops of business management or anything like that. She just helped a roommate with one show at her house -kind of really liked it, then promoted the next one, and turned her Big Blue home into a Big Blue blarin' house venue.
Outside of houses, Big Blue only works with all-ages venues: the Sentient Bean, the Escape Room, and Southbound, for instance. All in all, Big Blue has done a lot of loading and unloading in some extremely generous and transformative spaces. But people are showing up, lots of them. Big Blue, it's about time we get a solid all-ages venue.
"I've noticed people from high school/early college come to see a show. I really like to see that," Gabby said. "We want to provide a safe and inclusive space for these people. Not just the musicians -but the crowd that's attending. It goes hand in hand. You can't have one without the other."
Savannah music's all-age representation is few and far between. I've contemplated sneaking in my eight-year old (music-appreciating) nephew to a Reverend Bro Diddley show at El Rocko, but his fake mustache kept falling off.
The public can help Gabby, her business partners Phillip Wise and Brett Davis (of the local band Missing Parts), Sal Martinez (who does the lord's work behind the camera during shows), and Nathaniel Thompson (providing quality visual projections)… you can support all of them and help fundraise their all-ages venue by showing up Saturday, anywhere from 3-11 p.m. at Southbound Brewery. This time, and a lot more in the future (thanks to Big Blue), all ages are invited.