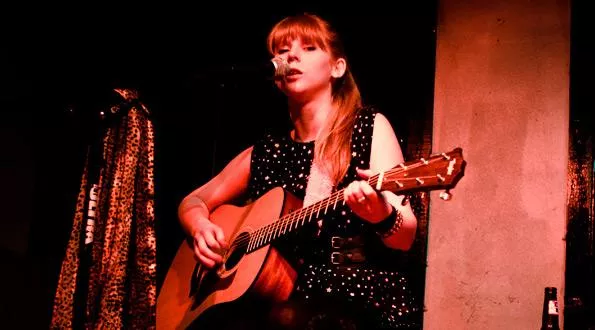 After seven years, various musical and artistic projects completed and a million friends made, Britt Scott is leaving Savannah.
The flame-haired Virginia native is headed back home (to Virginia Beach), and her dad's recording studio, in mid-October to make an EP of original songs.
Scott came to Savannah to study graphic design, and in 2010 her musical muse - which had been put into the closet while she pursued those other dreams - jimmied the lock and broke free.
"Before I started doing design, I was always in performing arts," Scott explains. "And sang in bands. When I came to SCAD, I didn't do music at all, for years. A lot of people didn't even know I sang until I started doing Karaoke.
"My relationship status changed, and that's when I started feeling the need to express myself. Before, I wrote music with other people, I didn't know how to play any instruments ... about two years ago, my roommate had a guitar and I stole it from her."
She'd founded the short-lived Outlet magazine, a quarterly guide to arts and entertainment in Savannah, in 2009. While assembling songs for an Outlet mixtape, Scott began rubbing shoulders within the city's musical community.
She collaborated with electronica guy Paul Goerner, aka Magic Places, and brought the pilfered guitar to every Open Mic in town, where she'd sing her own material, newly melodized from her scribbled poetry. She joined a belly-dance troupe.
Most recently, Scott has been one-third of The Lovely Locks, with Chrystina Parker and Anna Chandler.
"I don't think any other city could have been a better place to kind of change careers," she says. "Everyone's been so supportive of that."
One of the best-kept secrets in town (even though most people seem to know about it) is The House of Mata Hari, a vintage late-night speakeasy on Factor's Walk, admissible only if you know the password (or are a friend of Britt Scott's).
She's one of the original slinky Mata Hari lounge singers. "The Karaoke prepared me for the job," Scott explains. "I already had this list of songs I knew. And you have to be comfortable enough with yourself to be entertaining without interacting with anyone else onstage."
On Oct. 5 and 6, Mata Hari is opening up to the public - for the first time - with a special show called Carnival Bar Cabaret.
"It's more of a variety show that's burlesque-inspired - I say that only because it's not the full striptease; we're still keeping the classiness that Mata Hari's upholds," Scott reveals. "It's going to include more singing and dancing, comedy, fire-eating and a bunch of different sort of things. The plan is for it to be a monthly event."
Yes, Britt will be there.
The trip home, she explains, is to continue her musical mystery tour, maybe put a band together, get her name and exquisitely soulful voice out there. "Everyone says I'll be back," she laughs.
Will she? Scott is non-committal. "It's one of those moments where I feel I need to go away from the social environment in order to focus on the work, and kind of get that done, and then I can come back.
"The plan is just to figure out where it leads me. I just want to put my work out there and see where it goes. I'm open to anything, really."
Tickets for Carnival Bar Cabaret are $20 (shows at 7 and 9 p.m. Oct. 5 and 6). Call (912) 272-8693.
No Control #2
If you were at Southern Pine Co. for the first No Control Festival in February, you had a great time. I know I did.
The second one happens Saturday, Oct. 6 (again at Southern Pine, 616 E. 35th St.), and it's a "mini-fall festival," a bit shorter than before but with no less bang for your $10 buck. It starts at 5 p.m.
Here's the lineup: Savannah's very own Triathalon, Whaleboat, Deep Search, Hot Plate, Electric Park and Sauna Heat; Heyrocco and Cement Stars from Charleston; Odist and Cloudeater from Atlanta.
The lovely and talented Cusses are behind the festival, but the band's not performing because guitarist Bryan Harder has a conflict. They'll be back soon enough, playing Screamin' Mimi's Oct. 19.
Graveface Records will be there, however, with discounted tickets to the Oct. 27 Graveface Fest. Artists will do some live painting, there'll be food and bev available, and the casual camaraderie for which Savannah musical tribal gatherings are famous.
A splendid time is guaranteed for all.

Predatory instinct
Told ya: General Oglethorpe and the Panhandlers will play their final show Nov. 3 at the Sparetime. In the meantime, you can catch them Thursday (Oct. 4) at the Jinx, with Brooklyn's Dinosaur Feathers (they were here for Stopover in March) and Shark!, also from New York. This Stopover-sponsored show is called "The Ancient Predators Ball," and attendees are encouraged to wear masks, beaks, scales, feathers et cetera. No word on whether a General James Oglethorpe costume will do you any good, however.