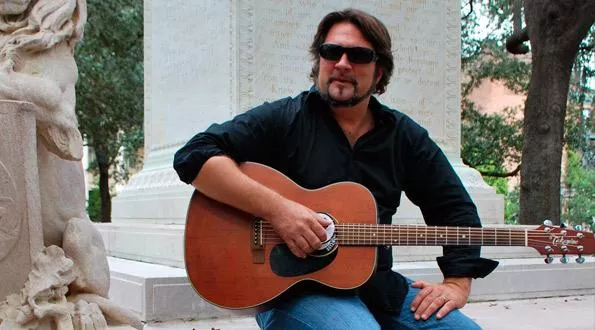 It took half a decade, but Eric Britt finally saw a light at the end of a very long tunnel.
Not surprisingly, the light was musical.
The former frontman for the highly-regarded roots-rocking band Hazel Virtue battled addictions, depression, personal trauma and a trainload of chained-and-locked emotional baggage to emerge victorious - and sober - with Greener, a highly personal set of songs produced at Elevated Basement Studios here in Savannah.
Personal, yes. But Greener is accessible, and highly enjoyable, acoustic-based rock 'n' roll. It may be the best locally-made record so far in 2012.
"Lemonade" rolls like a languid train across a broad Americana landscape; the euphoric "Up For Air" has gorgeous and unexpected chord changes.
Edwin McCain can only wish he had a song as cool and catchy as "Miami to Maine." Or "Act Your Age."
You can catch Britt playing solo, somewhere, almost any night of the week. On Thursday, Oct. 11, he and a band of musician buddies will celebrate the release of Greener with a concert-slash-party at the Mansion on Forsyth.
It's all the culmination of something the 42-year-old North Carolina native never saw coming.
"Greener is a survival tale," Britt explains. "It's meant to be conceptual, but not everything fits into this complete story like The Wall or something like that. The whole record's a tale of coming out of the woods. Surviving what life can throw at you."
Britt says his sister heard the album's title and congratulated him on his newfound environmentalism.
"The title's not environmental," he says. "It means that 'grass is always greener' concept.
"It's about hope, for me. The last three years have been the best of my life. I've finally figured out how to keep it between the lines."
Hazel Virtue was one of Athens' darlings, and a great white hope for the future of southern Americana. Even when the group disbanded, then re-formed in Charleston (with Britt still front and center), the national tours, and the hard work, continued.
"Man, that's a sexy thing when you're in your 20s," says Britt. "Hotel rooms and being in different parts of the country all of the time are pretty appealing to younger men and younger women, younger whoever. But it got kinda old."
Personality clashes doomed the band too, he adds.
Britt loves Savannah, where he's resided for a decade and change. "In Athens," he explains, "there was such an agenda with the music scene. This is the first place I've been where there can be an agenda if you want there to be. But I've learned how not to take the whole business part of it too seriously. And in the same breath, I'm taking it seriously as far as 'OK, I have to do X number of shows to pay these bills.' And it's been good. It's been fantastic."
Guitarist Kevin Rose and other musician friends encouraged him to record again. He'd been furiously writing songs and backlogging them, not quite sure if he was up to the task.
His cheerleaders won out. "You gotta keep putting out music," Britt believes. "Even if it's something that 10 people are going to hear. It's pretty elemental for me, anyway."
He credits Rose - the owner and in-house producer at Elevated Basement - with crafting the exquisite textures of acoustic and electric guitars on Greener. "There's no way I could have done it without Kevin," Britt enthuses. "I'd written the music and the words, but as far as bringing that certain drummer, or that certain bass player, it was all Kevin's doing. He'd hear a guitar part and say 'I know exactly who we need to do this right here.' A lot of what I brought in was airy and kind of experimental. He had a big push for 'Yeah, man, this screams out for drums and bass.'"
"I trusted him. He's really intuitive and bright. And the stuff that he's done is as good as anything I've done in other parts of the country. And he played all the screamo guitar leads. I've learned that the best singer/songwriter records are the one where the singer/songwriter says to the producer, 'Let's do it your way.'"
From the U.K.
British singer/songwriter Laura Marling - a critical favorite who's performed at Coachella and Bonnaroo - visits Live Wire Music Hall Wednesday. Oct. 17. Said Bill Flanagan on CBS Sunday Morning: "If you are old enough, you will hear echoes of Joni Mitchell, Sandy Denny and Leonard Cohen. If you are young, you will hear the voice of a new generation coming into its own." Marling's on a solo jaunt around the USA, which she calls the "Working Holiday Tour."
News & stuff
@ The Jinx celebrates its 9th anniversary Friday, Oct. 12, with our old friends Skeletonwitch, with Havok and Early Graves.
@ Better late than never (Vince was here last week), the Motley Crue tribute band Motley Crude plays Tybee's Rock House Oct. 13.
@ On Monday the 15th, Jeremy Davis and the Fabulous Equinox Orchestra have their second monthly "Mad Monday" performance at the Westin Resort. According to Davis, the first one sold out, so here's advance notice for ya ...
Congress Street Social Club welcomes back South Florida's incendiary roots-rock-reggae band Cope Oct. 13.
@ The Nashville-based rock 'n' roll trio Sound & Shape makes its Savannah debut Oct. 11 at the Wormhole.
@ As always, we heartily recommend checking out the Accomplices - the Savannah acoustic/country band turns up Oct. 13 at the Tybee Island Social Club.
@ The incredible John Jorgenson returns to Randy Wood Guitars in Bloomingdale Oct. 21, with a trio.
@ GAM is back - and you thought you'd never see them again! - to play the Jinx Oct. 27. Along with the annual blood-wrestling competition.
---
@