THREE YEARS ago, Logan McDonald had an idea that to him seemed simple and logical.
"I was seeing that there were more and more students outside of fine art that wanted to have shows, but didn't think that was a thing they could do. It wasn't a thing they could afford, either," McDonald said.
From this observation he conceptualized Le Snoot, a gallery that exhibits prints, all printed digitally in-house. The unconventional twist that continues to mystify first time Le Snoot artists: Le Snoot foots the bill for the printing.
McDonald, the Founder and Creative Director of Le Snoot, has heard artists new to the gallery say, "I never experienced this before. This doesn't make sense to me."
In 2012, he received the same feedback from friends when he was opening up the self-described "non-traditional gallery" that also doubles as a digital print shop.
Originally, Le Snoot was located downtown on State Street overlooking Wright Square. The small gallery space featured wood palettes and tin walls, giving it a comfy, rustic, DIY feel that embodied Le Snoot's mission of breaking the white-wall gallery stereotype.
This summer, Le Snoot relocated just south of Forsyth Park to 11 W Duffy Street, and McDonald has brought the same homey feel to the new larger space.
Witnessing the changing downtown landscape, McDonald expects the area around the new location to "be a booming area in the next couple of years."
More importantly, McDonald said, "This is closer to our customers, the people who actually come to our shows, the people who actually come for printing."
With the transition to a new space, fans of Le Snoot can count on the continuation of its digital printing services and unique gallery model, plus some new additions.
Their popular shows often use calls for entries to assemble exhibitions. Submissions to the calls, like many elements of the gallery, are free.
A staple of Le Snoot is their small print show, Three Little Prints. Three years ago they launched the gallery space by asking for entries of small 5x5 illustrations.
"Three Little Prints is definitely the baby of Le Snoot and what really gave it its start since the first show was so much bigger than we ever could have thought. We got hundreds of submissions. When people walked in, we had 600 little prints on the walls," McDonald told Connect.
Three Little Prints has since become an annual affair, and currently the gallery is accepting submissions for their third annual edition till October 24 and the show will open on October 31.
Le Snoot has also carved out a niche in offering artists opportunities to pay homage to pop culture icons, like Bill Murray, Joan Rivers, and Cartoon Network's imaginative series, Adventure Time. Seeing success in both submissions and attendance, McDonald is looking to make these tribute shows quarterly events.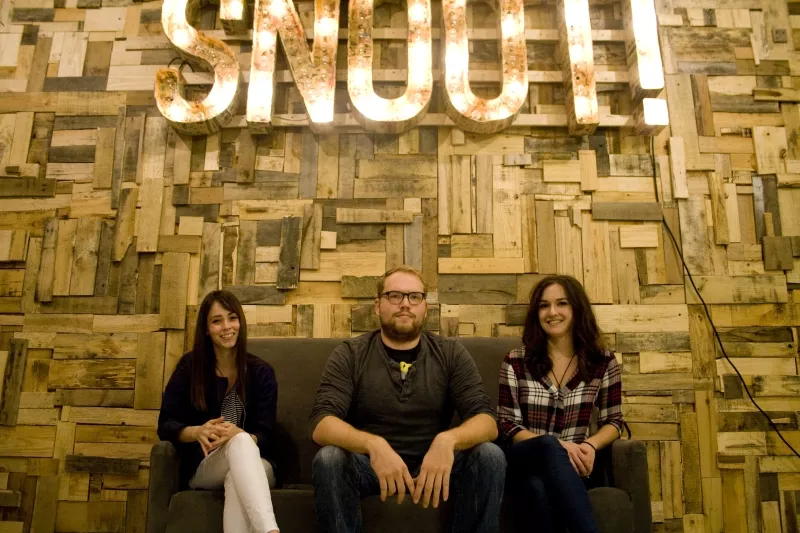 The newest call for entry in the line of pop culture themes is a tribute to Adult Swim, which is accepting submissions till October 10 for a public opening on October 17.
Along with reprising old favorites, Le Snoot is also bringing new things to the table this year.
"Right now we're in the process of really spreading out. The first two years, we were really illustration focused. Now, we're looking forward to having a game art show in the coming quarter and sequential art is a prime example of where we are branching out," McDonald said.
Comicazi, a show exclusively of sequential works, is accepting submissions until October 17 for an opening reception on October 24.
Furthermore, the new storefront allowed the Le Snoot team to expand the physical capabilities of their space.
"We built a stage this time around. We had a couple of poetry shows before, but that was always a pain because we had to change everything around and now we're set up to have comedy shows, small theatre events, bands, all of that stuff," McDonald said.
As McDonald sees it, setting the space up as a venue strengthens all of Le Snoot's offerings.
"Being able to have something that keeps people coming in, like the printing or having little events here, is, I think, key for any gallery."
McDonald also noted that with the move south, Le Snoot has landed in Art March territory and the gallery is excited to join the event in November with an exhibition by the SCAD Illustration Club.
Talking to the Le Snoot team, it's clear the new space has reinvigorated them, readying them to continue the traditions they have already established while bringing in new elements that they have been envisioning for years.
"We really have the perfect team to move Le Snoot into the future. We're really excited to see where it goes," McDonald said.
cs