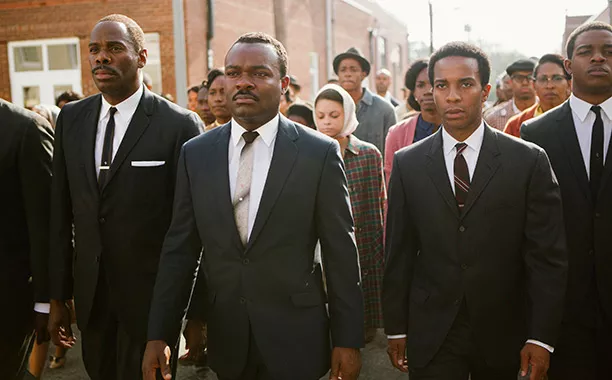 SELMA
***1/2
DIRECTED BY Ava DuVernay
STARS David Oyelowo, Tom Wilkinson
There were better movies released during 2014 than Selma – though all could be counted on just one hand with the thumb neatly tucked underneath – but were there any that were more topical, more important, more monumental?
That's up for debate and open to discussion; still, in a year that saw the United States take a huge step backwards on the path to racial balance – a 12-month period in which scores of citizens found nothing wrong with unarmed black males being killed by (inept at best, evil at worst) white cops but found everything wrong with the casting of a black child as a fictional cartoon character – it seems only proper that 2014 should end with a film that comfortingly casts a ray of light into the darkness of despair. Selma may be set in 1965, but its issues, its conflicts and, most importantly, its idealism remain front and center five decades later.
The script by first-timer Paul Webb examines the period when Martin Luther King Jr. (David Oyelowo) sought and fought for equal voting rights. From meeting with a reluctant President Lyndon B. Johnson (Tom Wilkinson) to strategizing with his friends and colleagues, King works tirelessly for his cause, always aware of the dangers that face both him and his supporters. But King won't be deterred, and he ends up staging a landmark march between the Alabama towns of Selma and Montgomery.
Ava DuVernay, a former publicist who's been quietly branching out into various filmmaking areas over the past several years, makes an assured leap onto the national stage, providing direction that's sturdy but unfussy. There's no need for pumped-up histrionics when history itself has provided such a compelling blueprint, and DuVernay wisely allows all emotions to naturally flow from Webb's script. Selma is a film full of feeling, particularly when dealing with the heavy weight of tragedy.
After an unarmed young man is shot dead by a cop (plus ça change, plus c'est la même chose), King comforts his grandfather by whispering, "God was the first to cry for your boy" – the most beautiful line of dialogue from any 2014 film.
As King, Oyelowo is faced with a problem dodged by, say, The Imitation Game's Benedict Cumberbatch and Wild's Reese Witherspoon. Few know much about the real-life figures of Alan Turing and Cheryl Strayed, so Cumberbatch and Witherspoon had a bit more leeway in carving out their characterizations.
But everyone knows what MLK looked and sounded like, which places Oyelowo at a disadvantage if he hopes to avoid the shallow mimicry seen in works like Lee Daniels' The Butler (the movie which had the bright idea of casting John Cusack as Nixon and Alan Rickman as Reagan).
No worries there: Oyelowo may not especially look like King, but his is such a commanding performance that he ends up thoroughly filling out the man. As Coretta Scott King, Carmen Ejogo is also effective, with her scenes opposite Oyelowo in essence helping to humanize King and making it harder for the naysayers to accuse the picture of unfiltered hagiography.