JENNIFER MOSS faced a common quandary upon graduating from SCAD.
"I came to SCAD not knowing if I was going to stay. I really love the city and I like living here but I just needed somewhere to work after school."
Months of searching turned up no viable studio options. Moss was considering leaving Savannah but mentioned her struggle to a friend who owned a building on Bull Street in the Starland District.
The Homeless Authority had occupied the building for many years, but upon their relocation, the large space sat in want of a new tenant. Her friend offered to let her use it as studio space until it was leased.
"I had been working in this space for a few months and every time I came in, I just thought— this needs to be more than just me," Moss says
This thought blossomed into a new venture when Moss shared her idea with fellow SCAD alumni and Savannah-based artists, Emily Earl and Alexis Javier Perez.
This past November the trio introduced Sulfur Studios, a community art space offering affordable artist studios.
Entering the building, its clear why Moss had a strong vision for the space. There are 14 rooms, ranging from 8x8 feet to 18x18 feet, each with its own locking door.
Tenants will have 24-hour keypad entry to the building and access to a shared storage space and kitchenette. The rental prices range from $175-$500.
Currently there are four studios still available. Artists from a variety of backgrounds including SCAD alums, self-taught artists, and professional designers have already rented the other studios.
The studios will be open monthly during the Art March.
"Every first Friday a crowd is going to be coming through. That's a big bonus of this space," Moss says.
"This will be a place where you can work on your art but you can also sell out of here," Perez says. "Another perk to the space is the community vibe."
Moss agrees, "If you are working in your studio and need an opinion, you walk down the hall and grab somebody."
Moss says that after leaving school that type of feedback is "the biggest thing you miss. We definitely want to have open critique nights, not just for our renters but anyone from the artistic community."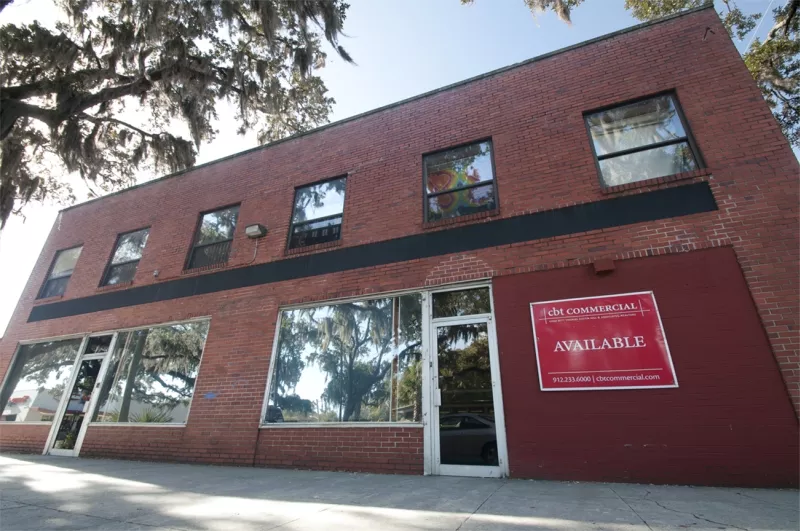 A large center room will be renovated into a gallery. The flexibility of the gallery space allows Sulfur Studios to host a diverse range of events.
Perez says community members have proposed everything from musical and artistic performances to yoga and meditation workshops. On Feb. 6, they will host a performance of Mermutants, an alternative puppet show.
"It's really whatever the community needs. We think we can make the space work for them. That's what's really exciting," Moss says.
Thus far the art community has warmly received Sulfur Studios.
"They can see our vision for what this place has to offer," Perez says.
Currently, Sulfur Studios has an online crowd funding campaign through Indiegogo.
So far enough has been raised to cover the renovations necessary to get the space prepared for the February 1 move in date. They need more support though.
"We really need to raise the money to get the gallery going because that's what starts to make this profitable," Moss says.
Their Indiegogo goal is for $8,000, but due to contributions received outside the site, Moss says just $4,000 would get the gallery started. The deadline for the campaign is Jan. 26.
"We're so thankful for the donations we've gotten, but to really make it what we envision, this full community space with a gallery, that's able to do all those events, we really need the money to fix it up," Moss says.
Sulfur Studios sees itself in the larger context of a changing Savannah. By being rooted in the Starland District, a burgeoning arts area, they hope to enact positive change in the neighborhood and retain talented artists in Savannah.
"If we can help make this neighborhood a more attractive place by bringing more people in and supporting other local businesses, then that is another reason people are going to want to stay in Savannah," Moss says.
Both Perez and Earl witnessed the various waves of development in the neighborhood.
"There's so much local artistic history in this area. It was booming for a second, then there was this weird lull, but I definitely feel that coming back," Earl says. She sees Sulfur Studios and other artistic efforts based in the area as part of that.
"With the changes that are going on in Savannah right now it's really important that the people who live here help foster the right changes. Locals should get involved and think about what they want this area to be and do something about it."
For Earl, Perez, and Moss, that something is Sulfur Studios, and they invite others to contribute to the project's success.
cs