YOU ARE a new student, recently arrived in Savannah. You may have questions about what it's like to get around by bicycle here.
That's understandable. Savannah is a city like no other. Allow me to imagine having a conversation with you.
I suspect you're wondering...
Where are all the bike lanes?
Here's the thing: There aren't many. Of the few we have, the Lincoln Street bike lane is just barely worthy of the title, "bike lane."
It's on the left side of street, the striping delineating it is completely worn away in some places, in other places the pavement is badly buckled and cracked, and it's frequently occupied by parked cars.
Still, Lincoln is a quiet, mostly shady street and it remains one of the city's busiest cycling corridors despite the bike lane's deplorable condition.
If there aren't many bike lanes, where am I supposed to ride?
The good news is many of Savannah's streets are delightfully bikeable even without bike lanes or dedicated infrastructure. When Gen. James Oglethorpe developed Savannah's city plan in 1733, he managed to create a bike friendly city hundreds of years before bicycles hit the scene.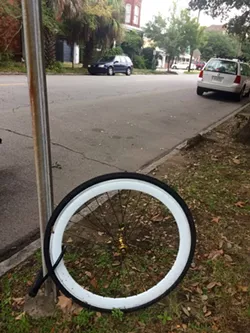 The grid pattern provides plenty of options for reaching destinations, and the parks and squares calm traffic. People come from all over the world to ride bikes in Savannah and you'll get to do it every day!
So Savannah is a cycling paradise?
Today Oglethorpe's plan is being used as a model by contemporary city planners across the globe. Unfortunately, an effort was undertaken for almost a century to undo his good work and make the streets more convenient for cars.
The manifestation of this misguided quest, which sadly is still underway, can be seen on streets like Whitaker, Drayton, Bay, Henry, Anderson, and Martin Luther King Jr. Boulevard. Because they are configured to move as many cars and trucks as possible as fast as possible, these streets are always unwelcoming, frequently dangerous, and too often deadly to people on bikes (and people on foot).
If your classroom building or workplace is located on one of these streets, please be extremely careful. If you can, avoid them altogether.
Would I be safer riding on the sidewalk?
In most cases, no. What's more, it's illegal in Georgia (unless you're some kind of child prodigy starting college before your 12th birthday).
The problem with sidewalk cycling is that it makes you especially vulnerable to collisions at intersections and near driveways, where drivers are scanning the street for other cars, but not looking for people riding bikes on the sidewalk.
Same goes for riding through the squares. When you reappear on the street at the far side of a square, you are in a location where drivers do not expect to encounter someone on a bike. And, of course, riding on sidewalks and through squares could make you a threat to pedestrians.
None of this will stop people in passing cars from yelling, "Get on the sidewalk!" at you. Pay them no mind. They're dumb.
What about the center of Forsyth Park? It's pretty wide in most places. It's cool to ride there, right?
A fairly obscure, almost totally arbitrary, and rarely enforced (until recently) ordinance requires cyclists to walk their bikes from an area near the café and playground, north to a spot near the fountain.
City marshals and perhaps even police officers will likely be stationed in the park for the first several weeks of fall quarter. Their mission is to catch you riding through the "Pedestrian Zone."
Whether you see people wearing badges in the park or not, and whether you choose to dismount or not, riding at a slow place is in everyone's best interest. Always, always, always yield to people who are walking.
Someone told me bicycle theft is rampant in Savannah. Is that true?
Yes. Whatever you heard, you can be sure the situation is significantly worse than that.
How do I prevent my bike from being stolen?
There are specialists here who could steal your bike even if you chained it to a boat anchor and submerged it in the murky depths of the Savannah River. However, you can make things much more difficult for the average bike thief by using both a U-Lock AND a cable lock.
Make sure you lock your bike to something damn near immovable. Locking your bike to a wooden porch railing is about as effective as tying it to a summer breeze.
Using a lock, no matter how secure, on the front wheel only (as in the accompanying photo) transmits this message: "I no longer wish to own this bike. You can have it. Except for the front wheel. I want to keep that, for some reason."
Now I'm starting to get a little freaked out. Give it to me straight: How do I survive on a bike in Savannah?
Stop at stop signs and traffic signals. Ride with traffic, not against it. Use lights at night. Don't wear headphones while you are riding. Get your hands on a copy of the Savannah Bicycle Campaign's BikeSAV guide and study it. It's available at coffee shops, bike shops, SCAD orientation events, and online here:
http://bicyclecampaign.org/routes/
That's not good enough. I'm still anxious. What should I do?
Take a free Strategic Cycling in Savannah seminar on Sept. 23 or 24. The sessions are free (you'll also get a free light set for participating) and fast. They are taught by one of the nation's leading bicycle educators. Email info@bicyclecampaign.org for more information.
cs