IN APRIL, Savannah sludge juggernauts Kylesa announced that the band was going on an indefinite hiatus. The news hit fans hard, but a huge surprise greeted them a few months later: in June, guitarist Phillip Cope announced his pre-Kylesa band Damad would reunite for the first time in a decade.
"The last [reunion] went really well," remembers Cope. "We talked about doing it again sometime, and time went by and by. We started talking about it again a while ago—everybody's schedules are just so busy."
Damad headlines the annual benefit concert for Jake Trout. Nine years ago, Trout was diagnosed with Hodgkins Lymphoma and was in remission until the cancer came back in April 2015. Supporting an old friend was the perfect opportunity for Damad to play once more. Now, theyr'e back with two reunion gigs: one at this weekend's Benefit for Jake Trout at The Jinx and an appearance at Midnight Communion IV, a festival in Long Beach, California.
From 1993 to 2001, Damad pushed the boundaries of extreme metal with a sound that was sludgy and grimy with a molasses-drip elasticity to it and an industrial edge. What really made it, though, was Victoria Scalisi's vocals.
While gripping the mic and wind milling her waist-length hair, Scalisi's roar sounded downright sinister in its quieter moments, her curdling, brutal roar unstoppable. With spoken political speech samples, noise, and electronics, the sound was hugely influential, the band's three full-length releases (1994's cassette Hotel American, 1997's Rise and Fall, and 2000's Burning Cold), and handful of singles and EPs are still sought out by metal fans and collectors.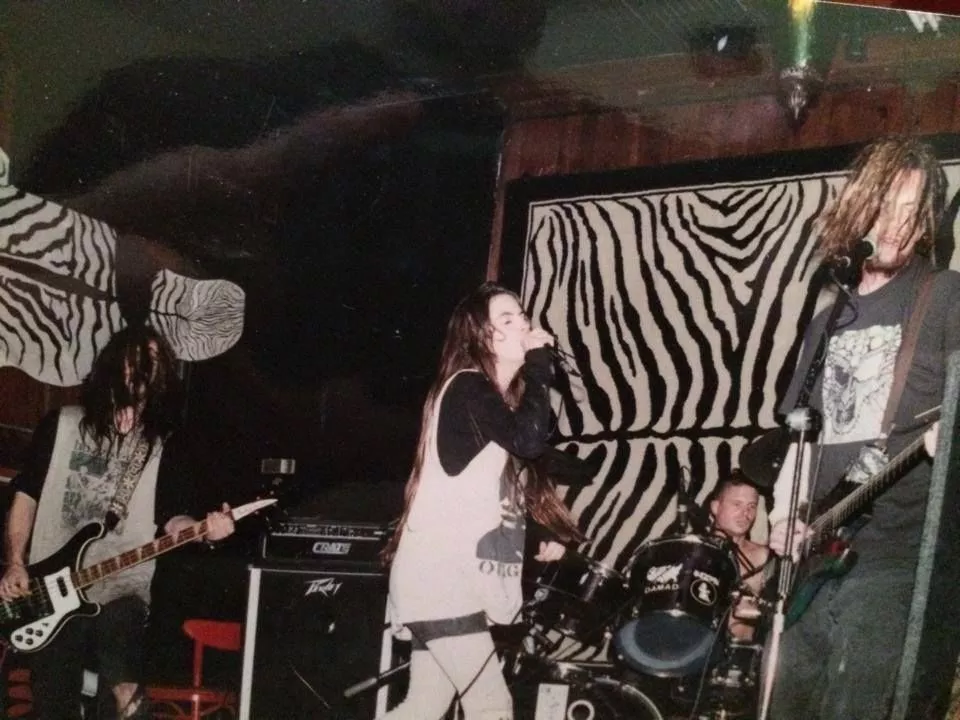 "I think there's probably differing views on how we actually got started," laughs Cope of the band's origins.
Much like today, Savannah's heavy and punk scenes were tight-knit in the '90s—Cope and Scalisi knew each other and even played together pre-Damad. Frustrated with Savannah, Cope moved to Chicago to start a band, but kept in touch with Scalisi, eventually deciding to move back and start a new project together.
"When Damad first started, there wasn't too much here," Cope recalls of the '90s Savannah scene. "There were a few things here and there—a spot that Kristy, Jake's partner, started called The Hang Nail, a gallery DIY punk space, had a lot of great shows there, Spitboy played there...that was pretty short-lived, but what it did was plant the seed for more to come. It took a while in Damad for the punk scene to build back up. It was typical Savannah—the scene kind of comes in waves. But after awhile, it wasn't just Damad anymore—there were other bands popping up. So it was a scene that really started developing with multiple people booking shows and lots of bands coming through for quite a few years there, it was a lot."
When Damad dissolved, Cope, bassist Brian Duke, and drummer Christian Depken formed Kylesa with Laura Pleasants. The rest, as they say, is history.
"Kylesa formed directly out of Damad, so the first cuts were kind of still rooted the way I was playing guitar," says Cope. "Over time—that was 15 years ago—so over time, it certainly changed. Going back was a little weird at first, but now I'm really into it. it's really fun how it's all coming back to me—I'm kind of surprised by how much I remember from back then. A lot of it is weird and noisy—I didn't know if I'd be able to play that stuff again! But so far, so good."
With six months of rehearsals, Damad is primed for an enormous return, and Cope is keeping options open.
"Right now, we just have the two shows, and we'll just see where it goes from now."
Cope notes that the band will have fresh shirts for sale at their show this weekend.
It's been fun to dive into the past, but Damad's members are immersed in their own projects. Scalisi and Scott Cooper recently formed the four-piece Lies in Stone with Ben Maher and Burke Stewart. Cope, who's primarily based in Columbia, is writing new songs.
"I'm working on some solo material right now, notably a song for the Planet of Doom soundtrack," he shares. "I also have a new band forming—no name yet—based in Columbia. It's too early to say what it'll sound like, but it's going to be heavy."
Damad takes the stage on Saturday with old buds Black Tusk and Columbia power-violence/doom/grind outfit Republican Marriage. Cope and company are looking forward to playing again and, above all, supporting longtime pals.
"Jake and Kristy, the two of them have been a part of our extended family since the beginning," Cope says. "They're our very close friends."
CS