Count on Odd Lot Productions to create new, inventive ways to get Savannah cracking up.
Murder mystery dinner theatre? Check.
Improv nights? Duh.
An Historical (Hysterical) Walking Tour? Natch!
Now that the most ghoulish and ghastly month is upon us, the troupe has created a fresh, entirely original production that guarantees horrors and hollers of laughter: SLOTHERHOUSE!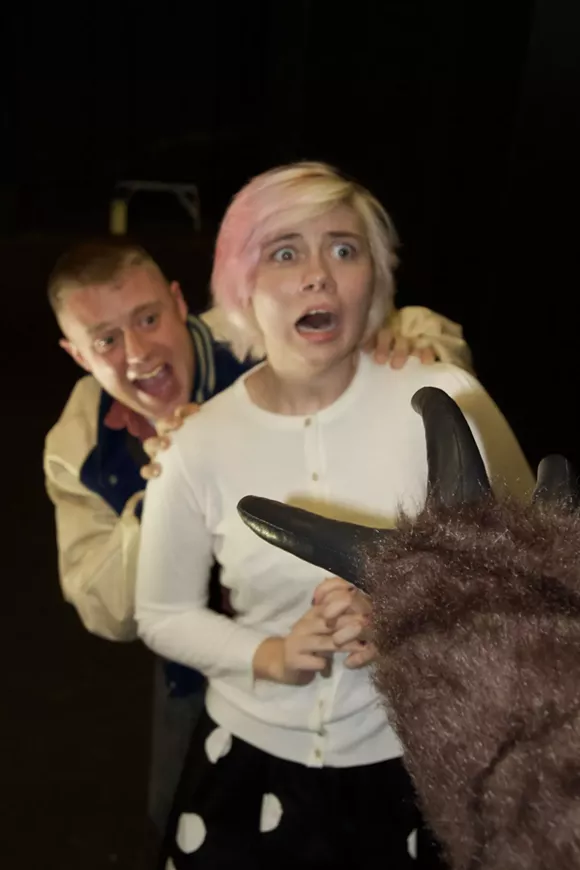 What's a Slotherhouse? Picture your favorite late-night horror host—you know, the Elviras of the world, typically a spooky individual on late-night cable access introducing so-bad-they're-good movies. Now, picture it on a stage rather than on a TV.
"Chris [Soucy] and I are always talking about perspective shows," says Odd Lot's Justin Kent. "One thing we talked about in the past was...we'd host a horror movie, have a host talk in between, and do a stage version of the bad horror movies you see on the SyFy Network. I decided to throw all those things into one big pile, so we have this show that comes out being presented by an old-school horror movie host, and then you get this incredibly realistic 3D version of a horror movie. So it's like a horror movie happening right in front of you!"
A fan of camp film and horror, Kent is proud to include all the best elements of a trashy terror film in Slotherhouse.
"The most reliable tropes are the scientist toying with nature, the greedy industrialist or corporate person neglecting the safety of everyone to make it big, then teen mother who is reckless but ultimately good-hearted...and we've got it all!" he says.
In Slotherhouse, the CEO of the City Zoo, desperate to keep his zoo open, forces top "zooilogical" scientists to mutate a slowpoke sloth into an exciting, audience-entertaining creature.
"Of course," snickers Soucy, "it goes horribly wrong!"
A variety of actors will help bring the tale to life, including Odd Lot regulars and newcomers.
"It's really created a cool feel to the show," says Kent. "It's very Odd Lot, and it's very much what you're used to seeing when you see Odd Lot—ridiculous, goofy humor—but there are also these people who haven't performed with Odd Lot before bring so much to the table."
"We are all theatre veterans," says Soucy. "We come from a lot of backgrounds, and we all have an earnest passion about performance. We were looking at other people's productions—famous plays written by other people—when we realized that we have in our ranks the ability to produce something completely original. We are improv-ers, but we are a complete production company."
In addition to the reward of showing off the troupe's talents, producing an original piece has many perks.
"When you pay your fees for the rights to a show, you're usually entering a contract to stick with that script, and even the stage direction," Soucy says. "That can be really sticky."
With Slotherhouse, the cast is untethered, and, though there are three shows in total, no two will be alike.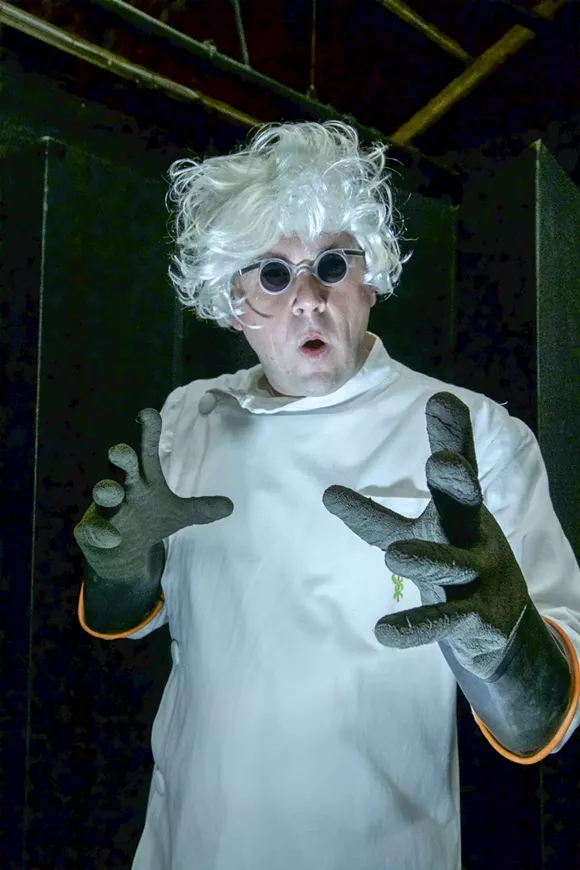 The troupe is particularly looking forward to their team-up with Psychotronic Film Society of Savannah, a Friday double-feature. First, audiences will be treated to a real cult classic, The Killer Shrews. Starring a young James Best (Dukes of Hazzard fans will remember him as Sheriff Roscoe P. Coltrane) and Ken Curtis (Festus, the crusty hillbilly of Gunsmoke fame), The Killer Shrews takes place on a tiny island, where a group of men and women have been stranded during a hurricane. They're not alone, though—killer shrews run amuck!
"From the bits and pieces I've seen, it's an old-school black and white film, and the killer shrews seem to be dogs with what appears to be bad rubber fangs attached their mouths," Kent laughs. "It makes a really perfect pairing with Slotherhouse."
Plus, "Jim Reed [of Psychotronic] is like an old-school horror movie host himself!" adds Kent. "He's always showing these brilliantly bad movies. I wanted to make this show sort of an event, so it's not just 'come see this original show' but 'come see this event.' He was one of the first people I thought of, and I'm excited to work with him."
After the Shrew screening there will be an intermission, followed by Slotherhouse.
On Saturday and Sunday, Odd Lot has invited horror aficionados Graveface Records and Curiosities to set up a table and sell vintage horror movie merch.
As to be expected, there's a little blood and guts in the production; Odd Lot feels the performance is great for a PG-13 crowd. Whether you're a scary movie buff or just ready to get in the Halloween spirit, Slotherhouse is sure to spook up some horrific laughs.
"I'm a horror movie fan, and the bad B-horror movies are my favorite," says Kent. "We want to play into the sensation of watching late-night TV and even add in late night commercials. It's the expereicne of being too lazy to change the channel."
"We aim to entertain!" adds Soucy.
CS