LOVING WHAT you do is the key to long-lasting and enriching success. I believe people too often neglect what they love, for what they think they should do.
Everyone's situation is different, but if you want to truly shine at something, love is the main ingredient. It's not easy believing in yourself and taking a chance on something, knowing you might fail; especially if it's something you love.
But, taking the chance and failing is better than never trying at all. It's is imperative to have people around you who want to see you succeed, and people for you to look up to, while trying to go after something that is important to you.
As that very community has developed here in Savannah, locals have truly banded together in an effort to support all of the young entrepreneurs as well as artists and enthusiasts of all kinds, in every way possible. That blueprint is one that will allow us to see tremendous growth in our local economy, and the culture that we are creating being locals in our neighborhoods.
For example, imagine if we all source our produce from Davis Produce or from the Forsyth Farmers Market. Supporting those farmers allows them to have more resources and capital to expand from within, giving them the opportunity to provide their services at a slightly cheaper rate.
We would probably be able to have farmers markets every day of the week, all over town where you could find whatever your heart so desired. Economies and communities like this exist, they just take a lot of commitment from the locals, and the mental paradigm shift required in seeing the importance of this type of awareness.
So the other day I bounced over to one of the largest and most well-known and decorated local companies, PERC Coffee, to enjoy a cup of something a little more elevated than what I had at home. While there, I stumbled upon a clear glass display case on the counter, containing what looked like small doughnut shaped pieces of heaven; and boy oh boy was I right.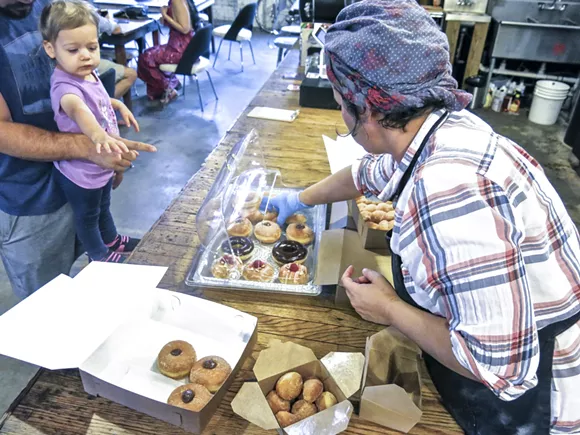 So, as I was eating these fluffy chunks of deliciousness, I decided to figure out who was behind this masterful baking, and decided to call A-Squad Bakery, the company who provides doughnuts to PERC every Friday and Saturday morning. After briefly telling her how much I loved these doughnuts, we agreed to meet up and chat over coffee.
Natasha Gaskill, head chef at A-Squad Bakery as well as the pastry chef at Smith Brothers, is one of the most down-to-earth, talented chefs I've met here in Savannah. I got chance to sit down with her one on one and speak to her about how she gained her inspiration to bake, and how that translated into the creativity that she brings to our city today.
Originally from Bellingham, Washington, Natasha found herself her in Savannah as her and her family transitioned here for working opportunities, and the vibrations ended up sticking. As she began to settle in, she worked as the pastry chef at Lulu's, which seemed to be the most natural shift as she studied in the culinary program and at Savannah Tech, taking as many baking course as she possibly could.
While working at Lulu's, she was afforded the opportunity to share space with a few nationally renowned wedding cake designers, which is what added much fuel to her passion for creation and baking. Taking advantage of the opportunity to learn from such great talent, she began watching, learning, and absorbing as much as she could, adding skills and tools that she would later learn to master.
Natasha grew up loving baking, so as her life transitioned more and more in that direction, she began to lean in.
"We converted our liveable shed in our yard, into a commercial kitchen for me to bake out of," Natasha explained. "And after a few setbacks involving zoning, we were able to make it happen, which has allowed me to work at my own pace, and not force anything."
After making the decision to follow what she loved, she stepped down at Lulu's as the pastry chef and made another shift to being the pastry chef at Smith Bros Butcher Shop, where she makes treats for them and as of recently PERC Coffee; more specifically than just treats, doughnuts. Delicious, sugar sprinkled, nutella filled, glazed, wonderfulness.
And the great part about it, for Natasha anyways, is that they are only available at PERC on Friday's and Saturdays.
If you aren't there within the first hour or so of the door opening, you might not even get to see any of these delicious fried treats.
"It feels amazing to have people love what you do. And this collaborative local economy that is being built here allows everyone to reach their highest potential," Natasha said.
I couldn't agree more about that. Savannah has this thing about it, and if you have an idea, and the motivation to work as hard as you can to get it, our community will support and help you reach the things you strive for.
This is a new thing to our city, and I believe as more and more young, diverse, creative individuals continue to see the potential in our city, the larger foundation of support to our intentions and passions to shine through. Let's keep chasing our dreams and stirring that pot, people.
cs