BREW/DRINK/RUN was founded on the concept that good beer and a healthy lifestyle can, and should, go hand in hand. The combination of fun 5k run with a craft beer festival is the Brew/Drink/Run dream.
Fortunately Matt Grey, the man behind the Craft Brew Race Series, had a similar vision.
"As beer fans, runners and event producers we love the idea of combing passions. We feel that craft beer and running go hand in hand. Enjoying a cold, well-craft beer following a workout is a great way to recover."
Billing itself as a "a celebration of local craft brewing, an active lifestyle, and the surrounding community" the Craft Brew Race Series has two of the things BDR was founded on, good craft beer and running.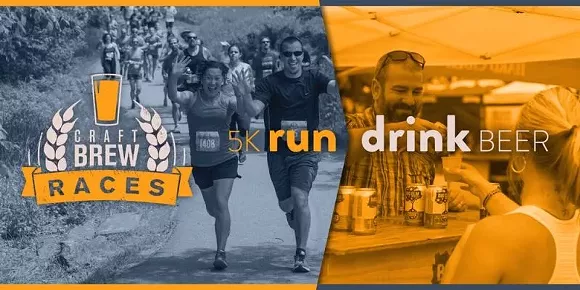 The 2017 event happens on March 11.
Craft Brew Races started as five events spread out around New England. As the concept has grown the number of events and their locations has expanded. Savannah was chosen as a run location three years ago and now serves as the first run of the Craft Brew Race series Season.
"We come back because the event has been a success. In the past two years we have seen steady growth and we know that people really enjoy this event" says Grey, who is also the President of Grey Matter Marketing, the organizer of the Craft Brew Race series.
"We anticipate 1200+ runners and attendees (in 2017). That would be 100 more than last year."
Quite a success especially since the first year of the Savannah race hosted around 500 runners.
The race and festival take place at the Savannah International Trade and Convention Center. The route is a straight forward, flat and if you want it fast out and back. The start/finish line is adjacent to the Trade Center, so parking and the festival are easily accessible. The route takes you out along the west end of Hutchinson Island.
It's not the most scenic of routes but there is beer waiting at the end.
Once your run is over the festival will be waiting at the finish line for you. The Craft Brew Races Beer festival starts at 12:30 and runs until 4 p.m. (last call 3:50).
This year's version includes more breweries than previous years, more than thirty. Many of these breweries are local, most are located here in Georgia but there are some national favorites thrown in. Expect to see all four of the Savannah breweries represented as well as a number of regional breweries.
If beer isn't your thing there are a few cider breweries as well. Food vendors will be available and live music will be playing on the esplanade by the river.
A portion of all proceeds will go towards The Georgia Craft Brewers Guild so by running and drinking you'll be helping the Guild create a better beer environment throughout Georgia.
Grey puts it this way:
"We are proud to support the Georgia Brewers Guild in their efforts to expand the brewing industry in Georgia. Since our event features local brewers in each state, our first call when looking for a charity partner was to the Guild. We have proudly supported them each of the past three years and look forward to continuing that for future years. In several states where we host these events, the local brewers guild is our non-profit partner. We like the idea of supporting a group that can further the brewery businesses that exist and assist new brewers in the future. Local beer means local jobs and who can't get behind that?" he asks.
Both the race and festival are located at the Savannah International Trade and Convention Center. The run on March 11 has a nice late start, noon while the festival gates open at 12:30 p.m. Both events are strictly 21+ (bring your ID). Tickets come in several flavors; there is a run and festival combined registration for $60.00, the 5K/designated driver ticket and the festival only ticket are both $50 and a designated driver ticket is $15. Race day registration is available but prices go up by $5. All runners receive finisher medals and everyone goes home with a pint glass. You can register at craftbrewraces.com/savannah.
cs