NANCY BRANDON'S second novel, Show Me a Kindness, begins just as the effects of the Great Depression are hitting Vidalia, Georgia, and the book is a lot like the onion that would make the town famous—sweet yet complex, with a bit of a bite.
The challenges of poverty and staid social mores spur the plot and cast of characters, who are also dealing with mental illness, closeted homosexuality, and racial inequality at a time when such things weren't even named. Brandon threads them together with glorious language and a gentle hand, tying them up for a surprising and satisfying denouement.
A young woman named Marthanne leaves Savannah to find herself in Vidalia, where the community is at first welcoming, then wary, as she begins to display some disturbing behaviors. The only person who stands by her is a black domestic worker named Comfort, who has suffered tragedies of her own. Matters are complicated by several love triangles, including one involving three people and only two bodies.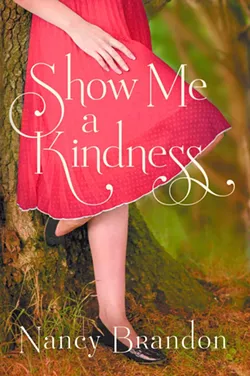 Speaking of double lives, fans of Brandon's debut work of fiction, Dunaway's Crossing, may know that she is Nancy Remler, director of the Center for Teaching and Learning at Armstrong State University. She is also a longtime member of the Savannah Scribes, a writing group that has yielded several successful novels over the last year. We caught up with her on campus in advance of her book signing at E. Shaver Bookseller this Saturday, July 1.
Why the pen name?
As an academic, I'm required to do scholarship and I've actually written a few textbooks and other academic articles, so this was something that I wanted to do separate from that work.
Nancy Brandon Lawson is my given name. I'm from Middle Georgia, and there were four Nancys in my family, including my Aunt Nancy and my cousin Nan, so to distinguish me from the others I was always Nancy Brandon.
How long have you been a fiction writer?
Ever since I could write! My grandmother wrote children's stories for Highlights magazine from the 1950s to late 1970s, a series called the Aloysius stories. And my mother was a journalist for many years for the Macon Telegraph. I grew up in an environment where one wrote. It's what one did.
You tackle a lot of big topics in this small town. Was it hard to research what we now call Dissociative Identity Disorder in the context of time and place?
Well, earlier in the 20th century mental illness was at large was misunderstood. Even the experts didn't know much about it compared to what we know now. Because of that, there's not a whole lot other than clinical information, and I didn't have the expertise to dig through that. But I wanted to make sure that I presented somebody with this condition in as accurate a way as I possibly could, so I read autobiographies. The first one I read was Herschel Walker's. His book Breaking Free was the one that really inspired the story, in fact.
His and the other autobiographies I read painted a picture of what it's like to live with the losses of memory, the headaches, the outbursts of anger, the utter confusion. And these authors were highly functioning people—there are many out there who aren't and wouldn't even be able to write a book. There are some that suffer to such an extent that they're suicidal because it's just so frightening.
Hard to imagine dealing with that kind of marginalization and trying to survive the Great Depression.
It was a hard time to be alive. But it was a different way of surviving than what we think of back then. In the urban areas, there was vast unemployment, people just struggling to find work and something to eat. Out in the plains, there was a huge drought, and farmers left in droves for California to see if they could farm there. That didn't happen so much in Georgia—there was plenty of food, but prices dropped so much it didn't make sense to sell it. Nobody really went hungry, but there was no income coming in.
This book has a handful of major characters all marginalized in some way. There's Royce, who is homosexual. You've got Marthanne and Oma who suffer from mental illness, plus they're women, so there's not a lot of opportunity anyway. And you have Comfort, who is a woman and African American, trying to find any work she can.
Marthanne/Oma is the main character, but is it correct to perceive Comfort as the heroine of the story?
I think so. Because she has been marginalized her whole life and will be for the rest of her life, she doesn't really take any guff. But she's still feeling the presence of her deceased twin sister and sees a similarity with Marthanne because she has a two-fold existence as well, just in a different way. Comfort is a devout Christian woman and she understands that if she doesn't go to bat for Marthanne, no one will.
The homosexuality in the story is not outward, and that repression turns into such a toxic presence. Was it difficult to get inside the head of a gay man at that time?
How I picture Royce, he would not identify himself as a gay man. He loves Lawrence, but I don't think he understands that's he's attracted to men. It's a very personal thing. He was aware enough of himself to know that if he were forthright about his feelings, he would be shunned. Even in his day, this way of life was described only in pejorative terms. He couldn't put a label on how he feels but knows he has to hide it.
The story of the Vidalia onion figures in as Comfort finds work on her cousin Ed's farm. How much of that is true?
That part's all true! An African American farmer named Ed Tinsley in Tattnall County was one of the first to grow a variety of Bermuda Sweet onion and realize its potential. The sulfur content and the sandiness of the soil in that part of Georgia enables those onions to grow so big and so sweet that they're a little bit different. It was an agricultural accident!
Most people credit a man named Moses Coleman, who lived in Toombs County, but Ed Tinsley was discovering the same thing at the same time. He was a WWI vet and took his benefits and went to college to study agriculture. If you go to the museum in Vidalia, there's a display about both Tinsley and Moses Coleman, crediting both of them for getting this whole thing started.
You weren't around for the Depression, but how has Vidalia changed since your own childhood?
When I was a kid, Vidalia was just another small town like the one I grew up in, which is Hawkinsville. I grew up seeing Vidalia become famous and watching this onion become big business. That onion put Vidalia on the map. People come from all over the country for the Onion Festival every April. It's a bucket list thing for people.
If you think about what these farmers have done with an onion! They had the business savvy and political savvy to go to the state legislature in the 1980s and protect the name.
But small town Georgia is much more than that. It's the people. That town is not an onion. It's good people, smart people.
Is there a recipe for Oma's onion pie?
There is! When we had the launch party we handed out a recipe card. One of my colleagues here at Armstrong took it home to Greece with a bag of onions, and his mother-in-law made that onion pie. They've taken the recipe international!
cs