IN April 1564, William Shakespeare was born in Stratford-upon-Avon, Warwickshire.
363 years later and 100 miles away, David Robert Jones was born in Brixton.
The Englishmen would go on to be called true geniuses, unparalleled artists of their time, shrewd businessmen who understood how to turn a profit on their incredible talents.
The Savannah Shakes are ready to celebrate them both.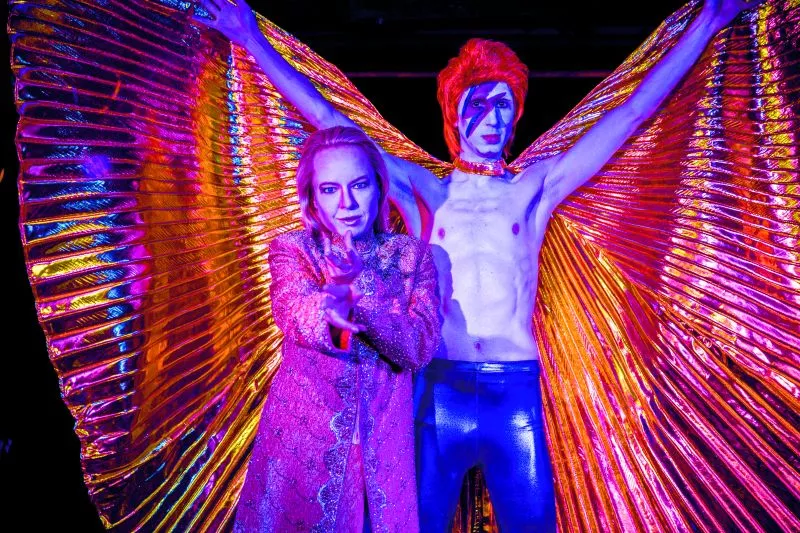 In their summer production, the local Shakespeare theatre company honors the life of David Bowie and the legacy of Shakespeare. It's an exciting affair, but the show also marks a departure as Shakes co-founder and Tempest director Sheila Lynne Bolda moves away from Savannah.
"For me, this is kind of bittersweet," she says. "But it was never a company of one—it was always a collective. Savannah Shakes will be continuing on, and there's a good, solid group of people to do it. And there's no saying I won't come back to town to help out with shows."
If you've kept up with Savannah Shakes, you're aware that their productions have followed a decades theme: Henry V was set in the Vietnam War era of the 1960s, Hamlet followed a 1950s theme. The '70s were next in line, and the troupe wanted The Tempest to glam it up.
Then, David Bowie died.
"I still haven't fully accepted that he's dead," says assistant director Grace Keller Scotch.
"We started putting it together and thinking about the mood and everything, and Ariel is so Ziggy Stardust," Bolda says with relish. "Ziggy was that first completely androgynous sexual thing on the rock scene, and it just makes sense, because Ariel is that kind of tortured magician, and Prospera comes in with her own sort of magic. They work together well."
The Tempest, set on a remote island, tells the story of Prospero (in the Shakes' case, Prospera, played by Pam Sears), a sorceress who wishes to restore her daughter, Miranda, to her rightful place, conjure a terrible storm, and cause King Alonso and her brother Antonio to believe they're shipwrecked and marooned on the island.
But in the Savannah Shakes' Tempest, Alonso and Antonio are just "a couple of drunken a-holes wandering around New York on a stormy summer's eve" and, in the midst of a bad acid trip, end up in an unfamiliar club, the glitzy Aisle 54 (inspired by, as one might assume, the legendary New York City nightclub Studio 54).
According to Bolda and Scotch, the script's structure and characters fit perfectly with a 1970s theme. Prospera represents the feminist movement.
Ariel, the comic sprite, represents the LGBT movement.
And Caliban, a native of the island who ruled the land before Prospera arrived, is the civil rights movement.
"And," Bolda adds, "We're at Bay Street Theater, which gives it a whole extra level. Instead of hiding the fact that we're in a dance club, we're in a dance club, it's Isle 54, and it's Prospera's club she stole from Caliban. The space is the set."
"We've actually found a lot of moments that maintain integrity of the text by putting it in a slightly new context," adds Scotch.
Audiences can expect a soundtrack of Bowie favorites, from drunken sailors singing "Moonage Daydream" to cuts from Ziggy Stardust, Diamond Dogs, and more '70s era essentials from the Thin White Duke.
"As much as we love having David Bowie in the soundtrack, there are a few parts where Ariel sings too," says Bolda.
"And Jeremiah Kizer, the actor playing Ariel, came up with tunes that sound very Bowie-like. Those songs are some of my favorite moments of the show."
The directors have enjoyed working with timeless text and timeless songs for their summer show.
"Bowie, even in death, is just everywhere all the time," Bolda says.
"It's still so relevant," Scotch chimes in. "Everything he did is so universal, yet so unique, and it still has something to say, even if it was recorded 40 years ago. And people who see shows like this, set in a modern era, are so surprised that they understand what's going on and that it's relevant. And it is: Shakespeare wrote universal, relevant things that are essential to humanity and the dark parts of humanity."
"And the fact that David Bowie has such a far-reaching fandom, I hope it will pique people's interests who wouldn't consider going to a Shakespeare show otherwise," adds Bolda.
The Savannah Shakes encourage audience members to immerse themselves in the theme—break out your bell bottoms, fringe vests, and disco duds, or at least throw on a Bowie shirt.
After all, your show ticket grants you free admission onto Club One's downstairs dance floor after the show, so why not hit downtown in struttable style?
The Shakes will be back in fall with a highly-anticipated production of Titus Andronicus, told through the lens of '80s grindhouse films. Before then, they're looking forward to giving a proper farewell to Aladdin Sane.
"Bowie is like a modern-day Shakespeare," Bolda says.
"Though he didn't write plays, he was bloody prolific, working up to the day he took his last breath. He was so committed to his art, and it transposes into Shakespeare so brilliantly."
CS