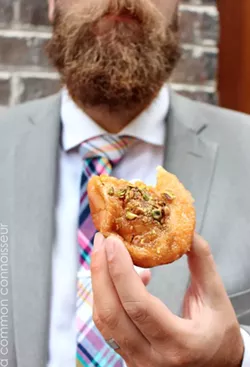 ON July 1, Savannah became Georgia's first location for the Rise Biscuits Donuts franchise. Rise Biscuits Donuts has been sweeping the Southeast since the opening of its first store in Durham, N.C., in 2012.
With fourteen sites and more under contract, the sweet and savory menu concept has won various awards and appeared on an episode of Food Network's Donut Showdown.
Now, Broughton Street serves up Rise's acclaimed made-from-scratch biscuit sandwiches and house-made doughnuts from 7 a.m.–2 p.m. daily.
When it comes to the food industry, the word franchise is marred with the stigma of mass-produced, freezer burned, low-grade fare. As for Rise, owners and mother-son duo Cristol and Shane Johnson set the record straight:
"What drew us to Rise was that everything is handmade from scratch. There is no freezer because everything is fresh."
Cristol explains their mindset as Savannah natives:
"Even though Rise is a franchise, we are trying to bring local flair because we are both local. We want to incorporate local elements to make it Savannah."
As a chef himself, Shane found that Rise catered to both the chef and employees. The menu is chef driven, allowing for creativity—a word not typically uttered among franchisees.
Even more, the hours differed from a typical restaurant, allowing "people to go home early and enjoy their families."
Each location has a distinctively different menu, with elements that represent the location and the originality of the chef. The Johnsons hired former head chef at SCAD, Trey Delamar, as their kitchen leader.
Every morning at midnight, bakers make a batch of donuts. Mixing, kneading, proofing, frying and glazing, the donut making process takes about three hours.
The donut menu for all sites is divided into three categories: Old School, New School and Our School.
Old School represents traditional flavors that are ironclad like glazed, sprinkles and old-fashioned cake with lemon icing.
The New School donuts, including pineapple-basil with pistachios and maple-bacon bars, are chosen by cooperate.
The Our School offerings change monthly, as they are chef-focused, relying on what is seasonal, local and inspiring.
This month Chef Delamar introduced Savannah to flavors like Cheerwine, lemon-blueberry meringue bullseye, and Butterfinger.
Equally fresh, small batches of biscuits are made daily from scratch, every half-hour.
"We don't hold them past 30 minutes," he says.
Flaky and buttery biscuit sandwiches are made to order with mouthwatering meats like fried bologna, bacon and fried chicken. Pile on premium toppings such as egg, pimento cheese, fried green tomatoes, or avocado. Pickled jalapenos, arugula, Comeback sauce, roasted peppers and buttermilk ranch can be added as complimentary toppings to seal the deal.
Rise also offers special biscuit sandwiches like the Huevos Rancheros with a fried egg, pico de gallo, cheddar cheese, avocado and black bean spread. The specials change monthly.
Given that everything at Rise is prepared daily and made fresh, the biscuits and doughnuts may sell out.
However, the fast-casual atmosphere makes it easy to grab a quick donut from the walk-up case or wait in line along the wall for a biscuit sandwich.
Patrons can bump knees, if they choose to eat in-house, by sitting at the counter in the narrow corridor beside the kitchen. Either way, all the biscuits and donuts are bagged to go.
When patrons enter Rise, the bright orange hue, friendly demeanor of the staff, bake case filled with vibrant confections and vivacious bustle of sugar-induced customers all lend to the Johnsons' overall aspiration, "We want to be all about smiles. Rise is a fun place."
cs