THERE'S a new Fam in town.
The Petty Fam, an all-black burlesque revue, brings its first tour to Club One on Thursday.
The traveling trio features talent from across the United States. May Hemmer, "The Cocoa Barbie" of New Orleans, Nox Falls, "The Violet Vamp" of Amarillo, Texas, and international boylesque star Tre Da Marc of Minneapolis, Minnesota have come together to celebrate the art of burlesque and people of color, challenge the standards imposed on burlesque performers, and reclaim the word "petty."
"'Petty' and the way we look at it has always been seen in a negative connotation," Hemmer explains.
"It's a thing a lot of people like to call women of color and people of color: 'You're just being petty.' It's seen in a negative way, and especially with the current political climate, we want to take back the word. We're not going to take stuff lying down anymore. If something is wrong, we're not going to sit there and accept it."
Rita D'LaVane of The Savannah Sweet Tease Burlesque Revue, who is a guest performer at the Petty Fam's Savannah stop alongside fellow Tease Magnolia Minxxx, Gainesville, Florida's "Naughty Nubian," Phoenix Midnight, appreciates the way the tour challenges the problematic ideal of burlesque performers.
"Everybody's supposed to be thin and white and beautiful to do burlesque—that's what the mainstream audience expects," she says. "That's what people expect—and Dita Von Teese-level production value. No one can afford that, and not all burlesque is Dita or Moulin Rouge!"
D'LaVane points out that the mentality goes beyond audiences; it exists within the burlesque community, too.
"There are people who are producers who prefer to book people who are thin, white, and beautiful," she notes. "Sweet Tease is the opposite of that. We're for the idea that everybody who wholeheartedly wants to perform can perform."
Hemmer has been performing burlesque, neoburlesque, and nerdlesque since 2011. During her time winning audiences over as "The Sassiest Thing in New Orleans" and fetching awards like "Master of Tassels" in the Louisana Regional Burlypicks, Hemmer has had the opportunity to travel and befriend fellow burlesque artists at festivals and conventions. The bonds formed through those events sparked the idea for The Petty Fam Tour.
"We wanted to do something different, and we'd been friends for a few years," Hemmer says. "We thought, why not have fun and do what we love all at the same time?"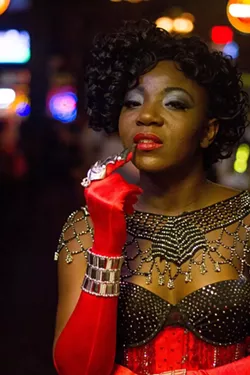 D'LaVane and Hemmer became good friends after admiring one another's work.
"At festivals, when you're one of the only black people here, we're going to talk and hang out!" says D'LaVane. "It's like, 'You're somebody who looks just like me and thinks like I do and has gone through things like I have.'"
Many artists within the burlesque community are standing up for POC visibility. While attending last year's Burlycon, the annual burlesque educational and social convention, D'LaVane was inspired by a panel of performers of color discussing pay equality, racism, and tokenism within the community.
"There's going to have to be a concerted effort to change what's been set in place for so many years," she says.
"We're not going to let people bogart POCs," Hemmer says. "We started calling ourselves 'petty' to stand up for stuff, and it just got around...we started getting known as 'The Petty Fam.' We were always on Facebook together commenting...so we ran with it!"
D'LaVane encourages the Club One audience to come with an open mind.
"Often when people find out I do burlesque, they say, 'Oh, like the movie! It must be so much fun!'—that's completely a fantasy, it's not real at all," she says. "If you come knowing these people are going to be themselves and are going to express themselves, it's going to give you something you probably thought couldn't be given to you before. Be vulnerable to experience."
Though she's unsure what direction this new ensemble will take, Hemmer looks forward to bringing the Petty Fam to Savannah.
"I used to have a nine to five," she says. "Now, I have the 24/7 job of being a mom! I think we're going to do [the tour] at least once a year in a certain part of the country. We're hoping to grow it and make it something where we can have more guests appear. We want to say, 'Hey, come in. Welcome to the family.'"
CS