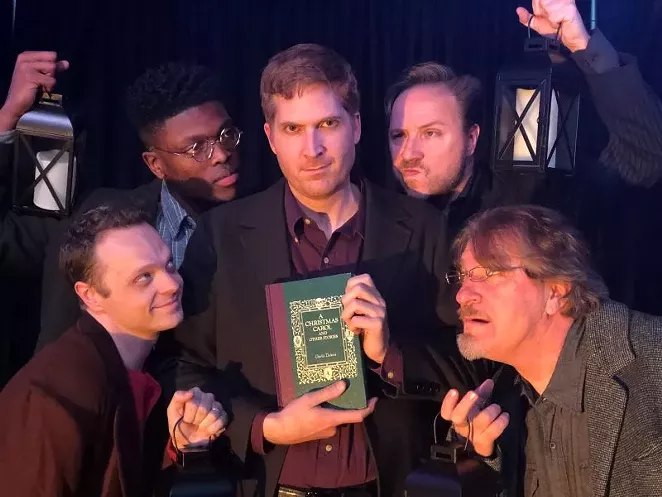 THE CHRISTMAS season gets an unexpected twist courtesy of Savannah Repertory Theatre.
The professional regional theatre invites the community to experience Charles Dickens' classic A Christmas Carol through the lens of Jacob Marley.
"This is not the traditional Christmas Carol," explains Artistic Director Ken Neil Hailey. "It's actually the backstory."
Jacob Marley's Christmas Carol begins quite like Dickens's original. Jacob Marley, the crooked businessman who comes back from the grave to warn his business partner, Ebenezer Scrooge, to change his ways or live in the shackles of regret.
The famous opening line—"Marley was dead to begin with"—rings true.
"But," Hailey says, "he gets to the pearly gates, and is told, 'You can't get in until you make sure someone else doesn't end up like you.' It's Jacob Marley stage managing the story that we know as A Christmas Carol. It's a lot of fun. It's the same themes, it's a little more of a comic take on it and it's a little more homey. He has to give up everything, and at one point, he really does give up everything in order to save Scrooge."
The original Christmas Carol is a universal cultural touchstone, but in his day, Dickens was ahead of the curve when it came to celebrating Christmas. The holiday was increasing in popularity throughout the early 19th century: thanks to Queen Victoria and Prince Albert, Christmas trees were all the rage in England, and books like Some Ancient Christmas Carols, With the Tunes to Which They were Formerly Sung in the West of England and Christmas Carols, Ancient and Modern were flying off the shelves.
"A Christmas Carol really had a profound effect on Christmas as a holiday," says Jacob Marley's Christmas Carol director Nick Corley. "It really made people think and made it a time of year where we take stock of what's really important and really valuable that's not money, but the people in your life, how you affect them, and how they affect you. Dickens really wrote it as a story of redemption."
Inspired by fairy tales, nursery stories, and the plight of impoverished and working children, Dickens began writing A Christmas Carol in October of 1843. In the midst of financial turmoil—his wife, Catherine, was pregnant with the couple's fifth child, the sales of his last book were slowing, and his publishers were threatening to dock his monthly income if sales continued to fall—Dickens wrote the classic work in just six weeks.
Corley, who performed A Christmas Carol at Madison Square Garden over the course of ten years, knows the tale inside and out, making him a perfect director for Savannah Rep.
"The way this play was written was, there was an actor at The Goodman Theatre who had always played Jacob Marley in the play A Christmas Carol," he says. "The Jacob Marley role wasn't that big of a deal—it's hanging out backstage a lot. It started to wear down on him, doing Jacob Marley year after year. Someone suggested, 'Why don't you see what you can do with your own version and Jacob Marley's back story?'"
Savannah Rep's production features Jaryl Draper as Marley, Kevin Zepf as Scrooge, Jack Herholdt as Bogle, Ken Neil Hailey as the Record Keeper, and Marquies Wilson as Assistant. The production has opted for a minimal set, making storytelling the center of the show.
"It really gets that wonderful value of the literary feel," says Corley. "It's not a big, lavish set. It's really relying on the strength of the writing from both [Jacob Marley's Christmas Carol author] Tom Mula and Dickens."
Savannah Rep is dedicated to keeping the true Christmas spirit in their production and sharing with their audiences. Through a new program called the "ticket wall," folks who might not be able to afford a ticket can attend the performance.
"We're giving people the opportunity to buy an additional ticket," Hailey explains. "So someone who can't normally go to the theatre will be sponsored by a person who's bought a discounted ticket. They'll go pick up a coupon on the wall and exchange it for a ticket, no questions asked. Several regional theaters are starting to do this, so we decided we'll give it a try right here. It's had a lot of positive response that will help us get to developing audiences that are underserved. That's one of our big aims that will help us in that aspect."
The Theatre has also partnered with local group Loop It Up Savannah and will donate half the show's ticket sales to the nonprofit for the Dec. 15 performance.
"Through that, we can fund an entire month of their programming," Hailey says.
From the stage to the audience and beyond the doors of the PLAYshop, Savannah Rep is thrilled to share the spirit of the season with Savannah.
"The real joy of A Christmas Carol is that it's about these people coming together to be reminded of the value of the holiday and what the real meaning of Christmas is," says Corley. "It's never too late! You can change your life for the better, and I think that's really important especially as we keep a check on the value and beauty of humanity."
cs