THIS FRIDAY, nautical lanterns will light the North Garden at Ships of the Sea Maritime Museum.
"Beacons" is a multifaceted installation dreamed up by Karen McVay Butch and Martha Enzmann, longtime friends and collaborators. The pair have worked on plenty of projects over the years, and this one shows off their unique lanterns.
"We've done these things that we call lanterns over the years," Butch explains. "There are a dozen of the beacons and a half dozen of these lanterns, and then some things we call squids, which are just wiggly things."
Some canvases will also be hung indoors, separately from the installation.
The lanterns resemble windsocks and will swing freely from the rafters in the garden. Some of the lanterns have stone paintings on them that make them appear stationary, but they'll all swing with the wind.
Both painters, Butch and Enzmann met in a SCAD class in the 1980s and have worked together ever since.
"An installation we designed for SCAD is hanging in the hallways in Hong Kong," Butch notes. "You never know where these things end up! We had no idea. Martha's stepson was in Hong Kong and saw part of our installation in a Ralph Lauren shop window. We were like, well, all right! How cool is that?"
Enzmann currently lives in North Carolina, but Butch says they visit often and text frequently. Enzmann came down to Savannah to collaborate with Butch for this show, but some things still surprised Butch about her creative partner.
"Martha surprised me with these," Butch says. "She said, 'Oh, I did a whale.' I asked her to send me a picture and I was like, wow, the detail!"
One of Enzmann's panels includes a stenciled whale and a miniscule fishing ship. Butch notes that Enzmann's pieces tend to be enormous, while her own are a bit smaller. That difference highlights the skills of both artists.
The lanterns are made of Tyvek, which Butch says takes paint well as long as it's primed first. The material creates a unique texture on some lanterns with thick swirls in spots.
"The light underneath will shine through, and because they're hung they'll move slightly," explains Butch. "They're colorful so you can see them during the evening, but during the day they'll be colorful on their own. The garden looks out on MLK, so people will be able to look in on it. The museum will put timers on them."
Enzmann and Butch are self-described humanists and use an abundance of color and strong contrasts to lend a fun, positive feel to their work.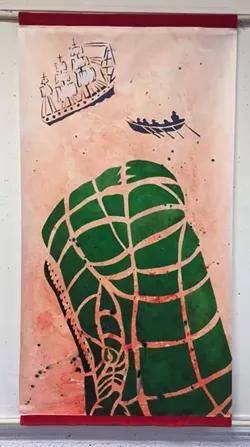 The team at Ships of the Sea gave Enzmann and Butch free reign, for the most part, over the installation.
"We wanted everything to be nautical," explains Butch, "but they just wanted us to do whatever we wanted. We're just celebrating Ships of the Sea—it's such a wonderful place in Savannah."
"Beacons" will remain up through Mar. 18.
CS