I MUST ADMIT I become a bit apprehensive when Facebook selects a memory for me to revisit.
Most of the time they are pretty innocuous, like a post from three years ago about a record I was enjoying on the stereo. Other times they are a little sad, like a photo of a dearly departed cat.
Sometimes Facebook's "On This Day" feature reminds me how much things have changed over the years. On Feb. 13 I was reminded how much they haven't.
Last Tuesday a photo from Feb. 13, 2012 appeared on my timeline to let me know that was the day I spotted City of Savannah employees starting to stripe the new Price Street bike lane.
If my math is correct, this marks six years since the City has constructed any significant new bicycle infrastructure. Six years.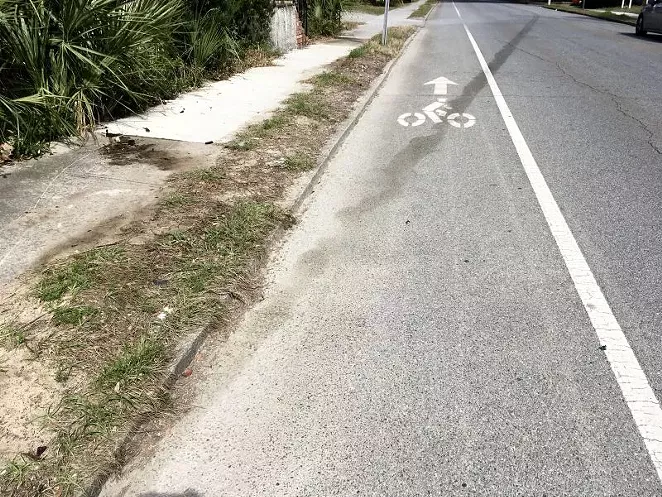 During that time some shared lane pavement markings, also known as "sharrows," have been painted onto streets, but it's not accurate to call them infrastructure, as the National Association of City Transportation Officials points out: "The shared lane marking is a pavement marking with a variety of uses to support a complete bikeway network; it is not a facility type and should not be considered a substitute for bike lanes, cycle tracks, or other separation treatments where these types of facilities are otherwise warranted or space permits."
While other cities around Georgia and around the country are actively expanding their bicycle transportation networks and reaping the public safety, public health, economic, and other benefits, we have the dubious distinction of being one of the few cities that has fewer miles of bike lanes and trails than it did six years ago.
The condition of the Lincoln Street bike lane has continued to decline and the thousands of people who use the lane regularly contend with damaged pavement, parked cars, and several blocks where it disappears altogether.
The Police Memorial Trail, which will eventually connect with the Truman Linear Park Trail, remains closed.
It's easy to feel discouraged when you realize we've been stuck in neutral or, more accurately, sliding backwards since Mayor Otis Johnson left office. Yet people who ride bikes in Savannah have done something remarkable: They've persisted.
As the weather warms in the coming weeks, I expect to have even more company on my morning commute. Bikes, which may have hibernated in garages or storage sheds through the colder months, will begin to emerge as the temperature climbs.
And even as our efforts to provide safe, accessible bicycle infrastructure have failed to produce results, more national tour companies are bringing people to Savannah to ride.
Our bicycle commuting rate remains the highest in the state. For many people in our city, bicycles are their primary form of transportation.
It's tempting to think we are succeeding in spite of ourselves, however, adopting this mindset ignores our potential to be one of the top cycling cities in the Southeast, as I have written over and over again in this column.
There is no bigger bang for our buck than investing in infrastructure that allows people of all ages and abilities to ride bikes, whether for recreation or transportation.
Failing to invest, on the other hand, has significant risks. It's not just that our city will fall further behind others that offer safer streets and better quality of life.
To understand what's at stake, check out the corner of Lincoln and 41st streets. Here you can still see evidence, months later, of a motorist who entered the bike lane and collided with a street sign.
The pavement is still stained by whatever fluid was hemorrhaging from the vehicle as it continued north on Lincoln Street, weaving back and forth and entering the bike lane several more times. It's a constant reminder that lines painted on pavement are not enough.
Cities that are serious about safety are installing protected bike lanes, which place a physical barrier — formed by a raised curb or planters or even parked cars — between people on bikes and cars. Studies have confirmed the effectiveness of protected bike lanes in reducing crashes that cause injury and death. They also encourage more people to ride.
Our six-year-long bicycle infrastructure drought could end this year, with the City working on a new design for Lincoln Street and a critical east-west thoroughfare, along with the start of construction on Chatham County's Truman Linear Park Trail segment from Lake Mayer to DeRenne Avenue.
Those of us who have been waiting so long for Savannah to get back in the bike lane business should support these efforts and urge their completion as soon as possible, while also insisting they be of the highest quality.
Other cities have done it. We can, too.
cs