THE Savannah Philharmonic is taking the music to the streets.
A collaboration between the Philharmonic Orchestra and Chorus, the City of Savannah, and Edgemere/Sackville Neighborhood Association, Philharmonic in the Streetz began as a way to share professional music with Savannah neighbors.
"The aim is to go into challenged neighborhoods, particularly where families don't have the opportunity to attend an orchestral concert," Savannah Philharmonic Director of Development Terri O'Neil explains. "It's taking live music into the neighborhoods and making it a community event for awareness and for music education. It improves quality of life to bring music to the community."
The event has already been wildly successful in neighborhoods throughout the city. May's event will serve the residents of the Edgemere/Sackville neighborhood.
The festive afternoon features performances from Ricardo Ochoa and Friends, Laiken Love and the Fellowship of Love, and students from Myers Middle School.
Additionally, attendees can look forward to entertainment from magician Magic Marc, free ice cream from Bruster's, and barbecue from Trick's, available for purchase.
Cynthia Hopson, Vice President of the Edgemere/Sackville Neighborhood Association, first heard about the initiative at a City Council meeting last year.
"I wanted it in my community and immediately contacted Alderman John Hall," she explains. "In my community in particular, there are lots of families that may have not even heard classical music or haven't been exposed to it in any way. Many times, we have parents and families who can't afford to go to the symphony—or many may not be interested, because they aren't accustomed to hearing that type of music."
Philharmonic in the Streetz is unlike any other Philharmonic performance—there's a contagious, kinetic energy, a blurred line between performers and audience, and, sometimes, even line dancing.
Audiences are just likely to hear classical music as blues, jazz, and beyond. Performers like Laiken Love, who sings in the Philharmonic Chorus but also fronts her own R&B band, show the versatility of the classical music experience.
"It's a way to demonstrate—particularly to the students—how you can be cross-genre and have professional career in the music industry," O'Neil says.
"Not only is music bringing people together in celebration of community, but music is a good career path. We strive to our students that through education and music performance, there are job opportunities in that industry. Laiken is a perfect example: She performs with the Chorus, has her own band, and she also works for a performing arts tech company."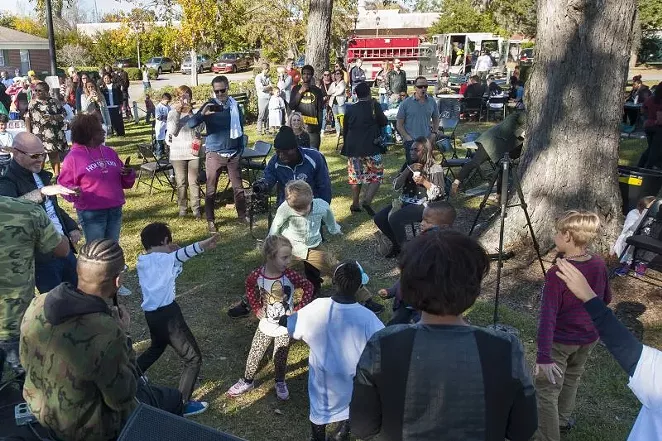 Local students will also be in the spotlight.
"Each time we produce this, we wrap in a neighborhood school," says O'Neil. "It's an opportunity to put those students in front of the community and showcase what they're working on, whether it's a particular piece or sectional."
This weekend's event highlights the site of a future park in the Edgemere/Sackville neighborhood. The project has been a long time coming, and residents are looking forward to construction beginning toward the end of 2018.
"We did a survey of our entire neighborhood, going door-to-door and asking what people want in a park," Hopson recounts. "We wanted to make sure the community knows that it is going to happen—sometimes it takes a little longer than we would like because of things out of our and the city's control, but this is a way to keep them involved and let them know the plan is still in place."
In 2019, families can enjoy a place where children can safely play outside. The park will have play equipment geared toward younger children—monkey bars, merry-go-rounds, and beyond—with stationary tables for a round of chess or a lunch break. There will also be a path around the park so grown-ups can get their steps in while keeping an eye on their children.
"Once the park is completed, we're going to have another event with the Philharmonic to commemorate the park construction and opening," shares Hopson.
For now, the neighborhood and Philharmonic will warm the spot up with one big, unforgettable party.
"The Neighborhood Assocation is working really hard to bring cultural events like this to our community on a regular basis so we can highlight what's positive, what's good that's going on in our community rather than focus on what isn't," Hopson says. "There's more good here than not."
"It's a really energetic, happy, and joyful event," O'Neil says. "Everybody comes together for music, food camaraderie. ...It's all-inclusive. We're all there together as Savannah residents and neighbors."
CS