FIRST, the bad news: The Savannah Bananas' scheduled "St. Patrick's Day in July" game last week was rained out.
The good news: They will take the field this Wednesday for a makeup game, wearing their specially made Bananas kilts.
For the whole game.
"I feel like this is one of the coolest things I've ever done in baseball," says Bananas player Hunter Wilson. "I wear the same thing most of the time, you feel a bit more relaxed in this outfit."
The Bananas claim to be the first ever baseball team to wear kilts during a game. The idea has garnered them media attention all over the country.
The custom kilts — embroidered with the Bananas logo and player number — are another way owner Jesse Cole keeps the game seats filled, with another sold-out regular season to the tune of over 110,000 tickets,
"It's St. Patrick's day in July, so why wouldn't we wear kilts? The team and fans are all about fun and that's what we like to bring to the games," says Cole.
"I think it's going to be different. I don't even feel like it's sports attire, but the kilt feels a bit free," says Bananas player Zach Rumfield.
In September 2015 the Coastal Plain League – a college summer league — announced Savannah as its newest team. In February 2016 the name Savannah Bananas was chosen after a name-the-team-contest.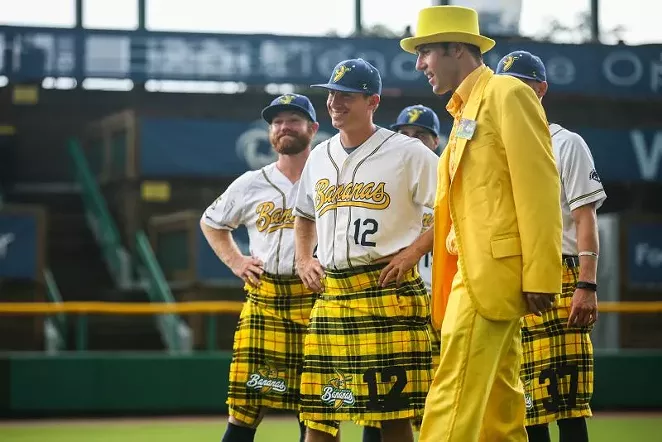 The Bananas won the Coastal Plain League championship their inaugural season, and have made the playoffs in both subsequent seasons.
Tickets are still available for the first playoff game on August 5.