NEWLY reinvented alt-rockers Houndmouth bring their "Golden Age Tour" to B&D Burgers on Congress Street, Wednesday, August 29.
The rise to fame of Indiana music-makers Houndmouth is the envy of many working musicians. The four original members knew each other from high school in New Albany, Indiana. They played music together in various configurations—four-hour cover gigs in Louisville bars, or duo shows in local restaurants and breweries.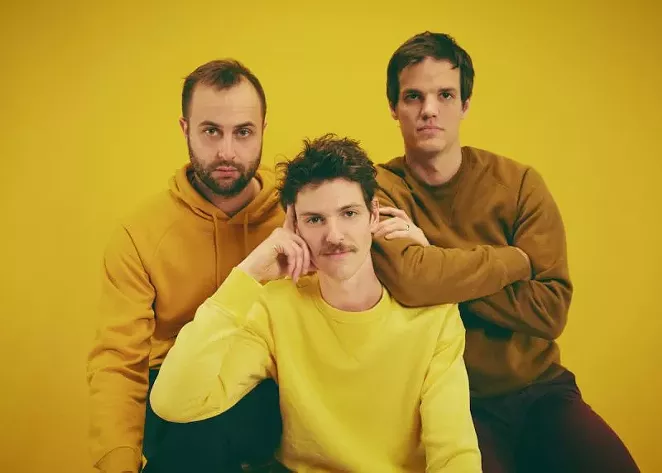 In late fall of 2011, they all got together and home-recorded an EP which went with them when they performed at South By Southwest in spring 2012. Those performances and that recording landed the band an album deal with Rough Trade Records, which in turn, got them into a real studio to record their first album "From the Hills Below the City," released summer 2013.
By all accounts a meteoric rise in just under two years—it's what many bands dream of, labor at for years before, if ever, achieving commercial success.
"From the Hills Below the City," with its big, twang-y guitars and gorgeous four person harmonies—for better or for worse—pigeonholed the band as distinctly Americana. Critics likened Houndmouth to The Band, and singer/keys player Katie Toupin, a new Emmylou Harris.
In 2015 they released their second album "Little Neon Limelight," with the catchy hit "Sedona" that played on radio stations everywhere in the summer of 2015. That tune took the band to "Late Night with David Letterman" and "Last Call with Carson Daly."
The rapid rise to fame took its toll. In spring of 2016, Katie Toupin left the band to pursue other opportunities, leaving them a seasoned trio in search of a new sound.
Houndmouth is touring now in support of their August 3rd album release "Golden Age," and it's a marked departure from their Americana roots. This latest album is much more electronic than country guitar—think Black Keyes and Daft Punk. The band's signature harmonies remain, coming through crisp and clear indie-rock style.
The name Houndmouth, by the way, comes from the band's early days of home recording in which the howls and barking of the neighbor's dogs would bleed into the microphones.
On playback, the band mates would complain of "too much hound mouth." A name equally fitting an Americana act or band of indie rock guys.
We spoke with Houndmouth singer and guitarist, Matt Meyers, last week.
The track "On the Road" from your first album is like Indiana's answer to the Alabama Shakes meets Edward Sharpe and the Magnetic Zeros. It was an indie hit for Houndmouth. What was the writing process like for that song?
It's funny, that was one that came together real fast in the studio. We needed more tracks to round out the album and "On The Road" was a song that we worked to make clean and fast and it ended up being the first track on the album.
Your first two albums were written as a four piece. How has your writing changed since Katie Toupin's departure in 2016?
We all tend to write separately and then bring that to the band. Without Katie, we're doing—ok, I'm doing—more falsetto harmonies. And with the new album —we worked with producers Jonathan Rado and Shawn Everett — we wanted to make something that wouldn't be so easily lumped into Americana. I just want to make music and write songs and those songs might not always be roots rock.
Why did you choose Everett and Rado?
Everett did the latest War on Drugs album and worked with Alabama Shakes. Jonathan Rado has a pair of ears that hear things differently. He also pursues making the sounds he hears in a totally different way. He is unconventional and his sensibility really makes something unusual and kind of retro.
Can you give an example of what it was like recording with Rado? What are some of his techniques or tricks if you can share?
Oh yeah, sure. The song "Black Jaguar" from the new album we recorded it in a way that we'd never done before. First, we tracked the song live playing it in its regular tempo, all of it to a click track. Then, we re-tracked the song playing it twice the tempo but playing it back at half the speed, all to a click track again. We added another track that was just samples of jaguars, both the animal and the car. Then a track of just the DX7 keyboard for a real 80s feel. There were some more tracks, but everything is locked down on a click track to keep the time and tempo all together. After we had all this sound built up, we went and carved out parts, subtracting or muting part of the jaguar track here and pulling up the volume on the DX7 track, basically muting tracks at the right times and places to really craft the song. It gave us a new way of thinking about music and how to create it.
Since 2011 you and Houndmouth have released three albums, you've toured the world, you've played major stages and TV shows—and you've only turned 30 this year. That's all pretty rock star. What does that feel like, to be a rock star?
I'm gone a lot. I tried living in Austin, Texas, for a while, but it just didn't feel right, something about it I just didn't understand. I went back to Indiana and bought a little house in Floyd's Knob. It's the flat land and rolling hills of Southern Indiana, and it's corn and soybeans, the changing crops that I understand. It has a yard and I mow it, and three times this summer I've gotten stung by bees! I understand that place and it's good to have a home you understand, that understands you. Is that rock star?
cs