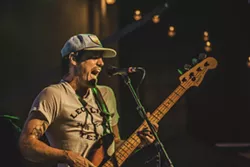 AFTER TWO successful installments of their first-ever summer concert series, B&D Burgers on Congress brought indie darlings Houndmouth to their outdoor stage for the final edition.
The restaurant has certainly made all the right investments to offer a serious platform for larger touring acts - the lighting and sound was top-of-the-line and the whole thing felt almost like a small version of a festival stage.
Despite not quite being at capacity, the crowd was still considerable in size - especially for a mid-week show. Most importantly, it was evident that the people who showed up were there for a Houndmouth show and not just as a higher-priced excuse for a night out.
When the band hit the stage with their newly-expanded touring lineup, they seemed renewed and eager to showcase their revamped sound. The primary three members, led by singer/guitarist Matt Myers, were augmented by a second guitarist, a keyboard player, and two sax players - all of whom presented the songs of their three studio albums effortlessly.
The band seems to have kept their performances relatively DIY in spirit given the buzz around them, with Myers switching between two Fender Stratocasters and the rest of the band sticking with one instrument each.
Despite the new songs, in their synth-heavy nature, getting mixed reviews from loyal fans of their first two albums, it never felt like any one song stuck out from anything else. The handful of sax solos were particularly entertaining, and makes you wonder if other bands should take a cue from Houndmouth and start employing competent sax players to liven up a show.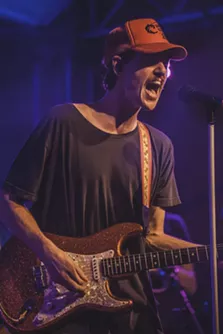 It certainly worked for Bruce Springsteen and it's working for Houndmouth. Luckily, the saxophones didn't sound at all like a gimmick, and were arranged more like a horn section that's there to elevate the music.
One standout from the show was the Golden Age cut "Modern Love," which was performed in a slightly more electric arrangement than the album version.
And, of course, no Houndmouth show would be complete without their 2015 hit "Sedona," which the band still seemed to enjoy playing despite now having likely played it hundreds of times.
All in all, a particularly warm evening at B&D on Congress made for an enjoyable night of ever-evolving indie rock from a group of Indiana natives who are clearly in it for nothing more than serving the songs they create. It was a fitting end to a grand experiment on B&D's part, and it'll be interesting to see where they go with the concert series in the future.
As for Houndmouth - don't sleep on these guys. The future of indie rock is in good hands if they continue to evolve as they have since their debut. Plus, dare I say, two sax players are better than one.