Savannah's Collective Face Theatre Ensemble, under the direction of David Poole, is set to bring lauded playwright Charles L. Mee's popular Big Love to the Kennedy Fine Arts Auditorium beginning September 7 and 8.
The popular Mee play, hailed by Poole as a "life-changing experience," flips the Greek tragedy The Suppliants on its head, working in modern elements to create a thought-provoking comedy that examines relationships and love on many levels.
Big Love centers around 50 women who flee their native Greece, arriving in Italy as refugees trying to avoid having to marry their cousins. For Poole, a New York native currently serving as Technical Director and Instructor of Theater at Savannah State University, directing the show was a chance to marry everything he values about theater on artistic, social, political, and technical levels.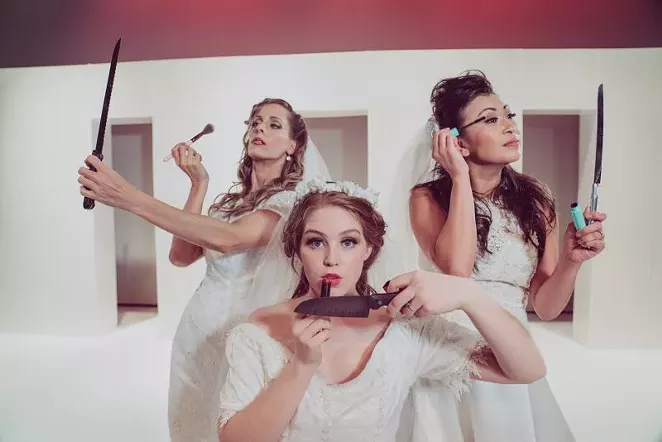 Oddly enough, the play was written 19 years ago, but is perhaps more timely than ever – tackling the never-ending issue of sexual misconduct that prompted the #MeToo movement, challenging the many misconceptions of gender and sexuality that still exist today, and questioning traditional male and female gender roles in society.
We spoke to Poole about those issues, what drew him to the show, and what audiences can expect from the ensemble come opening night.
If you had to give an elevator pitch on the show, how would you do that?
DP: It's social, political, funny, and heartbreaking at times, musical at times. It's got everything that you'd want in a show. Even though it was written 19 years ago, it still touches on the political and social issues of now. It's all of those issues in a play that is a re-telling of a play from the Greek era, but the play is modern. It's got some unbelievable characters in it, and everyone will relate to it.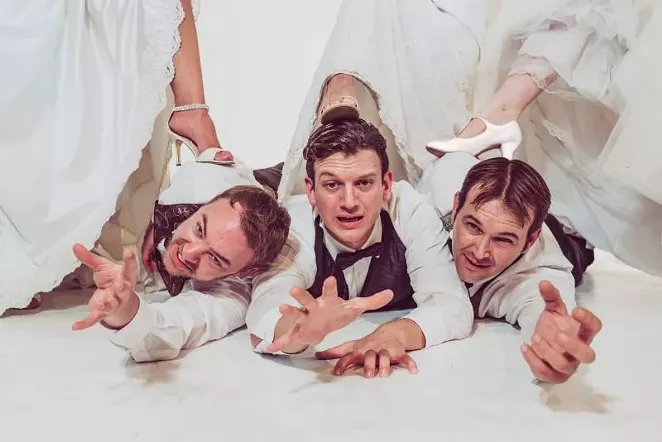 You landed on the next thing I wanted to talk about, which is that the show touches on a lot of different issues that are really relevant right now. Did the timeliness of those themes have a role in what led you to choosing this play?
DP: One of the things that I'm really about nowadays as a director and producer of theater, is that I think the theater has to shift a little bit. It has to be not only social, political, etc., but it also needs to be experiential. When I began searching for shows for this season, that's the thought I had in my head. This play makes you feel like you're part of it. Chuck Mee is all about experiences, and he writes what he sees. So, when choosing this play, I was looking at the physicality of it, the in-your-face-ness of it, and it just happened to be that when I was reading it, I was like, "Wow, this play is really about now."
It's so interesting how these gender politics addressed in the show are so much in the media right now. Will there ever be solutions to these issues? The play tries to give you solutions, but the issues are the issues.
So, how do we cope in this world where all these things are coming about? Love trumps all, and love is the core of all of this. And so that's why the play was chosen.
When you're reading Charles L. Mee's work in particular, is there anything in his style that jumps out to you and makes you feel like you can tackle it? Do his words ignite your imagination in terms of blocking or set design?
DP: It was one of those things where I said, "Okay, I've never battled a Chuck Mee before." This is his most popular play, and a lot of people do it. This play kind of put him on the map. People haven't done any Chuck Mee in this town. I've not found one person who's done his work around here, so Big Love is kind of a premiere here.
It's right up my alley. We always say, "This is a Chuck Mee world," because there are all these things that come out of nowhere. His writing is nonlinear. I thought this would be interesting to tackle. It's nonlinear, it's performance art based, basically. He talks about things like how the set design should be an art installation. And that's sort of right up my alley as a designer. I like an immersive environment where the set becomes another character in the play. And, his word choices are so interesting. A lot of this play is testimonial. Because it's based on a Greek play, there's that presentational approach to Greek plays. There's a, sort of, inner monologue that is spoken a lot in this play and in Greek plays.
Do you think it's an advantage to have a tightknit ensemble around you where you can envision certain playing certain parts, or visualizing two specific people opposite each other? Is that a factor for you in your process?
DP: That can be a factor. We, as a core ensemble, are like a family. We know how each other works and ticks. Because of this type of show where it's sort of blowing out everybody's idea of what a play is, I was trying my best to make sure that these are people who would fit into a Chuck Mee world. And that is the key to casting a Charles Mee play. They have to be able to be in a Chuck Mee world, which is very whimsical, very heartbreaking, very in-your-face. It's such a different kind of expression.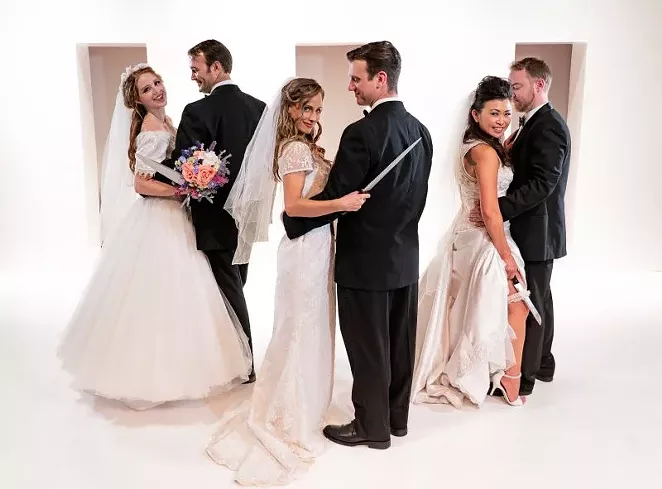 When I was casting some of the people, I'd have them do very unusual things in the monologue reading. The kind of actor you need for this show has to be so open to possibility and imagination. So with the core company of actors, it's nice to know that these actors will work well with each other. Since we are a family, we all trust each other.
You trust that there's an openness.
DP: Yeah. I walked into our first rehearsal and said, "Listen, guys. We're going to go to places that are going to be scary and hard to deal with because it's such a nonlinear world. But realize that this group of individuals is here to make magic happen." So in our rehearsal process, it's been a lot about trust.
Touching on the themes and issues that the show addresses, do you think that theater on a broader scale has a responsibility to use their platform as an outlet for change in the social and political landscape?
DP: That's what I think theater should be doing. To say that art shouldn't be political and social defeats the whole purpose. For me, to be entertained is an act of politics. There's this tendency of giving blanketed statements about things. Like, "This is bad." Why was it bad? Art and theater should be the thing that gets us to talk about the world. I like it when people are coming out of the theater and they're still talking about a production two or three days later. I love when theater creates discussion and discourse.
cs