Ghost Coast Distillery celebrates its fourth birthday on June 5 from noon to 8 p.m. at their location on Indian St. Savannah's first distillery since prohibition turned four in March. But, with the pandemic in full swing, the distillery decided to take a little extra time to make improvements to The Cocktail Room and make sure the vaccine rollout was well underway. For Kelcie Beausir, marketing manager for Ghost Coast Distillery, it is a great time to bring the community together for a fun and a good cause. "It's a perfect time to celebrate," she said. "Plus, we used this past year to reassess The Cocktail Room. We are huge live music fans. So, we made significant changes: we put in a stage and seating; the acoustics are better; [and] people can spread out. We are a great venue now, not just a great bar."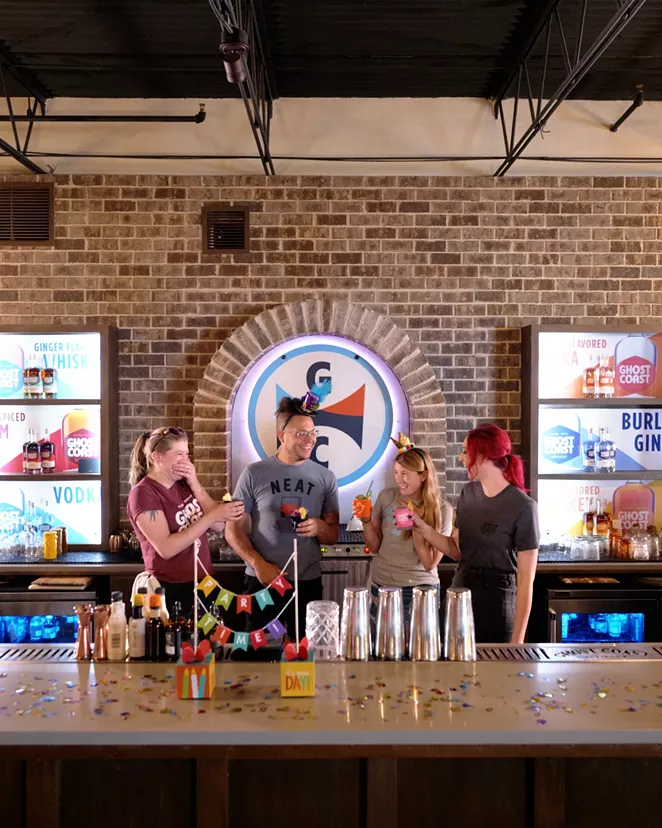 Saturday's birthday party will include a live set and pop-up art exhibition by DJ and Artist Jose Ray - voted Connect Savannah's Best Visual Artist in 2020. Swamptooth, Savannah's cosmic bluegrass band, will take the stage later in the afternoon. Loki, the old school bus turned food truck, will be on site for anyone looking for a bite to eat. Ghost Coast Distillery will also be releasing their 2021 summer cocktail menu. They'll have specialty, high-end cocktails as well as $6 call drinks and $6 shots. Beausir loves that Ghost Coast has call drink options. "These are great ways to try something and not break the bank," Beausir said. "I can't reveal too much about the new menu right now, but Cameron Khourie and our Bar Manager Cory Reuter are always pushing boundaries. We'll be offering off-the-wall cocktails and traditional ones, too." Giving back to the community and supporting the environment is a Ghost Coast value. On Saturday, $1 from every drink sold will be donated to Savannah Riverkeeper.
"We always focus our events on helping a local non-profit," she said. "We partnered with Savannah Riverkeeper in December of 2018 for a Reggae Rum Day. They are incredible and we are excited to partner with them again. They will be here explaining what they do and showing how they are helping Savannah. They do so much!" Savannah Riverkeepers is a non-profit organization serving as the primary guardian of the Savannah River, as their website states. They are committed to respecting, protecting, and improving the entire river basin through education, advocacy and action. Dave Mewborn, outreach coordinator at Savannah Riverkeepers is excited to get back into the community. "Ghost Coast Distillery is very supportive of our work," he said. "I hope everyone stops by our table to grab swag and find out what we are all about." As the story goes, the idea for Ghost Coast Distillery came in 2017 when co-founders Rob Ingersoll and Chris Sywassink plotted out a path to making spirits on the back of a cocktail napkin. Even though Savannah has a rich history of prohibition, at that time it lacked a local distillery. This gave Ingersoll and Sywassink even more inspiration to open Ghost Coast Distillery. "Since this wasn't happening in the area," Beausir explained, "they had to learn the craft on their own. The weather in Savannah was a big unknown. The environment has a big impact on how our bourbons age. It's very unique."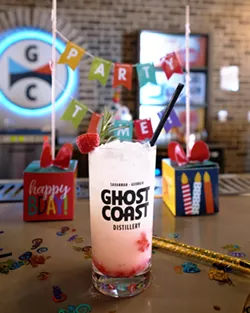 Ghost Coast Distillery crafts high-quality, unique spirits and cultivates an incredibly supportive culture. As laws and regulations about distilleries continue to evolve, their business develops. "Any spirits we use to make drinks in The Cocktail Room have to be made in-house," Beausir said. "That's very unique, too. Our culture is fun and quirky, casual and welcoming. We don't take ourselves too seriously and we put out incredible spirits. Our culture is what sets us apart." There is a lot on the horizon for this young distillery. "It has been a very challenging year for everyone and we are so excited we are thriving," she said. Beausir loves when people travel to Savannah to visit the distillery. "We welcome our fans and followers from across the country," she said. "They want our spirits but don't have access unless they visit Savannah." To meet the increasing demand, Ghost Coast Distillery will begin selling their spirits in South Carolina later this year. Other states are coming soon. It is not just market expansion they are excited about, Beausir explained.
"As we get older, we can continue releasing older bourbons, our flagship spirit! And that is super exciting!"
For information about Ghost Coast Distillery visit, ghostcoastdistillery.com. For information about Savannah Riverkeepers visit, savannahriverkeeper.org/#.