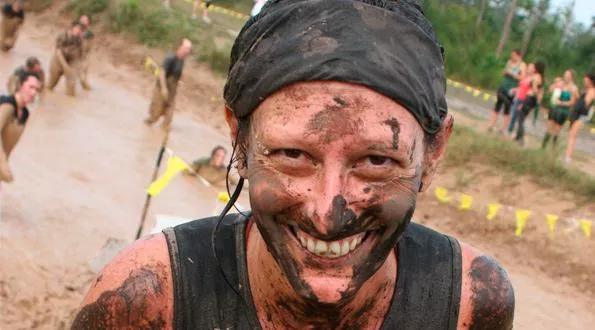 Every birthday, I renew my contract with life with an action that makes me a shade uncomfortable, like cutting off my hair or say, skinny–dipping in a public fountain.
Any therapist will tell you stepping outside your comfort zone once in a while is a fine idea, right?
Stretching your boundaries builds confidence! they say. Life is nothing without a little risk!
However, when that small step lands you neck–deep in a pit surrounded by Scripture with mud shoved up in places no doctor has ever examined, you may have gone too far.
When my friend Brett Ratner posted on Facebook that he had an extra ticket to Saturday's Big Nasty Mud Run, the 4.1 miles of filth and obstacles sounded like an excellent way to bring in year 41.
Nevermind that what I call "running" might be mistaken for "lumbering" or "galumphing." Or that my pre–race dinner consisted of four pieces of fried chicken so I could cast my vote in the Chickenov finals, held during Friday's Savannah Jazz Festival jams. (Out of over 70 votes, Sisters of the New South took the Chickenov crown for the best fried around, followed closely by former champion Ms. Iretha Duncan of the United House of Prayer for All People.)
I also discovered that evening that the mud run is organized by the Fellowship of Christian Athletes. As I am neither a Christian nor an athlete, the only place further out of my comfort orbit is the moon.
Not that I have a thing against FCA's mission of esteem–building through endurance sports (though it must be noted that its website heralds a definitive anti–gay stance.) This was the second mud run FCA has hosted this year at the Big Nasty ATV Park in Bloomingdale, and it sold out once again with almost 1700 people running the course in more than a dozen waves. Several secular charities benefitted from the entry fees, including the Ronald McDonald House and The Savannah Harbor Foundation.
Still, the short but hardcore sermon given by a guy with a whistle was kind of a surprise as my running partner and I hunkered down at the starting line, me in my lucky Jewish Mother shirt and Brett with his emergency eye–wiping gear stored in a Ziploc bag, two hand towels emblazoned with "Happy Chanukah!"
Maybe it was a blessing, because then we were off, two Jews galloping through the forest like we were being chased by the Nazis in Defiance.
After the first plunge through a sucking trough that claimed several participants' shoes, the backdrop quickly turned into the set of Deliverance as the woods opened up into swamp. From there we climbed over fences, through drainage pipes, under railroad ties and down slick dirt slides, grit caking our faces.
We followed the arrows and signs bearing inspirational Bible verses. Every time I started to slow down, Brett would motivate me with "Hurry up! They're releasing the German shepherds!"
We sloshed our way through a half dozen sludge abysses, each a more disgusting variation than the last: Black mud. Thick Georgia red clay. A green pond of hairy slime surrounded by thorns. A long ditch filled with a frothy soup of what smelled like chemical fertilizer runoff and cow diarrhea.
It wasn't until I froze up on the top of a 30–foot wooden wall, unable to let go of a telephone pole that I concluded that this might have been one of my poorer Bucket List bullet points. It's one thing to spice up one's routine with a little adventure; falling to your death with muck in your ear canal is another altogether.
Brett had made it up and over in seconds and was pacing the bottom.
"You can do this!" he cheered. Trying to help with a little gallows humor, he painted on a little mud Hitler moustache. "You cannot stop! It is verboten!"
My husband, an exercise physiologist who has seen me through a knee reconstruction, hip surgery and an anatomical salad of pulled muscles and torn ligaments, had warned me that I may have overestimated myself this time. At first he wanted no part of my big nasty birthday self–double dare. But then he reluctantly agreed to chauffeur, grumbling "Well, someone is going to have to drive you to the emergency room."
Up there on the pole, I was scared. This was hard. But isn't that the point? Isn't it why we challenge ourselves no matter how old we get, why people skydive and enter triathlons after 40, why all you crazies are running the Rock 'N' Roll Marathon next month? Because only through true risk can we prove we're still alive?
Maybe it was the atmosphere of faith, maybe it was not wanting to hear about insurance deductibles, but there at the top of that muddy wall with rivulets of brown sweat running into my eyes, an infusion of energy swept over me. I could do this, and I would.
I swung my leg over the wall and shinnied down, jumping past the last three rungs. Brett and I crashed on, passing several people in our wave.
"What does 'yenta' mean?" called out an FCA volunteer sitting on top of the next hill as he saw my shirt.
"It's Yiddish for 'ninja!'" I yelled back as we skittered past.
After scaling a slick rope wall that had my poor husband covering his eyes for fear of seeing me tumble to the ground, we slogged our way through the home stretch: A vat of the smelliest, stickiest mud yet.
"Just pretend it's chocolate mousse," counseled someone cheerfully. Thank you, that's one less dessert that I will ever need to eat again.
Brett and I slapped a sloppy high–five as we crossed the finish line, stoked to have finished in a respectable hour and 18 minutes. My husband checked me over, equally delighted to see that I had miraculously made it without needing surgery, though he insisted on slathering my scraped knees in Neosporin to stave off any staph infections.
We laughed the whole way home that we had outrun an imaginary SS, steeping in our own filth and the irony that any of us have comfort zones at all—that life is so full and safe that we have to make it a little bit dangerous to remind ourselves how lucky we are.
Though maybe next year I'll just stick with Karaoke.