BEFORE Wes Craven, before John Carpenter, before Quentin Tarantino...there was William Shakespeare.
In the spirit of the season, Savannah Shakes is honoring the Bard's bloodiest work:
Titus Andronicus.
In keeping with the progressing-decades theme that has defined their productions, the Shakes have found inspiration in grindhouse exploitation films of the late 1970s and 1980s for their latest performance.
"Titus is so not often produced because a lot of the troublesome, violent and disgusting aspects of it," director Travis Spangenburg says.
"Once we figured out that this is the one we wanted to do, there was nothing better than seizing onto grindhouse—the horror, the blood, all of that—to bring out the true story of Titus."
For inspiration, Spangenburg turned to classics of the genre.
"I read up on a lot of grindhouse films," he says. "A big one was Last House on the Left. The plot is not dissimilar there...there was a whole genre of grindhouse movies of women being assaulted then taking revenge themselves or being killed in the process and their families taking revenge for them. This is a little bit of both. When I saw the Last House trailer—the 1972 one as opposed to the remake—there's no dialogue, just action shots and every few cuts to black. It's terrifying. Revenge movies, Blood Feast, were also important."
Titus is more than just blood and guts, though—it's also masterfully suspenseful, as the best horror films are.
"A great horror movie isn't constant chopping," Spangenburg says. "Slasher flicks are great, but the horror movies I remember are the ones where I do feel for the characters and I hope to see them achieve some sort of justice. Titus definitely reads like a great horror movie. About the whole first act is the constant destruction of some of the characters' lives. There's a back-and-forth. I view it almost like a bloody tennis match."
Set during the end of the Roman Empire, Titus Andronicus is the story of Titus, a general in the Roman Army, who's caught up in a cycle of revenge with Queen of the Goths, Tamora. In the Shakes' version, Titus and his sons run the police force of a small American town, incorporating an element of hillbilly horror. Due to its outlandish violence, Titus, believed to have been written with collaborator George Peele, has become one of Shakespeare's most divisive scripts.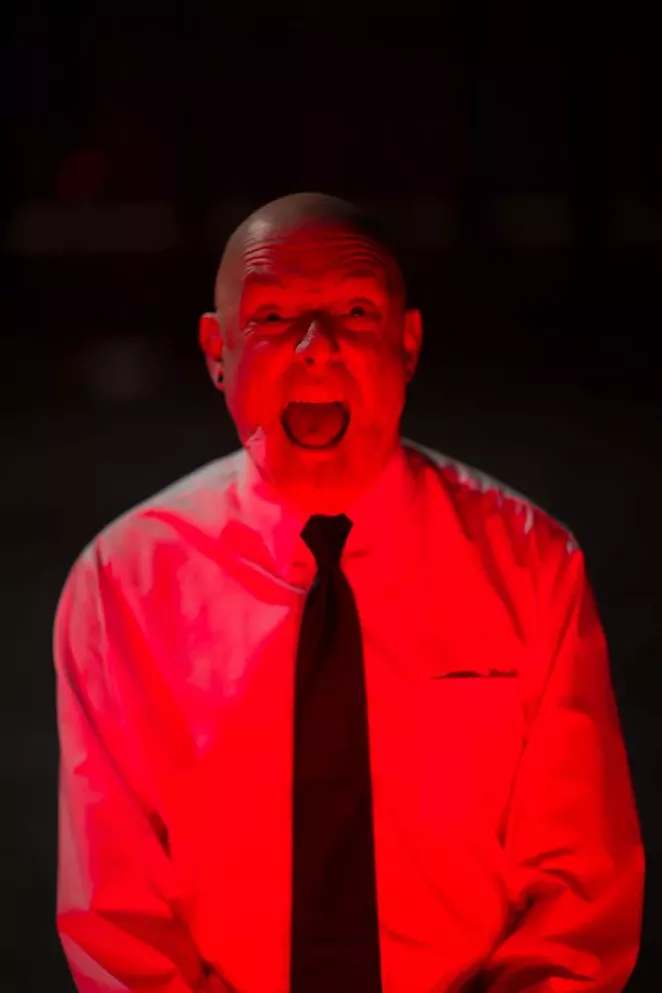 T.S. Eliot famously said the tragedy was "one of the stupidest and most uninspired plays ever written, a play in which it is incredible that Shakespeare had any hand at all, a play in which the best passages would be too highly honored by the signature of Peele."
Despite its fair share of harsh words, Titus Andronicus garnered praise over time. Director Julie Taymor calls it the most "relevant of Shakespeare's plays for the modern era," saying, "it seems like a play written for today, it reeks of now."
Spangenburg agrees.
"It may be difficult material, but content-wise, it has everything from violence to racial issues," he says. "I think a lot of people think of Othello as Shakespeare's only play that depicts racism, but I think this one does even more so, about how they tear down the world around them. It deals with that and finds ways to be true to that so that it is a part of the story no matter what, but also doing it justice. We're not championing this behavior—the people in the play who do these things properly pay for the horrors they commit onstage. When these characters meet their end, I bet everybody cheers. It's definitely a Game of Thrones love-to-hate-'em, love-even-more-to-see-'em-die situation."
In keeping with their theme, Titus will be staged in a movie theatre at Cine Grand Eisenhower 6.
"The theatre has a great big space right in front of the seats with great floor space," Spangenburg explains. "There's a great amount of playing space. It's going to work wonderfully. When you come to the show, you'll be able to have full access to the concession stands just like you're going to see a movie, but we're not going to be on-screen. It'll be fun! We're working on ways to integrate projections and make it feel like a movie-going experience."
The Shakes won't have access to the space until showtime. It's a creative challenge for Titus's cast, which includes Darryl J. Thompson-Norton as Titus, Philip Trossarello as Lucius Andronicus, Amanda Darrigo as Lavinia Andronicus, Juan Miguel Vidales as Saturninus, Julie Roundtree as Tamora, and Samuel Lee Fudge as Aaron.
"This is guerrilla-style," says Shakes co-founder Chris Soucy. "We don't get any real rehearsal time in the theatre. We're going to hit the ground running when it comes time—until then, it's a lot of anticipation and logistics. There's no wings or backstage area. Logistically, it's a nightmare of some sorts, but it's so exciting to bring something fresh and new in a venue that people haven't thought or haven't seen. The space is interesting to me as an homage to the grindhouse movie theatre experience and it's the perfect place to set it. I love the visual of the audience eating popcorn while watching Shakespeare!"
For their next productions, the Shakes look forward to catching up to the modern day in their themes and possibly even pushing into the future. Soucy has ideas for a Civil War-era Romeo and Juliet and a version of Macbeth set in a Star Wars-inspired universe.
He's also excited to welcome troupe members into the director's chair.
"We're looking forward to embracing visions that people have of these periods in time," he says.
In the meantime, Soucy and Spangenburg look forward to sharing one of the Bard's most controversial works.
"Any given time, there are really bleak and disgusting moments that are followed by really sweet and funny moments," Spangenburg says.
"We're riding on the novelty of it," Soucy says. "There's nothing else like this. You will always remember that time you went to a movie theatre and watched live Shakespeare performed in front of you."
cs