I WILL BEGIN with a lurid and perhaps ill-advised metaphor. You have been warned:
There is a certain small, problematic group of sexual outliers that enjoy public masturbation. "Enjoy" may be the wrong word, but anyway.
While some of these troubadours may be of menace-to-society magnitude (this predilection being just the tip of a more injurious iceberg) others are just sad, lonely people who are perhaps bad with boundaries and/or temporarily not of their right mind (hello, Paul Reubens).
(I wrote the rough draft of this column before the news broke about the arrest of a certain Savannah Fire official. That's what you call serendipity, folks.)
Regardless of where the public masturbator falls on this spectrum, from harmless but gross to potential or actual maniac, this is not behavior a polite society can tolerate.
Therefore, as we all know, masturbation has been outlawed entirely.
To preempt a few bad actors, we have prohibited a popular, very personal activity that is harmless.
Further, to make sure citizens are not secretly masturbating without government permission, we now employ public servants to scour browser histories for evidence of titillating content.
Wait — what?! That would be an absurd response to the problems created by a few public masturbators, right? True.
But that is basically how the City of Savannah currently treats the practice of home-sharing (renting out a spare bedroom, short-term, within your own home — NOT an STVR).
Because of mostly-imagined problems that could occur with irresponsible home-sharing, the entire practice has been banned throughout most of the city. AND, a public servant (perhaps more than one at this point) spends a great deal of time scouring online booking sites searching for transgressors.
When it comes to public masturbation, we deal with the modifier "public," not the base activity which it modifies.
However, when it comes to home-sharing, the City has decided to prohibit the entire base activity, rather than find a way to curb any potential problems, which can probably be handled by enforcing laws and regulations already on the books.
Instead, we get a blanket taking of property rights from home-owners.
Home-sharers are often empty-nesters, lonely widows or widowers, single-parents, poorly paid teachers, or people that just enjoy the novelty of hosting travelers and showing them their city through their own eyes.
Proper home-sharing, employing a room already intended as a bedroom, adds no new activities to the home (eating, sleeping, bathing, etc).
Home-sharing adds no un-anticipated stress to the property or the neighborhood, because once again, done properly it is only filling a room that was already a bedroom.
I'm on the provisional board of the new-ish Thomas Square Neighborhood Association (its full name is more of a mouthful, and it covers the entire Historic District, not just MidCity zoning). A recent survey to residents included this question:
Generally, do you support a home-owner's ability to rent out a spare bedroom on a short-term basis, if the owner is living in the home?
Of 43 respondents, only one answered with an outright "no." Thirty-eight said "yes" (also there were 2 "maybes" and 2 "others"). That's an 88.4 percent outright approval rate, from the same respondents that were 66.7 percent against STVRs as a "by right" use in Thomas Square.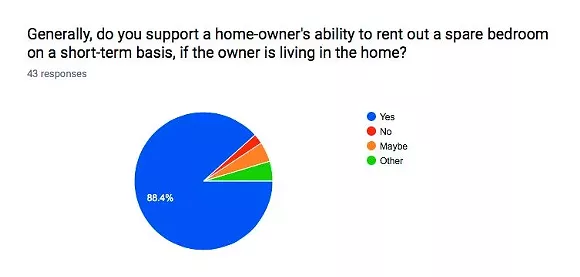 These residents understand the distinction, and obviously favor one model over the other. Want home-sharers to pay the hotel/motel tax? Fine. Want to limit home-sharing to one spare bedroom? Also fine.
But home-sharing should be allowed, everywhere, and there is no need for a complex regulatory framework — just enforce existing laws on occupancy, noise, and litter. Let people do what they want in their homes, if it doesn't bother others.
STVRs deserve more careful attention and regulation, and they are getting it. The STVR Ordinance enacted in 2015 is at this very moment being looked at by stakeholders with a mind towards revisions that could improve its performance (the above survey was part of that). However, the City has hobbled these efforts from the start by imposing three restrictions.
First, the City insists on an arbitrary 30-day deadline for recommendations. The original STVR Ordinance took months to craft, and still resulted in a very flawed regulatory framework.
Second, the City refuses to consider expanding the STVRs use to areas outside the Landmark District, the Victorian District, and the MidCity zoning area. It may seem counter-intuitive to some, but the "clustering" of STVRs could be lessened by broadening the geography that they can operate in (though likely with owner-occupancy restrictions).
Third, the City will not at this time consider broadening home-sharing rights, even though this has been promised since the STVR Ordinance was being drafted in 2014.
More home-sharing could be of HUGE benefit to curbing the proliferation of STVRs, through market forces.
It would open up an immense, competing pool of flexible accommodation for visitors, overseen by onsite owner-operators, directly profiting the tax-payers and mortgage-holders of Savannah.
It could even scare off future hotel developments. Are you paying attention yet?
But the City says this cannot be considered. They must stick to the restricted scope and arbitrary timeline of 30 days.
Really? Is that the right strategy if you want to solve this problem holistically?
Remember that there is also a Tourism Management Plan being crafted by paid outside consultants right now—why not give them time to weigh these issues as well?
There is a hypothetical answer that is logical, if not ethical. The City might have already considered the wants and desires of the only constituency it cares to listen to in regards to STVRs — the Downtown Neighborhood Association (DNA).
Therefore, the "public process" of listening to other stakeholders is really just window-dressing to satisfy the state Zoning Procedures Law (ZPL). In that case, the 30-day restriction and refusal to broaden the scope of revisions makes perfect sense.
I hope that this is not the case.
(To be clear, I am not opposed to the DNA's advocacy for what they think is best for the Landmark District. However, I am opposed to the City taking a second look at the STVR ordinance ONLY to address DNA concerns, to the exclusion of other interest groups and other areas.)
* * *
Just to remind everyone, I started this column by comparing home-sharing to masturbation, in order to defend it.
Airbnb, I await your call about my very special award.
cs