Museums were intended to be centers for learning and spaces to educate the public. Our current understanding and approach to these institutions grew from a human impulse to collect, categorize, and understand. To make meaning. But as Savannah's new
Progressive Regression: Examination of a 19th Century Museum
exhibition makes clear, museums are intimately connected with imperial enterprises and colonial attitudes, especially concerning private property, collections, ownership, and access. This problematic ethical and moral territory is the basis for the cultural reckoning happening in museums throughout the United States as they rethink their relevance, particularly related to underrepresented communities.
Progressive Regression
opened at the Telfair Academy in January to offer visitors an intimate case study of the history, philosophy, founding ideals, and contemporary purpose of Western historical museums. The exhibition is refreshingly self-reflective in sharing its history, openly asking vital questions, and inviting the public into a dialogue about our shared responsibility for the cultural institutions of the future.
Exhibit organizer Shannon Browning-Mullis, Telfair's former curator of History and Decorative Arts who is currently serving as executive director at the Juliette Gordon Low Birthplace, explains, "I'm a firm believer in the need to understand the past to inform decisions about the future. It inspired me to question the founding of museums." For anyone unfamiliar with the history of Telfair Academy, the museum was founded in 1875 upon the death of Mary Telfair. The Telfair Academy of Arts & Sciences was the first U.S. museum founded by a woman, and the first public museum in the Southeastern region of the United States.
Progressive Regression
uses the Telfair's own history of collecting as the organizing principle. Thematic groupings in the exhibition show how the Telfair's collection has been shaped by its geographic location; the values, interests, and priorities of its founder, trustees, employees, and volunteers; as well as the public it serves. The exhibition itself is exciting in its ability to make big, challenging ideas tangible, oddly familiar, and personal. From a monumental 22-foot-long Bryde's whale skeleton to a playful and puzzling 19th century marble sculpture of a boy with dogs by British sculptor Joseph Gott, and Egyptian textile fragments from the Hilton Collection, the eclectic range of intentionally selected objects drives the exhibition's aim to encourage visitors to think beyond traditional categories of a museum, allowing for new pathways of understanding about the world we live in.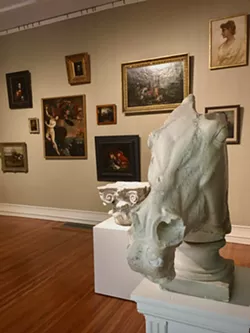 As discussions continue about the future of museums and how they connect with the communities they serve, museums are evaluating their institutional structure and ways of working. Browning-Mullis anticipates a less hierarchical and siloed future. "I think there will be more room for shared decision making and perhaps a place for co-curating between art historians/historians and the public," Browning-Mullis said. "Increasingly, we are understanding that the traditional written sources are important but flawed. They need to be balanced with oral history and community-based knowledge." Museums can be thought of as slow-moving, change-averse repositories. Depending upon the specific institution, that may or may not be true.
Progressive Regression
makes clear that, regardless of how quickly they move, museums are institutions comprised of human beings responsible for its values and relevance within a community. Browning-Mullis is optimistic that more people will become involved. "I hope visitors come away from the exhibition imagining how we can change museums in the future. I hope they question the museum's role in their community and their own role in the museum," Browning-Mullis said. This exhibit offers an inviting, open door to the process of realizing such a vision. Progressive Regression: Examination of a 19th Century Museum
is ongoing at Telfair Academy (121 Barnard Street, Savannah). On Feb. 25 at 6 p.m., Telfair will host a free opening reception and virtual lecture by Shannon Browning-Mullis via Zoom. Visit telfair.org for more details.