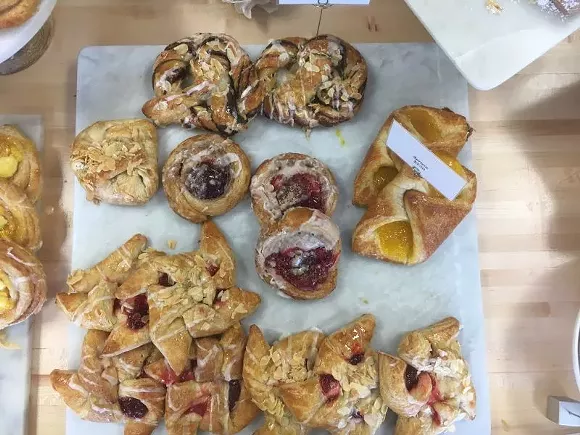 FOR OVER a century in Savannah, just the mention of the Gottlieb name would set folks to drooling.
Old timers will tell you that the city's best pastries, pies, breads, cakes and cookies came from the family bakery that opened downtown in 1884 and eventually settled on Bull and 32nd streets in 1928. Back then the goods were delivered by horse and buggy, and some of the first Girl Scout cookies came from that same kitchen, sold in packets for a quarter.
Isser Gottlieb and his wife, Ava, eventually inherited the shop and its revolving oven, expanding in the 1970s to the Oglethorpe Mall and Hilton Head Island to meet the high demand for rugelach and sweet rolls. But the small business was no match for the big box grocery franchises that moved into town, and Gottlieb's Bakery closed for good in 1994.
Until recently, those hankering for Sister Sadie's honey cake or raisin pumpernickel loaf had to be content with trying to execute recipes from the spiral-bound 100th anniversary cookbook, if you could get your hands on one (they can still be found online or, if you're very lucky, at a midtown yard sale.) But the chocolate chewies never turn out quite the same—Sister Sadie kept her secrets.
Fortunately, they're still in the family: Isser and Ava's sons Laurence and Michael Gottlieb are baking up their ancestors' rye breads, sparkle cookies and sticky buns at the first retail incarnation of Gottlieb's Bakery in over 20 years, open in Eisenhower Square since April.
"I've got all my father's notes," says Laurence, thumbing through a leather journal stuffed with handwritten scraps left by the elder Gottlieb before he passed in 2012. "When I'm here baking in the early morning, I try to get into a headspace that goes all the way back to my great grandfather."
He also keeps a dog-eared copy of the 100th anniversary cookbook in the office, but it's clear the Gottlieb brothers know the recipes by heart, and that their hearts are in the family tradition. They've even brought back a revolving oven, along with a machine called the Cookie King that lays out chocolate chewies in perfect dollops, to re-create the tastes of long ago.
"It's so gratifying to watch people who last had some of these things when they were children," describes Michael. "The flavors trigger something and they remember."
In addition to a mutual passion for jam bands, the 40-something year old brothers have always shared a foodie kinship, Michael skipping his senior year in high school so that they could attend Johnson & Wales culinary program at the same time. (Their eldest brother, Richard, prefers the golf course over the kitchen.) They cooked together at the famed Inn at Little Washington in Providence, RI, coming back to Savannah in the 2000s to open an eponymous restaurant on Broughton Street. When that closed after two years, they went their separate ways for a time, Laurence consulting for restaurants in Jacksonville and Michael heading up the Rib Room in New Orleans.
But the Gottlieb roots run deep, and they've been back the last couple of years supplying a few products from at a barbecue joint in Bloomingdale, biding their time for their next culinary venture.
Now the Gottlieb boys are back in the city limits with the new bakery, though it's only the first phase of their return.
"Baking is my passion, not his, but Michael has put in all the work to make it possible for us to do this," defers Laurence to his little brother.
"I'm the savory guy," explains Michael, a pitmaster with a business degree who says he'd eventually like to open another full-service restaurant.
"I'm all about French-rooted, approachable Southern cuisine and the best ingredients, but not necessarily with the white tablecloths."
For now, it's about paper napkins and sweet peaches 'n' cream danishes paired with Cup to Cup coffee at the counter, but no one's complaining. The shop bustles with a steady stream of customers, clamoring for fresh loaves of expertly braided challah and ganache-glistening chocolate eclairs the size of a shoe.
And of course, Ava Gottlieb's famous chocolate cookies are always in demand, selling out in the early afternoon most days.
"The story goes that the chewies were an accident. It was supposed to be another recipe, called the Comeback Cookie, but Uncle Irving didn't like the walnuts, so my mom used pecans. And then she did something that made them turn out differently," recalls Laurence, alluding to a secret technique that gives the treats their signature airy softness.
"Many have tried to imitate them, but none can duplicate them."
For the month of August, a percentage of all of Gottlieb's chocolate chewie sales will benefit the Heirloom Foundation, a non-profit organization founded by restaurant veterans to advocate for mental health support for those working in the food and beverage industry.
"I was moved when I learned about The Heirloom Foundation , thinking about my past jobs, people I have worked for, people I have worked with and people I have employed," says Michael.
"We can help in the fight against mental illness and promote awareness in Savannah, a city full of hospitality."
Gottlieb's is closed on Mondays, following family tradition, but not everything in the bakery comes from Isser's battered notebook.
The Brothers G bring their own skills to the table, notably Laurence's talent for viennoiserie, the technique that gives croissants, popovers and puff pastries their delicate buttery flakiness.
Such offerings are new to the Gottlieb's roster, giving Savannahians plenty of new reasons to salivate.
"Most of the recipes are tried and true for generations," avows Laurence, adding with a grin, "But I'll put my croissant up against anybody's."
cs