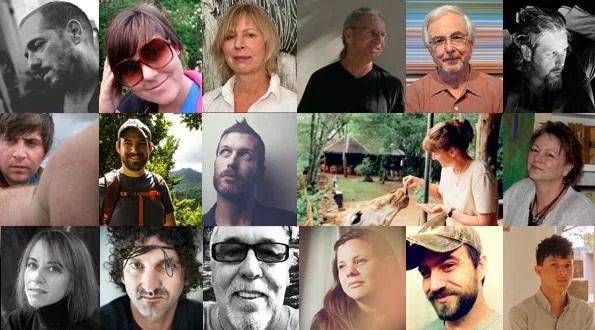 It can be tricky when fine art and home-cooked grub collide, especially if there aren't enough napkins.
But the Slideluck Potshow has been a recipe for success since 2000, when photographer Casey Kelbaugh hosted a potluck dinner followed by slides depicting different artists' work. The concept of a casual, unpretentious evening of art spread like a fine cheese, and over 50 cities — from Baltimore to Bucharest to Berlin — have now paired paintings, photography, sculpture, jewelry and other media with covered dishes brought by attendees.
With its dynamic art community and penchant for green bean casseroles, it was only a matter of time before Savannah caught on. Showcasing 26 mostly–local artists and artisans, Slideluck comes to town this Thursday, Jan. 24 at the American Legion ballroom on Bull Street.
From its first Facebook post, Slideluck Savannah has amassed a momentum that's knocked the socks of organizers Francis Allen and Summer Teal Simpson. In fact, there has been such an outpouring of interest that the event had to be relocated to American Legion Post #135's big ballroom. Sponsors and offers of support continue to roll in, as do admonitions to show up early.
In between sequencing the slideshows and coordinating the event, Allen and Simpson stopped by the Connect office to discuss demystifying art, the phenomenal community support and who the hell is bringing the forks.
Tell us about the art.
Francis Allen: Everything is presented as photographs, but we have photos of cutouts, paintings, fine furniture, jewelry ... Each slideshow consists of 20 to 30 images with a soundtrack chosen by the artist. They're shown back–to–back, probably a total of 75 minutes.
Summer Teal Simpson: Ninety–five percent of the artists who are showing are local, and we also have two sets of slides from Slideluck Global in New York. There are jewelry makers, painters, photographers, some students and some veteran artists. It's a great cross-section of talents.
How did you curate it?
Summer: This is a new concept to Savannah and you never know how that's going to go. So we decided for the first go-round to make this event really strong and reach out personally to artist friends of ours, asking them to participate. But we also got a good bit of submissions.
Francis: Getting that many artists to submit that many pieces of work is no small feat. The submission process is done online with one of the national sponsors, Viewbook, and the artists submit their slides and music separately. We give it to the national Slideluck people and they produce the whole thing.
What prompted you to spend your free time organizing this?
Summer: I love the local art scene here. I didn't know anything about art when I moved to Savannah, and I quickly realized that if I wanted to get a better understanding of art and cultivate my own taste that this would be a great place to do that. This seemed like such a natural fit for Savannah and I wanted to be involved.
Francis: For me, it's part of an arc. I've been trying to make art more accessible to people, to kind of demystify it, using different formats like this. A lot of people wouldn't go to an art opening, but you put it at the Legion, throw in dinner and make it an easy thing where people can sit and watch it and they might think "Hey, this is all right. Maybe I'll go look at this artist the next time they have a gallery show."
How is this different from other community slideshow events like Pecha Kucha?
Francis: Pecha Kucha is a much more rigid format, 20 slides for 20 seconds. And the presenter is not necessarily an artist, the presentation might not even be about art. The common thing is that they're both slideshows, but Slideluck is about art. There's also live music: City Hotel will be playing old–timey bluegrass.
Summer: This has been done 20 times in New York and every major city practically in the world, and we're also doing something different that sets ours apart from other Slidelucks: So often artists give of their time and their talent and we wanted to give them an opportunity to sell their work and people the opportunity to buy the art if they like what they see. So we're doing a gallery show with one or two pieces from each artist the week after, on Jan. 31 at the Oglethorpe Gallery.
So, this thing is sort of blowing up —how are you going to wrangle all the people and their food then get them to sit down to watch a screen?
Francis: We're imposing a bit of order on things. You're going to need to herd people, really. [Soap frontman] Joa Kelly is going to be the Master of Ceremonies, and Michael Cheney, a film professor at SCAD, is going to do the opening blessing,
Summer: We've got a team of five volunteers, plus Jeanne Svendson of DeSoto Row Gallery and her volunteers. Kaufman and Heinz is setting up A/V equipment and bringing the biggest screen for the space so that anywhere you are in the room, you can see it. We're also asking people to come on time because we may hit capacity.
What if you can't cook?
Summer: We tried to make the price difference enough to encourage to bring a dish: It's two dollars if you bring something, 10 if you don't. So you can run over to Kroger and bring a bag of fried chicken and it'll still be a better deal. Plus we have some great sponsors donating food: The Sentient Bean, FORM and Circa.
Francis: And the Starfish CafÉ and Kroger. Plus everyone gets a beer from another national sponsor, Brooklyn Brewery.
It's inspiring to see how many local people and businesses have rallied around Slideluck.
Summer: That's what I love about this town — you give people this cause of making art more easily approachable and they just jump all over it! This really celebrates a very important aspect of the Savannah community, the creative arts element. But that can be intimidating.
Francis: [nodding] Yes, sometimes with art you feel like you have to say something. Even going to a museum, the act of viewing art is generally an individual thing, it's not social. I think this appeals to people from a social aspect— it's a big party. You eat, you drink, there's music, you look at art.
Summer: It's interactive from the artists' perspective too, being able to choose the music and the sequencing. It also allows them to show a broad cross section of their work. They can influence your interpretation of their work on a different dimension than if they'd just hung work in a gallery space.
Um, it actually seems like you know a lot about art.
Summer: [laughs] I'm faking it!
Francis: I just know what I like. And think about this: You're going to see close to 500 pieces of art that night. You could go to the Jepson three or four times a year and not see that much. This is a great event for people to come and see what they like and say "Hey, that was really cool!" and not feel like an idiot.
Slideluck Savannah w/City Hotel (21+)
When: 7 p.m. Thursday, Jan. 24
Where: American Legion Post 135 Ballroom, 1108 Bull St.
Cost: $2 with a dish, $10 otherwise; admission gets you a beer
Info: facebook.com/slidelucksavannah