BLACK JOE LEWIS'S origin story is fit for a blues song.
Now a neo-soul and blues-wrangling troubadour who has released five acclaimed studio albums since his mid-2000s debut, Joe Lewis first picked up the guitar while working at a pawn shop in Austin, Texas.
Soon, he was digging into the local blues and garage rock scene, playing with artists like Walter Daniels and the Weary Boys. His hometown's own South By Southwest Festival was a perfect place for his fully-formed band, Black Joe Lewis & the Honeybears, to get noticed and hyped by industry tastemakers—including MusicFile Productions' own Kayne Lanahan.
"I saw them play a late night show at South By Southwest in Austin," the Savannah Stopover Music Festival founder remembers. "It was in 2007 right when their first record came out. I was obsessed with their old school funk and blues."
The song that particularly grabbed Lanahan that night was "Bitch, I Love You" from the 'Black Joe Lewis and The Cold Breeze' EP, produced by Brian Salvi and released in 2005. Featuring Matt Hubbard (Willie Nelson, 7 Walkers) on Rhodes electric piano, the EP was released on Italy's Shake Yo Ass Records, a label that released music by The Black Lips, The Rippers, Hormonas, and others.
"I swear it goes in every playlist I make," Lanahan says of the debut single.
With soul swagger, wicked organ, and Lewis's earth-shaking vocals, it's perfect for nearly any mix imaginable.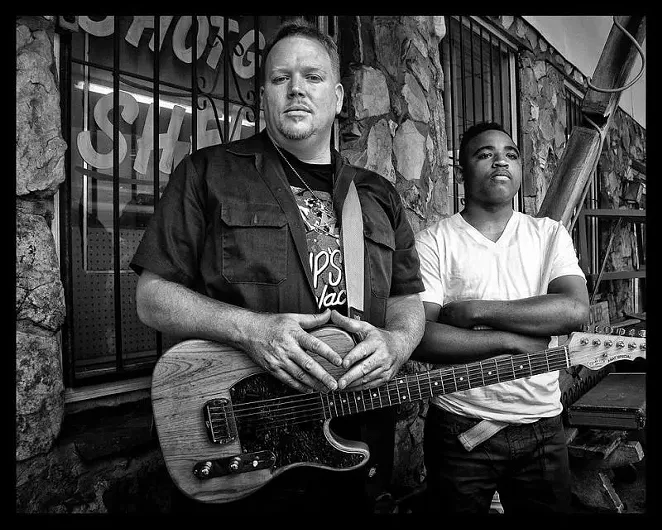 The band spent 2007 touring with the likes of Spoon and Okkervil River, signing to Lost Highway Records in 2008. Throughout that year, they garnered new fans on the stages of heralded festivals like Lollapalooza and Austin City Limits Music Festival and released a four-song EP in 2009.
Tour mate Jim Eno, drummer of Spoon, eventually became a collaborator, producing Black Joe Lewis & the Honeybears' debut full-length Tell 'Em What Your Name Is!, released March 17, 2009.
From there, the band became an in-demand booking, guaranteed to get the audience dancing, the stage quaking, and fans of everything from gospel, blues, punk, and soul buying tickets. At Bonnaroo, Coachella, Outside Lands, and Bumbershoot, the crowds packed out, and soon, Black Joe Lewis & the Honeybears were projected right into Americans' living rooms with appearances on Late Show with David Letterman, Austin City Limits, and The Late Late Show with Craig Ferguson.
"We actually have been trying to get Black Joe Lewis to Savannah for a few years now," says Lanahan. "To Revival Fest or Stopover, but when the timing doesn't work, we always jump at the chance to have these types of more well-known bands play a club show."
The band's been touring extensively throughout 2017 thanks to the release of a new record, Backlash. With fuzzy guitars and a strong horn section, the dynamics are bright and rollicking—Backlash is an engaging and rapturous record with deep grooves and killer swing.
After the Black Joe Lewis show, the next big MusicFile Productions gig is Revival Fest, the ('scuse the pun) revived modern Lowcountry hoedown featuring Blitzen Trapper, Big Sam's Funk Nation, Ruby Velle & The Soulphonics, and more.
For fans of one-off shows like Black Joe Lewis & the Honeybears, Lanahan is pleased to announce that Florida indie favorites Surfer Blood will perform at The Jinx on October 11.
"That's another first play in the market that we're excited about," she says. "And there are a few more pending."
With crossover appeal and an unforgettable live show, Black Joe Lewis & the Honeybears is a perfect start to the fall and winter concert season in Savannah.
"It's fun and sweaty and you're gonna move a whole lot," Lanahan promises. "And don't miss the opener! Lightnin Malcolm from Mississippi is one top-notch blues performer."
CS