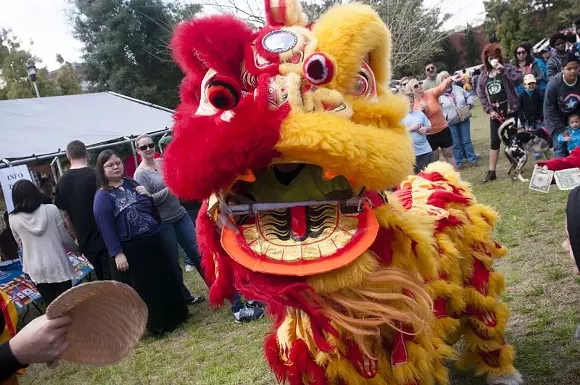 YOU CAN definitely experience the glorious power of gold dragon dances, taekwondo demonstrations and those heart-stopping Taiko drummers when the Savannah Asian Cultural Festival returns this Friday and Saturday, April 15-16.
Those seeking inner peace can also find quieter, gentler activities like yoga, meditation and a chai tea ceremony.
You might also be simply interested in the food: Sampling the fresh catch sushi rolls, Korean barbecue, biryani rice dishes and other Eastern delicacies could keep a body busy most of the day.
The city-sponsored extravaganza celebrates its 21st year with the diverse traditions and tastes that have made this springtime affair one of the city's best attended cultural events. Formerly housed in the Civic Center, the festival brought out more than 6,000 revelers last year to Armstrong State University, its first on campus and the largest city event on the southside.
Even more attendees are expected this weekend to fill Armstrong's Burnett Hall and its beautifully landscaped lawns, currently abloom with the season's yellows, pinks and greens.
"It's still so new for us to host here, and everything is really exciting," says Kristin Kasting Karam, Armstrong's Assistant Director International Education and primary festival organizer.
The gong strikes Friday night and throughout Saturday as martial artists, dancers and musicians from China, Korea, Vietnam, Thailand, Japan and the Philippines represent their respective countries along with performers from India, Iran and Pakistan—places that are not always associated with Western ideas about Asia.
"We want to make sure the festival represents the true Asian continent, and that includes countries that some people think of as the Middle East," assures Karam, whose travels have taken her to Korea, China, Hong Kong and Macao.
"It's really something to see the parade of nations with their flags."
Sitting in her office brimming with small cranes, Chinese knots and other Asian-influenced décor, Karam wields a bright red, five-inch binder—reminiscent of Parks & Recreation's super-organized Leslie Knope—to keep track of all the participants and ideas that will make the 2016 Asian Festival bigger and brighter than ever.
Many of the performers come from Savannah's vibrant cultural communities, like Master Lee of Savannah Taekwondo and Indian dancer Janki Patel. Also taking the stage will be award-winning erhu (a type of two-string violin) player Yu-Chen "Gary" Cheng, formerly of the Chinese National Orchestra and now a chemical engineer at Great Dane Trailers. Savannah natives Gabe Lee and Shannon Vo will emcee.
Contributing to the festivities are Armstrong's international students, some of whom are organizing a Holi festival on Thursday afternoon, the whimsical Hindu ritual of dousing observers in rainbow-hued powders to celebrate the coming of spring.
Karam serves as something of a "surrogate mom" to these students, who hail from all over the world. She helps them adjust to American life, securing their visas and taking them shopping, and she says the Asian festival helps alleviate a bit of homesickness.
"Many of these students come from multigenerational homes, with grandparents and even great-parents living under the same roof," she explains. "Coming here is a grand adventure, but it can also be lonely."
Karam also credits Armstrong's many American-born students from Savannah's robust Vietnamese, Korean, Chinese and Indian communities with helping infuse the Asian festival with lively energy.
"They're the ones who live in both worlds, and they bring enormous cultural contributions."
Leafing through her enormous binder, Karam reminds that the festival has two stages, one inside Burnett Hall for the larger performances and another smaller stage in the lush International Garden that is reserved for workshops and classes. The one she's looking forward to the most?
"The meditation class that closes out the festival," says the inimitable planner with a grin. "I think I'm really going to enjoy that at the end of the day."
cs