LISA Rosenmeier is definitely a dog person.
"365 Days," her latest exhibition at the Cultural Arts Gallery, consists of bright acrylic portraits of both dogs and cats.
"I found there were some cats that I liked, but after doing this for a year, I gravitated more towards dogs," explained Rosenmeier.
In October of last year, Rosenmeier began following two kennels at the Humane Society shelter. She documented their personalities and painted their portraits for a full year.
Underneath each portrait in the gallery hangs a card stating the animal's name, age, gender, the duration of their stay in the kennel, and the reason for arriving and for leaving.
"Tracking a kennel space is easier than tracking one animal at a time," explains Rosenmeier. "You get a more diverse group, and you have no control over who you're choosing. This way I wouldn't be biased, like, 'Oh, look at that sad story!'"
The size of each canvas also corresponds with the amount of time each animal spent in the kennel. The amount of work Rosenmeier put into this exhibition is extensive, but even more remarkable is that she still remembers the animals' personalities. Vulcan the cat was shy; Patches Clay the dog loved to lick; Bugsy the kitten always got close to the camera.
The paintings—done with a modified acrylic paint because Rosenmeier is highly allergic to oil—all capture the pets' personalities without making them look like humans, an intentional choice.
"I didn't want to anthropomorphocize any of them or make them be seen as humans because they are their own species," she notes.
Rosenmeier, who also paints pet portraits on commission, has been involved with animals for most of her life, beginning with walking dogs for Animal Control out west. She got the idea for "365 Days" after a bad experience with a client.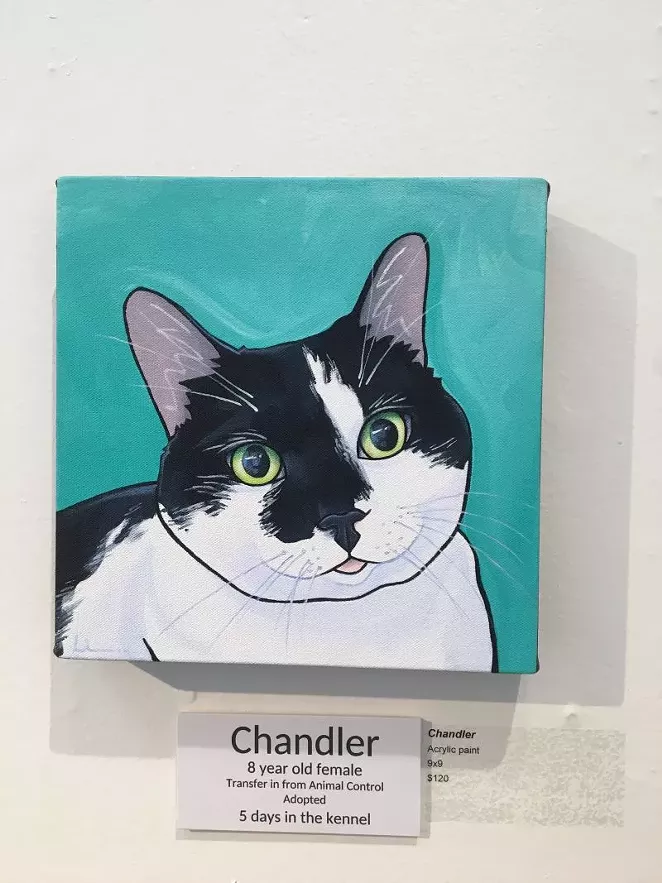 "When I gave them the portrait, they said, 'Oh, this is so cute! But what do I do with it when my dog dies?'" Rosenmeier remembers. "I was like, cherish it forever? That really stuck with me. So I started studying the history of cats and dogs in human society."
Rosenmeier learned about domestication in cats and dogs, particularly how they evolved with human society.
"A truly domesticated cat would never survive as a feral," she says. "You can't abandon Fluffy alongside the road and think, 'Okay, they have claws and teeth, they'll be fine.' And don't bring feral cats into your house! Let them chase mice; don't bring them kibble. They've got it. Watch what the animal does and you'll see the difference."
After her 16-year-old poodle died, Rosenmeier felt the urge to adopt a purebred Maltese from the shelter since her husband also owned a Maltese.
"So I went into the kennel and I sat down with the dog," she recalls, "and by the time I was done, I was like, 'No. You are not gonna work in our household.' We just didn't work. He was getting along with other people, he wasn't tearing up things. It was just us."
While working on the project, Rosenmeier noticed that many of the dogs brought in were about a year and a half old—"right after they stop being cute," she notes.
The main goal of "365 Days" is for us to see the individuality in our pets.
"When people get inspired to adopt, instead of being in love with the image, take the time to go to these places and visit with the animal," Rosenmeier urges.
cs