Martyn Jenkins knows a thing or two about tribute bands, and he knows even more about Queen. The veteran tribute performer not only leads Absolute Queen, his current Queen project, but also fronts an AC/DC tribute as well as a dual Judas Priest/Iron Maiden band. All three projects have become hugely successful perform regularly worldwide.
Jenkins, a native of Wales who currently calls the U.S. home, is bringing Absolute Queen to Coach's Corner on Thurs., May 16 and we spoke to him ahead of the gig.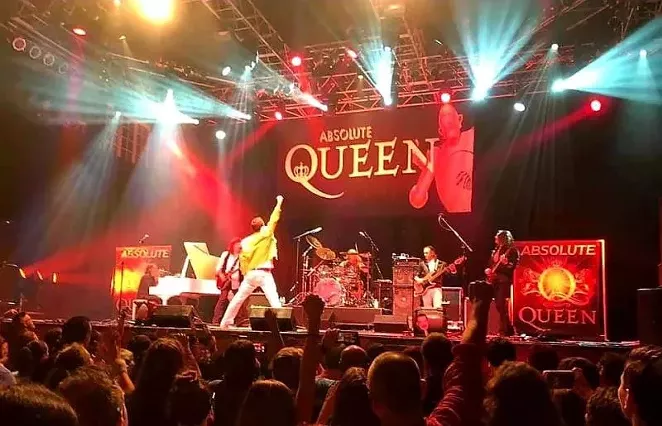 Are you a lifelong Queen fan? Is that kind of everyone's story in this band?
Jenkins: Oh, yeah. It's really kind of my baby. I was in a Queen tribute band in Britain, before tribute bands were even invented in America, back in 1991.
We didn't dress up and we just played the music, but were involved in the International Queen Fan Club and played all over Europe. We did a lot of work with the Mercury Phoenix Trust, which was the trust set up for AIDS research after Freddie died. That's where it all started.
I was a massive Queen fan and saw them three or four times before Freddie died. I was at the tribute concert at Wembley, and I've actually played with Brian May as well.
Wow. So there actually is a real history here.
A real connection, yeah. It's not like we just formed a tribute band because the movie was good [laughs]. When I moved to America in '96, I didn't do music for a while.
It's very hard to get people who can actually play Queen and their whole catalog. So I tried something about five or six years ago but it didn't really come off well. We did a few shows but I felt it wasn't good.
Then what happened is, I'd been in an AC/DC tribute band out of Florida for the last 13 years. So about two years ago, I formed another tribute band with a group of musicians where we did Judas Priest and Iron Maiden called Judas Maiden. And then, to be honest with you, I was getting a bit fed up with doing the AC/DC tribute.
A lot of people now, with tribute bands, they know the albums so well and they want to hear those albums. So we found a keyboard player who also had a recording studio and he said, "Why don't we recreate all of the backing vocals to Queen, and then sing over our own voices live to make it sound huge?" I thought he was off his head [laughs].
It's funny, because a lot of bands are doing that these days - playing to backing tracks and clicks to enhance their show.
Right! And I didn't know any of this at the time, at all. My keyboardist, James, has engineered for bands like Nine Inch Nails. He's a real studio wizard. He's the one who said we can do this.
There are something like 125 voices on "Bohemian Rhapsody." [laughs]. I said, "The other guys are great, but I've got to teach them how to do all the harmonies because they're not all natural harmony singers." So we went and tracked every single Queen song in a two-hour set.
For instance, when we're doing a song like "Another One Bites the Dust," there are all of these strange noises and clangs and bashes in it.
James was able to recreate all of those sounds. The good thing [with this band] is that we have six musicians, and there are a lot of layers to these songs. We have two guitarists on stage - one predominantly doing the lead and the other doing all of the parts that you can't normally pull off in a live setting.
How has the film [2018's Bohemian Rhapsody] impacted this band? I'd imagine that it'd really help propel things.
Yeah. I'll give you an example - we played the House of Blues in Orlando in February on a Thursday night, and we sold it out and they turned away 400 people. And the age group, I was looking at families that are bringing 8-year-old kids who knew every word to every song we were playing.
So it's been brilliant for Queen music reaching people who maybe weren't familiar with the story.
On the surface and to those who aren't musically inclined, these are incredible songs. But when you really dive into the records you realize how groundbreaking it was in so many ways. Does this project give you a different appreciation for Queen?
To actually dissect "Bohemian Rhapsody" gave me such an appreciation for how complex these songs were and how they were built. It's not harmonies on there - a lot of them are individual vocal lines. Some that I didn't even know existed.
What I try to do with this show as well is not just do the songs, but also tell a lot of stories. I met the guy who owns the studio where they recorded "Bohemian Rhapsody," and I've seen the desk that it was recorded on.
But even cooler than that, he dragged out the piano that Freddie recorded the middle section on at four in the morning. So I'll tell the story of that in the show. I tell little stories like that in the show to give people a little bit deeper of an appreciation for Queen - just some things they might not know.
cs