ONE OF the most difficult things to navigate when you're a young person in a college town is where exactly you're allowed to go if you're not yet of legal drinking age.
It's especially tough for live music fans in Savannah, which isn't always as friendly to the idea of all-ages venues as other cities.
Don't be discouraged, though—we're here to help. We've compiled a list of some great places to see live music for those under 21.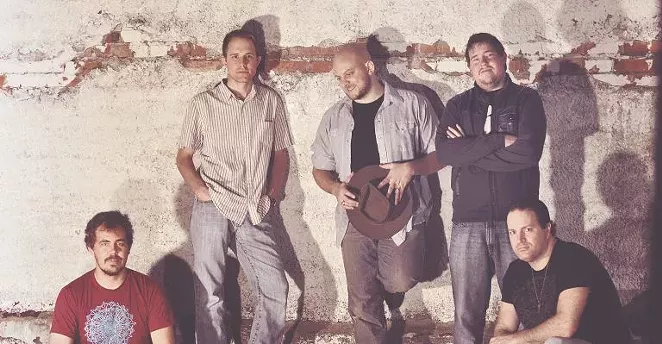 Foxy Loxy Cafe
Foxy Loxy Cafe's "Acoustic Altar," in the courtyard behind the beloved coffee shop, is a wonderful place to see a show. They've got a Tuesday night series that brings local, regional, and national acts to their outdoor stage, as well as a "First Friday" series that showcases an eclectic mix of talent.
Most of the time, the shows are free—making this a great destination for anyone looking to see some live music no matter how old they are. Plus, you can get yourself an espresso brownie or a churro muffin.
Coming up at Foxy Loxy: The Great American Boxcar Chorus / Fri., Sep. 6, 6 P.M.
Victory North (18+)
Savannah's newest venue, Victory North, is a breath of fresh air. They're bringing top notch talent to a mid-size venue, and it seems like the calendar is getting better and better with each announcement.
Luckily, the shows are all 18 and up, which is great for college freshmen who aren't old enough for the clubs in town. Victory North could end up being a game changer for Savannah, and you don't have to be 21 years old to experience it.
Coming up at Victory North: Liz Cooper & the Stampede / Mon., Sep. 9, 7 P.M. doors, $13
The Lucas Theatre for the Arts
Savannah's Lucas Theatre hosts plenty of film events among an eclectic schedule, but they're also known for staging some great concerts on occasion. You'd be hard-pressed to find a show there that isn't all-ages, so keep a close eye on their calendar, especially in the fall.
Coming up at the Lucas Theatre: A Night Of Georgia Music (Chuck Leavell, Mike Mills, and Robert McDuffie) / Fri., Oct. 4, 8 P.M., $49+
Neighborhood Comics
Savannah's newest comic book store, Neighborhood Comics, appears to be gearing up to start offering live music in addition to an incredible collection of comics, toys, art, and more.
Their first show is a doozy—The Posies' Ken Stringfellow will be doing his first ever show in Savannah Oct. 2. Stringfellow is a legend of the grunge era as well as a staple in the powerpop world.
An Evening With Ken Stringfellow / Wed., Oct. 2, 7 P.M., $20
First Friday for Folk Music @First Presbyterian Church Social Hall
On the first Friday of every month, the Savannah Folk Music Society hosts a concert at First Presbyterian, presenting some of the best folk music around in a gorgeous, intimate setting. They've hosted some great artists in the past, and are always striving to keep the spirit and artistry of folk music alive in our city.
Coming up at First Presbyterian's First Friday series: Kellie Parr / Fri., Sep. 6, 7:30 P.M., $5 suggested donation
Civvies
A favorite clothing store, Civvies is now also starting to dip their collective toe in the waters of live music. Our own Rachael Flora has a piece in this issue about an upcoming event in the store, in which manager Raine Raine explains their impetus behind providing the space as a venue. If the shows are as top-notch as everything else Civvies is doing, we're in for some special events.
Coming up at Civvies: Greef, Sundog, Raine Raine / Tues., Sep. 17
The Sentient Bean
Keep your eye on the schedule at this favorite coffeehouse on the southern border of Forsyth Park. They've been hosting open mics and regular all-ages music performances for years.
The Wormhole
Starland's original dive bar also hosts occasional all-ages music events. Keep an eye on the calendar.
Club One
Most drag shows at the legendary Club One downtown are 21+... but not all of them! It depends on the show. This is a unique experience in Savannah, and everyone should check it out at some point.
cs