"Good people. Good music."
It's a simple mission statement, and one that Athens band/collective Family and Friends truly inhabit: radiating positivity and inherent, contagious fun, the band's heading back to The Jinx this weekend for a Savannah Stopover-produced show with Savannah's Carpet Coats and Curbdogs.
"We're stoked to be back," says vocalist/guitarist Mike MacDonald. "It's been too long!"
Inspired by classic songwriters like Bob Dylan and Paul Simon as well as modern folksters like The Avett Brothers and The Head and the Heart, Family and Friends are a lightning bolt of energy onstage and on-record.
Their latest and second EP to date, XOXO, was self-released in July. With huge builds, scintillating textures, bright guitars, grooving bass, and memorable harmonies, the band's earned enough Mumford & Sons comparisons to last them a lifetime, but the resemblance is only slight. Really, Family and Friends' dynamic stage presence (two dueling drummers and seven, sometimes more, people onstage makes for a never-a-dull-moment show), firm grip on balance, and exuberant, layered percussion brings to mind Givers, who Stopover brought to town in 2011, or even Atlanta's Little Tybee (hey, Stopover, can we make a triple bill happen?).
XOXO's six songs show Family and Friends wandering toward studier territory; there are more electric whims, heavier-hitting drums, and an overall weightiness to the thing in contrast with Love You Mean It, their wispy, bright spring day of a debut EP.
"As far as what we we're writing now, we want to explore that space more," MacDonald says. "Folk is still the backbone, but we're taking everyone's influences into consideration. It's a very collective writing process these days."
Recorded at Asheville's lauded Echo Mountain Recording Studio with some overdub work completed in Lawrenceville, Georgia, XOXO was all recorded live. That was a first for Family and Friends, who recorded Love You Mean It track-by-track, laying down guitar first and layering overtop. MacDonald says both studio experiences were vital in finding out the best way to capture the band's spirit.
"We're happy with both," he says. "We're always down to experiment. This time, it was definitely a goal to bring in some room, make eye contact, and play off each other."
The beauty of it all is that MacDonald's sharply observant and tender lyrics still sit front and center in Family and Friends' lush songs. It's a difficult kind of balance to strike, turning up the volume and hitting it harder than before while still embracing a rootsy, down-to-earth feel, but Family and Friends have achieved a sound that's both gentle and a little raucous.
"A lot of it stems from when we write, and me bringing in songs on acoustic guitar," MacDonald explains.
Though, like many, he took piano lessons as a kid, and was a "typical marching band geek," MacDonald didn't begin playing guitar until late high school.
"You can't take a saxophone to a party and be the cool kid!" he laughs.
MacDonald learned guitar in order to write songs; he was fleshing out original material from the get-go and taught himself how to play.
"All the guys" in Family and Friends met while attending University of Georgia in Athens; the college town and music hub has proven to be a post-collegiate haven and perfect incubator for Family and Friends.
"It's a small enough town to where everyone knows each other and is super-supportive," he says. "In the music scene, there's something for everyone. You also have the historic background in Athens, so it's kind of under a microscope."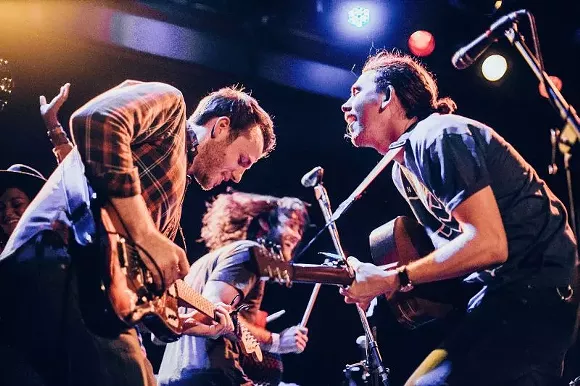 The Athens scene and community has gladly embraced Family and Friends, and how couldn't they? With such a fun live show, a habit of calling friends and audience members onstage to participate, leading sing-alongs, and that trademark blissful attitude, they're a hometown band worthy of a warm embrace.
"We like to break the fourth wall," says MacDonald of their live show mentality. "You're not just going to a concert; you're being a part of it."
Sometimes, it can be a challenge to directly engage a new audience, but Family and Friends always finds a way to win them over. Having already charmed the Lowcountry in the past, they return to a crowd that's ready for an evening of fellowship and spontaneity.
"We're so excited to be back in Savannah," MacDonald says. "It feels like home."
CS