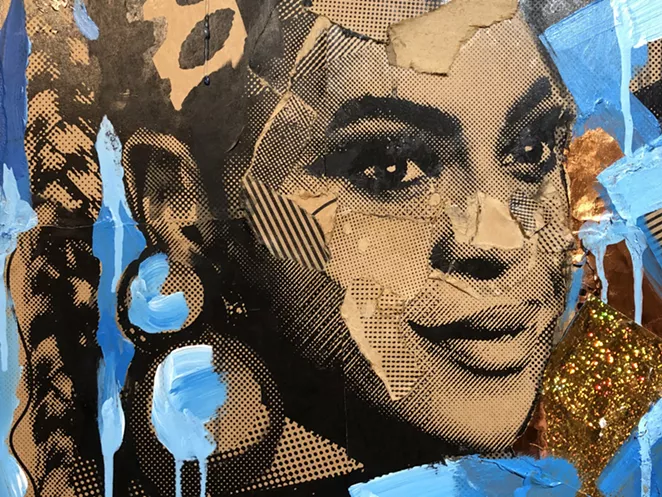 Amiri Farris'
Starland
exhibition, an installation of collages made with funky reclaimed materials, fits right into Savannah's Starland District. The vibrant exhibit fills the Bull Street storefront window of Sulfur Studios' ON::View Pop Up Gallery, meshing well among the multifarious artworks and buildings (and artwork on buildings) that make up the Starland District. Farris' work for this show was created using an array of reclaimed materials, including sparkly gift bags and cardboard boxes. Bright-colored paint and printmaking materials create Ben Day dot illustrations of American stars ranging from Oprah Winfrey to André 3000 to Frederick Douglass, along with other graphics that are all collaged together to make each individual piece. "Farris' work challenges the traditional view of the star as protagonist, weaving well-known imagery into collages in which different elements compete for the spotlight," said Sulfur Studios representative Samantha Mack. The exhibition is available for passersby to observe through Jan. 31. Farris will be giving a talk about his work on Jan. 9 at 2 p.m., via a live-video appearance on Instagram. During this event, Farris will present a music video curated to accompany the Starland exhibit.
In conversation, Farris says a friend told him that he was "an art star," and that got the multifaceted artist's wheels turning. Farris attributed this conversation with his friend, as well as his settlement in Savannah's Starland District, as his inspiration for the
Starland
exhibit. "The theme of the exhibition is Starland," said Farris. "When I say 'stars,' people think movie stars or stars in the sky, and I wanted to do something that related to both." To counteract the gloom of the pandemic, Sulfur Studios challenges its artists to find ways to engage the public in the arts, while also promoting social distancing. "History shows us that some of the world's greatest art was born of difficult circumstances. Artists help create meaning out of chaos, ask questions, and help connect communities in times of crisis," said Farris. "This newest exhibition can be viewed distantly from outside, and get noticed by people that wouldn't necessarily go into an art center or museum, so I feel like I'm engaging the community."
Farris attended the Savannah College of Art and Design, where he earned a bachelor's in illustration and a master's in painting. He describes himself as a multidisciplinary artist since he enjoys sculpting, performing arts, and having the freedom to recreate whatever type of work that he sees and that piques his interest. "I don't like to be confined to one genre," Farris asserted. Farris uses his platform to prioritize the well-being of other artists. Proceeds from sales of
Starland
works will support Sulfur Studios' Artist Fund, as well as Farris' nonprofit Slay organization benefiting artists in need. Farris said that he started Slay at the beginning of the pandemic to help provide funds for artists in need, since artists are typically the last to be compensated after the public enjoys their work. In 2020, the organization raised $20,000 to be disbursed in $500 increments to artists that reached out for help. Moving forward, Slay aims to offer mentorships to artists and raise more funds for disbursal in future endeavors.
Starland
is on view through Jan. 31 at Sulfur Studios' ON::View Pop Up Gallery at 2301 Bull Street. Visit
sulfurstudios.org
to learn more.