Horizons Savannah, a non-profit summer learning program for students from low-income families, is hosting its annual Horizons Giving Day May 12. This virtual event aims to raise $100,000 and advanced giving has already begun. Giving Day is Horizons' biggest fundraising event of the year, and local businesses are offering exclusive give-back opportunities to the local community to encourage participation and support. Ghost Coast Distillery is hosting a Ghost Coast Gives Back benefit concert from 4-7 p.m., May 15 featuring live music, spirits and a barbecue food truck. One dollar from every drink sold will be donated. In addition, Papa Murphy's is donating 25% of every carryout order picked up on May 12 when customers mention their support for Horizons Savannah. An anonymous donor has also committed to matching the first $25,000 raised dollar for dollar. The funds raised will enable Horizons Savannah to continue the mission of partnering with youth, families and community to enrich the lives of students with the joy of learning, the skills for success and the inspiration to realize their dreams.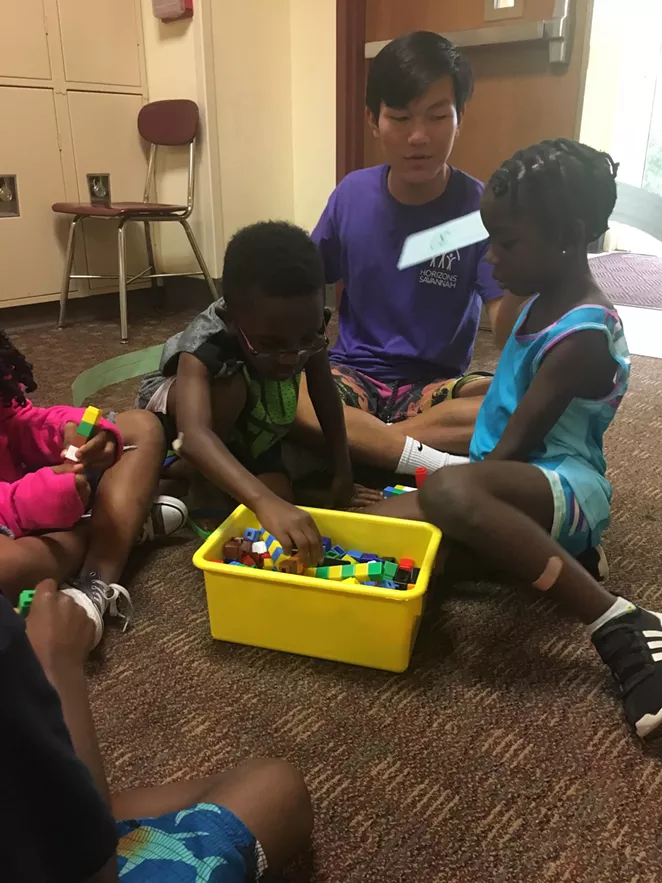 "We only serve public school students who are income qualified, but we also serve under resourced families in the local community," said Christy Edwards, Horizons Savannah Executive Director. "A student may have academic struggles, but our focus is on learners of all abilities. The majority of our students are far behind grade level because those are the kids who are getting the least amount of resources in general." Students attend the summer program, not to be confused with summer school, Monday-Friday focusing on three main components: academics, social and emotional learning and swimming. "Academics are focused on math, reading and science with grade level content and project-based learning," Edwards said. "The second piece of the puzzle is social and emotional learning focusing on the whole child, building resilience, being a good friend, being a part of your community, and being a good citizen. The third component teaches all students to swim and learn basic water safety through competitive swimming and lifeguard instruction." Horizons Savannah was founded in 2002 and is celebrating its 19th summer supporting almost 300 K-8 students each year. Long-term relationships are built providing continued support through high school and beyond. Athena Hamilton joined the Horizons Savannah family while in second grade and graduated from South Carolina State University in the Fall of 2020. "Horizons has had a profound impact on my life," she said. "By incorporating fun activities into the curriculum, academics became relaxed and student driven." Returning after high school as a volunteer and co-teacher allowed Hamiliton to improve leadership skills, interpersonal communication and patience. "I've also built great connections with adults at Horizons," Hamilton said "I still keep in touch whenever I need advice on school, life, or just to chat."
Horizons Savannah parent Jennifer Sams feels blessed to have two children who participate in the program, Jenniya, 16 and Jaida, 12. "As the saying goes, it takes a village to raise a child, and Horizons Savannah is definitely a part of my village," Sams said. "Horizons is more than just a summer camp. It gives students the opportunity to continue to strive academically over the summer while still having fun." Donating to Horizons Giving Day will allow students like Athena, Jenniya and Jaida the opportunity to attend next year's summer program. Although slots are filled for this summer, families can apply to attend next year by submitting an application online with decisions being made in early 2022.
To make a Horizons Giving Day donation, visit Horizonsgivingday.org and search for Savannah.