ON JANUARY 20 at the Unitarian Universalist Church of Savannah, a group of top-notch local musicians will be getting together for an incredible cause, and in honor of the greatest civil rights leader in history—Martin Luther King, Jr. Donations collected at the 2 P.M. event will benefit the MLK Jr. Observance Day Scholarship Fund.
Led by singer Huxsie Scott, the church's We Are One Social Justice Concert is set to feature a lineup of musicians that include bassist Marc Chesnow, pianist Eric Jones, guitarist Bill Smith, drummer John Williby, and choirs from both the UU Church and Savannah State University.
As in years past, the concert will, of course, include a set list of songs that address themes of love, hope, unity, and social change.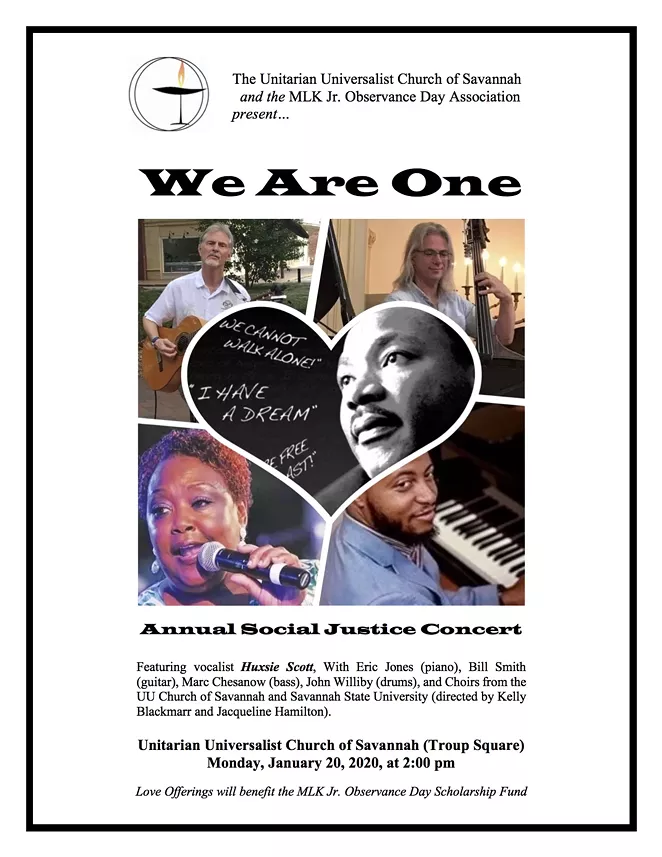 "There is a wealth of songs that talk about people working together and coming together," Scott tells Connect. "I'm a retired educator and taught social studies, and I always viewed myself as an agent of togetherness. That's how I decide what songs to do."
Scott, who has been involved in the concert for the past three years, says she has a few ideas for what might be in the set this time around.
"One that I'm thinking about doing this year is by the Pointer Sisters, and it's called 'Yes We Can Can.' It's an incredible song for encouraging people to work together. There are so many songs like that," Scott says.