Featuring notable members of Doyle Lawson's band and the critically acclaimed group Mountain Heart, Appalachian Road Show hasn't been together long but is already garnering buzz in the roots music world for their unique sound and stellar musicianship.
The band can tether between straight up bluegrass, old time music, and traditional Appalachian tunes in a way that has given them quite the reputation in Nashville and beyond.
Banjo player Barry Abernathy, mandolinist Darrell Webb, fiddler Jim Vancleve, bassist Todd Phillips, and guitarist Zeb Snyder are all veterans in their own right who have played with the best in the business, and their combined efforts as Appalachian Road Show marks a new and exciting career chapter.
Ahead of the band's performance at Randy Wood Guitars, we spoke to Abernathy about all things music.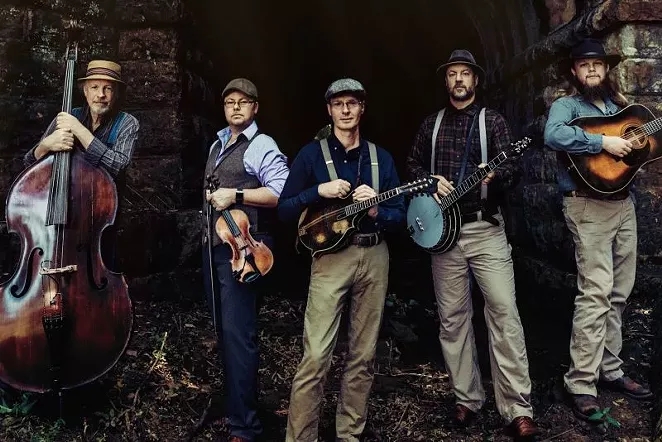 This particular group hasn't been together very long, right?
I'd been out of the business after playing music for my whole life. I'd been in a band for 17 years called Mountain Heart, and we left in 2015. Jim [Vancleve] went and played with Josh Turner for a few years, and we started this band last year. We recorded last July or August, and released the record in October. We started taking bookings and working in February of this year.
It was slow the first few months, but then things picked up. August and September were a whirlwind, and I've already booked over 40 dates for next year.
What would prompt you to leave a band that you'd been in for 17 years? Were you looking to do something different?
Yeah. You know how bands go—artistic [differences] were definitely part of it. But I was raising kids, too. I had two girls who, at the time, were 14 and 11 and are now 18 and 15. I left and stayed gone for about four years, but the itch was just too strong. It's all I've ever done. I'm 50 years old, and I started when I was 21. I need to be creative and be in the studio—that's what drives me.
Me and Jim talked about it last year when he was still with Josh Turner, and he was scared. He left a good paying country job with steady work. But at the same time, he knew that we had a fanbase from the Mountain Heart days so there were people who'd be interested. We were two of three original members of that band.
We wanted to come back to our roots because we knew that was where the people who listened to us were. So that's kind of where it started, but the biggest thing that launched it was the desire to play the kind of music that we cut our teeth on. Stuff that actually originated from Ireland, England, and Scotland before they settled in the Appalachian Mountains.
The history of Appalachian music really is so fascinating, because there is a definite link from Celtic music, etc. When you first started putting this concept in motion, how did you approach writing and even researching this lineage of music?
I'll just go researching different artists, genres, rhythms and sounds that were made back then. The lyrical content really has to be there, and it really doesn't matter if it's an old time song or not. We've got a bluesy song on the record called "Broken Bones," written by an Icelandic blues-rock band. My daughter wanted me to take her to their show, and I heard them sing that song.
The content has to be something that would fit this culture and lifestyle. It doesn't have to necessarily be a bluegrass song or old time song, as long as the content fits. We'll put our flavor on it and make it fit into the concept of the band. Darrell writes and Jim writes, so we've got a lot of material.
Tell me about your show and what people can expect.
The venues we're playing on this run are bluegrass venues, so we'll start out playing a bit more bluegrass up front. Then we'll maybe tell a little story about how the Appalachian people came over. When they got to the mountains, it was hard traveling. A lot of them got into the mountains and kind of stopped there.
It was about the time that the slaves were freed, and they had their own style of music and culture. It was different than the Irish and English people. But all of those people met and the sounds started coming together, those were the origins of bluegrass, old time, and country music.
It's really cool that there's this historical aspect to the show that makes it a bit different of an experience.
We actually just booked our first theater show—when we started this we actually wanted it to be more of a theater production with maybe a couple of actors, a backdrop, and a couple of screens. We're going to try to turn it into that within the next year, but we just booked our first theater show and are going to tell the whole narrative of the songs we've recorded. That's where I hope to take this. I really want to make it a high-energy and informative concept.
cs