NOW in its eleventh year, SCAD deFINE ART brings contemporary art from all over the world to Savannah.
deFINE is one of the biggest events for SCAD, but what's it all about? We hit the highlights for you below.
It's the eleventh year of the program.
deFINE began as a way to bring contemporary artists to Savannah and allow students to learn from them.
"SCAD deFINE ART hosts creative leaders revolutionizing contemporary art and culture, giving SCAD students and the public intimate access to diverse practices," says Kari Herrin, Executive Director of SCAD museums and exhibitions. "Exhibiting artists infuse the museum with unconventional perspectives and help cultivate the next generation of cultural innovators here at SCAD."
This year has one of the most diverse lineups yet.
This year, nine countries are represented by the exhibiting artists, including Suriname, South Africa, and Iceland. The artists also vary in their respective ages and points in their career, from recent alum Xavier Robles de Medina to the prolific Anna Maria Maiolino.
The week starts with a block party.
SCAD deFINE ART kicks off Tues., Feb. 18 at 6 p.m. at the SCAD Museum of Art. In addition to viewing all the new exhibitions, see an illustration battle between SCAD departments and a special appearance by drag artist Thorgy Thor.
deFINE will also feature two panel discussions: a conversation on finding joy in art on Feb 18 at 11 a.m. and a presentation on commissioning work on Feb. 20 at 11 a.m., both at the SCAD Museum of Art.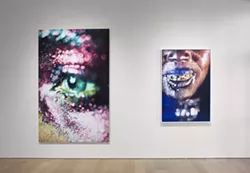 Marilyn Minter is the honoree.
"Nasty Woman," opening Feb. 11, is a selective survey of Minter's five-decade career. Minter is an icon of feminist art—the title of her show is a clear reference to comments made by Donald Trump—and has pushed back against the male consumerist gaze.
She'll give her keynote lecture Wed., Feb. 19 at the Trustees Theater, to what's sure to be a packed house. The event is free, but make sure you get there well before the 6 p.m. start time.
The exhibitions cover a wide variety of artistic styles.
Wong Ping's exhibition, "Wong Ping's Fables," consists of two large-scale animations that use anthropomorphic animals and objects to tell the stories of human nature and morality. The colors are bright and cheery, but the underlying stories are dark and profound.
Los Angeles-based Kenturah Davis' "Everything That Cannot Be Known" is featured at the Walter O. Evans Center for African American Studies. Her graphite and paint figures are blurred and almost ethereal, a commentary on the representation of black people.
Anna Maria Maiolino's "Por um fio (By a Thread)" explores the full range of the artist's full career. A native of Italy and a resident of Brazil, Maiolino works in several different media to comment on connectedness, intimacy and creation.
Raúl de Nieves' "Reemerge the Zero Begins Your Life, Eternal is Your Light" turn the museum's jewel boxes into shrines that reference Catholic and Mexican motifs made with opulent, eye-catching materials.
Rodrigo Hernández's "A Moth to a Flame" was commissioned for deFINE and responds to Filippo Marinetti's idea that "movement destroys the materiality of bodies," in the Manifesto of Futurism. Hernández responds to the idea with his immersive, avant-garde installations.
Xavier Robles de Medina's "Wan Destination Wanhoop" comments on immigration and colonization through stills of video documentation of flooding in his native Suriname.
Igshaan Adams' "Getuie" creates large-scale sculptural weavings to explore materiality and identity. It's the South African artist's first solo museum exhibition in the United States, and the title translates to "witness" in Afrikaans.
Icelandic artist Shoplifter's "Chromozone 2020" uses synthetic neon hair to invite her viewers to return to the playfulness and optimism of childhood.
Charlie Billingham's "A Rake's Progress" dives into the vault, using William Hogarth's 1735 etching collection of the same name as source material for his bright, flamboyant paintings.
Most of these exhibitions are on view through the summer.
Can't make it to the museum during deFINE? No worries, the exhibitions will be on view well past this week. Visit scadmoa.org for full details.
There are two opportunities to view SCAD-related work.
"Hypothetical Function" is an exhibition of work SCAD alumni, faculty and staff that explores work that can be both fine art and functional, and it will be on display at Gutstein Gallery. "Aura and Invention: Alternative Processes in Photography" consists of work by SCAD photography students and recent alumni from both Savannah and Atlanta campuses. It will be on view at Alexander Hall through Feb. 23.
CS