NO ONE can accuse Ben Maher of lacking vision.
Since 2009, Maher has been working (through his nonprofit, Savannah Skatepark) to bring Savannah its first free, public skatepark.
Maher imagines a 13,000 square foot concrete oasis at Lake Meyer Community Park–a place that will draw back the skating legends who once flocked here for the Savannah Slamma ("If you've never heard of it, it was like the X-Games before the X-Games existed," Maher tells me.) and nurture the young skaters who live here but lack a place to practice their craft.
While the skatepark will be free for anyone to use, it's certainly not free to build.
Acquiring land, having plans engineered, getting permits... The expense adds up even before you factor in the cost of the actual park: concrete skateparks cost about $50 per square foot to build. I'll let you do the math. (It's expensive.)
To pay for all this, Savannah Skatepark has had to prove themselves as a formidably resourceful nonprofit. Their fundraisers range from a T-shirt partnership with Marc Jacobs to movie premieres at the Sentient Bean to good old-fashioned grant writing–in 2012, Savannah Skatepark received a $25,000 Tony Hawk Foundation Grant which, they hope, will lead to an appearance by Hawk himself once the park opens.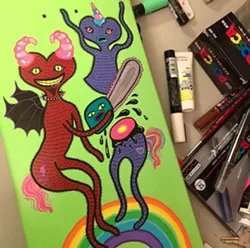 Their most successful fundraisers, though, have been the ones that tap into the rich symbiosis between art and skating culture.
Some of you might remember All Hands on Deck, a silent auction held at Little Beasts Gallery (which once occupied the space now held by Non-Fiction Gallery) in October 2011. Over 50 local and national artists donated skate decks to be sold, the proceeds from which all went to Savannah Skatepark. All told, the auction raised over $10,000 for the project.
This time around, Savannah Skatepark has decided to go even bigger. ("The biggest art show of this kind in Savannah ever," Maher called it.) Art Decko, their second silent auction of skate deck art, includes decks from over 100 different local artists.
Art Decko, created in partnership with 13 Bricks, Sulfur Studios, and Art Rise Savannah, will be held at Sulfur Studios on Friday, April 29 from 6 - 10pm. (The auction will end around 8pm but the party will keep going for a while.) You can get in to see the art and pick out your favorites during the preview hours from noon until 5pm.
The exhibition's contributing artists include Aaron Unser, Christian Roy, Cleonique Hilsaca, Debora Oden, Jana Cariddi, Heather Macrae, Michael Ezzell, Lisa Ocampo, Panhandle Slim, Troy Wandzel, and Axelle Kieffer, among other local favorites.
If you recognize at least a few of those names you'll know you've just been guaranteed a huge range of subject matter, color palettes, mediums and styles. Even if you're not into skating, skating culture, skateboard deck art or any of that, this show is worth seeing simply as a sampler of the many different art flavors in our community.
Initially the brainchild of Sulfur Studios' AJ Perez and Emily Earl and 13 Bricks' Alfredo Martinez, Art Decko was envisioned both as a way to expose and celebrate some great art, and as an opportunity to strengthen the ties between some of Savannah's up-and-coming community businesses/organizations.
"Bringing all these people together to work on a single project – it's something that needs to happen every now and then," Earl tells me.
"We all came up with our lists of who we wanted to participate–13 Bricks came up with their people, Sulfur came up with our people, and then Ben came up with a bunch of people... 13 Bricks is also going to be involved in exhibition design and curating the show."
I was immediately curious about the criteria for deciding which artists received invitations to participate. All Hands on Deck included a deck with the image of the Virgin of Guadelupe outlined in neon Lite-Brite pegs.
Realistically, how do you find someone who can beat that?
"As far as what we wanted to see in our list–a newer group of people, some people who haven't been represented before. Definitely some young kids, because ultimately the park is for them," Maher says.
Among the younger artists featured are Tex Stanton and Johnny Rio Stanton, Panhandle Slim's sons.
Lest you think the show will just be filled with colorful, 2-dimensional, painted decks, I'm happy to report that some of the participants (blessedly) got weird with it. Several of the artists turned their decks into chairs, one is turning their deck into a piece of jewelry, and one has apparently completely deconstructed theirs into some sort of abstract sculpture. (You can check out some of these, as well as progress shots of others, under the Instagram hashtag #ArtDecko912.)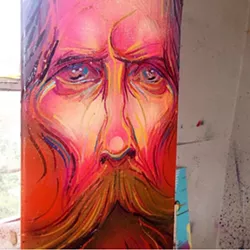 Other, more conventional, standouts include Michael Ezzell's stunning multi-portrait painting, Jana Cariddi's creepy/funny creature painting, and Christian Roy's textured and tasseled pink crepe assemblage.
According to Maher, Savannah Skatepark hopes to begin construction on the park by Autumn 2016. To do so, they'll need to keep raising funds–probably right up to the deadline if they want to get as much concrete paradise as they can. He's hopeful that Art Decko will be able to help.
"I'm so appreciative of every artist who's ever been involved with any of this," Maher says.
"It's also cool to see young entrepreneurs like the people at Sulfur and 13 Bricks say, 'Hey, we're trying to build this community here, so let's help someone else who's also trying to help the community.' That's the best part about Savannah, right there."
cs