Ashley Longshore is an internationally recognized artist, dubbed the "feminist Andy Warhol" for her contribution to pop art. She is an art collector and the author of two books, including her recently published "Roar!: A Collection of Might Women."
Longshore's bold style and unfiltered social media presence have made her well known for being 100% herself. Longshore will be a guest at SCADStyle 2022 and will be speaking at "Iconic: Being Authentically You in the Art World" at SCAD's Trustees Theater on Tues., April 5.
Longshore talked with Connect Savannah about visiting Savannah, staying positive and inspired, and making art your life.
So you're coming to Savannah for SCADStyle. Are you excited?
Normally I would use a massive expletive right here, but for the sake of keeping this PG, I was very, very excited. Enthusiasm and gratitude are my two favorite things, so I am excited and I'm grateful for this. I cannot wait to get there.
I love SCAD so much, I've been obsessed with SCAD.
And now that I'm at this point in my career, you know, with the arts being my life as an artist and an art collector, I have the opportunity to come and see students and to just be in the abyss of creativity. It's 'art-gasmic' for me. It's my life. Art saves me every day, so I'm very, very excited.
You'll be speaking to lots of art students. What will you be sharing with them?
Being able to speak with students and to impart my own experience about putting myself out there- not just all the good stuff and the yeah, yeah, yeah- but the opportunity to talk about where you need to be in your head when you're putting yourself out there, what it's going to be like, how we deal with rejection, what it takes to continue moving forward when you're misunderstood, how you keep a very positive mental monologue.
Every morning when you wake up, when your job is to create, how do we do that? How do we stay there? You know, when it feels like it's the end of the world, or we're terrified of being able to pay our bills, or there are goals that we want to hit, how do we continue to be our own best friend and push ourselves out there, so that we have careers, so that we're entrepreneurs?
And you know, when you're a student, you're not jaded. You're hopeful and optimistic and positive about the future. And that is something that I have every day when I wake up, and I just love to impart that on this emerging creative community. It's very important.
You are known for being 100% authentically you. Have you always put yourself out there like this, or was there a time when you struggled to do so?
Listen, the hotter the fire, the stronger the steel. Daddy didn't write a check, I had to figure this out on my own. And my entire life, I was like 'What am I going to do? What am I going to do? I don't want to be in a cubicle. Working in a corporate environment isn't for me.'
I have the freedom to be an artist, which basically means that I have to be 100% me, no matter what. And you know, sometimes when you're a foul-mouthed, self made artist, you can certainly be misunderstood. But you always find the people that get you and love you. That's the whole thing about art. It's the intimacy of connectivity. You don't have it with everybody, but the people you do have it with, it's very special.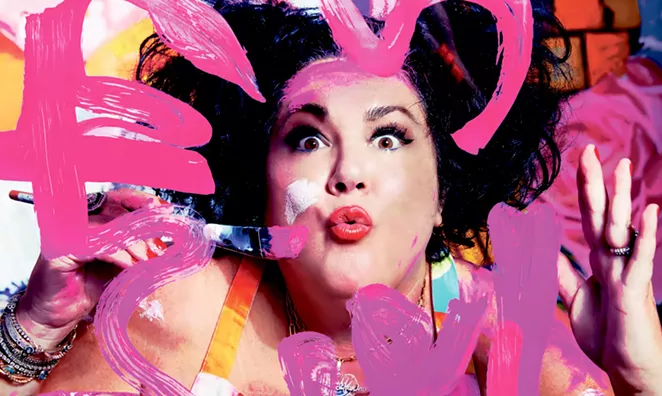 SCADStyle is open to the public. What do you hope that people who aren't artists by profession take away from listening to you?
I think it's [the lesson] that maybe the weirdest thing about us is the best thing about us. To be inspired to just go out there and know that there's infinite love to be had, infinite people to understand who you are and to celebrate you.
There's no greater thing in this world than art, so whether it inspires someone to be a collector, or to try painting, or to just have a different perspective on the importance of arts, I just want to get people to feel fired up about life. You never know what could happen in a day, you know?
You have such a positive attitude. Do you ever hit a bump creatively or are you ever just not feeling it?
Well, there's an endless amount of inspiration in the world, I think you just have to stay open to it. We all have horrible days and things go wrong, but I really don't find a shortage of inspiration. There's lots to say, there's lots to create. And I'll never have enough time in my lifetime to do everything that I want to do.
I saw this quote that I can't stop quoting and I love it so much. It was 'You always know how much money you have. You never know how much time you have left, so spend it wisely." We really have to honor our creativity and our authenticity and stay hopeful and positive, you know what I mean?
The most important thing as an artist, you have to choose, you have to know, who is your God? And I don't mean from a religious standpoint, but like what is your mission? Every day, is it [your mission] to make money? Is it to make art? Is it discovery? Is it inspiration?
I can tell you, in my own career, as my company's grown and throughout this pandemic, if you wake up every day and it's about money, money, money, money, what are we going to do, money, money, money- That is a vacuous hole.
Anxiety, depression, exhaustion, burnout- I have felt all of those things massively, as we all have. Making art your life is the greatest thing. I'm in New York right now, I go to the theater three times a week, I'm traveling as much as I can, I want to invest every second I have into art.
What does your morning routine look like?
I wake up. I'm very happy when I wake up, generally. I'm very excited. I get on my phone, like we all do. I make my post. I try to put a little good energy out there in the world, then I put on music- boom! Then I make a matcha. I love matcha. And then I make my plan. I keep all my art ideas in my phone in my notes section. So, then I'll start planning phrases and things that I've thought of, or different images.
I'll start designing them on my computer and pulling them together. And then I go crazy and I paint like a wild woman. There's usually a lot of cursing and dancing throughout the day. Of course I'm dealing with my team throughout the day, which I love more than anything. And a lot of times, I go get drunk and have really wild dinners with my friends.
What's your drink order?
Always a Martini. I love a Martini. And I do drink a lot of champagne, but God, champagne has so much sugar, and sugar is the devil.
What do you plan to do while you're here in Savannah?
Well, I believe I have a pretty full itinerary. I know I'm doing an interview with Miss Paula Wallace, and I know I'm speaking to a group of students, and I'm taking a tour of the facilities. I plan on bringing all of my credit cards and hopefully buying some art and adding it to my collection.
My favorite thing in the whole world is investing in art. My dream as an artist is to have a career like Andy Warhol and to leave a legacy like Peggy Guggenheim.
Today, we launched the Ashley Longshore Award for Artistic Excellence through the YoungArts Foundation, and it's a $25,000 unrestricted cash award to artists who are 25 years old and older. This year, it's in honor of my late friend Patrick Beals. I plan on doing a lot more of that in my career [along with] buying more art, building a collection, so that when I'm dead there's something where people can come in and see all of the art that inspired me throughout my lifetime. Kind of like the Egyptian pyramids, you know, I'm doing that but with art.
For a full event schedule and guest list, and to purchase tickets to SCADStyle, visit scad.edu/scadstyle2022