Cities often take on the vibe of their leading industries. Los Angeles, home to Hollywood, is known for glitz and glamour. New York, the nation's capital of commerce, is very fast-paced and competitive. Washington, DC, the seat of government, is predictably dull. Savannah has a dominant tourism industry well-known for delivering fun, lax drinking rules, and Southern hospitality. Swap out the regional reference for a heaping dose of sensuality and you've just described Las Vegas. Add that naughtiness to Savannah and you get "What Happens in Las Vegas…," a new show by local burlesque troupe The Tied and Tasseled Fetish Cabaret. Born six years ago to two bartenders at the sorely-missed Bayou Café, T&TFC has been producing six shows a year on a regular basis. Unlike traditional burlesque, they are squarely in the neo-burlesque movement that eschews much of the feathers and rhinestones of striptease and incorporates fetish, cosplay, comedy and drag. There is, of course, crossover between the two. Indeed, the term burlesque is rooted in the Italian burla, meaning joke or ridicule. "Neo is about being wild and making a mess, playing a character, telling a story," said Mandi FruFru, performer, social media maven and co-manager of T&TFC. She first came across the troupe in 2015 at a Wormhole show and liked everything she saw. "I was into cosplay in high school, and what I saw inspired me," she said. "It was all things I love meshed into one." Soon after, she auditioned and was part of the group. Since then, FruFru and the merry band of mischief-makers have been performing here and on tour in Atlanta, Augusta and Jacksonville, Florida, often to packed rooms of longtime fans and new converts. T&TFC also hosts fetish parties, a widely misunderstood concept in an entirely different category than sex shows or pornography. One take on a fetish party is it's largely similar to any other: a group of people gathered to talk, see friends, make new ones, share a joke, have fun, listen to music and probably have a glass or three of social lubricant. The difference is the addition of performance, often more than one simultaneously, and what it brings out in the people watching. For example, you might see acts of flogging, mummification, foot worship and dominance. Whether you find it erotic or not, it will make you think — if not deeply explore — what turns you on.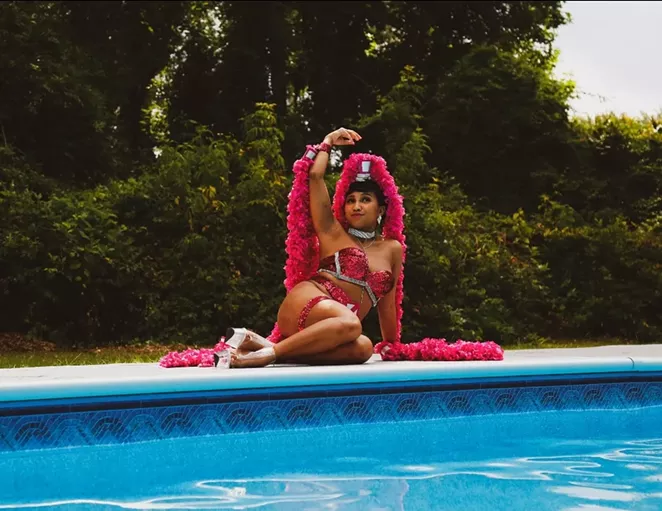 This translates to the theme of the upcoming show. The behavior of people at fetish parties is reflected by many who visit Las Vegas looking for fun. "Some are discreet, some just meet and mingle, some unleash their wild side," FruFru explained. The entire troupe works together brainstorming ideas for shows, but majority wins and all take part. Previously T&TFC themes have included Goth, metal, and multiple iterations of fetish. For Sin City inspiration FruFru dove into movies and music about the city. Her routine is based on Nomi Malone, the main character in Paul Verhoeven's cult classic "Showgirls," a film she describes as "perfectly terrible." Despite a poor box office and critical lambasting, that film was very profitable from home video sales for MGM, who got the last laugh. Apparently, strippers, sex, camp and Vegas appear to be a popular combination. For FruFru, the creative process is to take that inspiration, visualize the performance and "bring it to life as hard as I can." An extra treat at the show will be the inclusion of guest performers Blair Williams and Treyla Trash, two Club One regulars. They will also be taking part in a free drag show in the Club One basement after T&TFC, which all are invited to. After the delay everyone experienced last year, T&TFC were back at it earlier than most live performers, boldly playing to limited audiences at Club One in June 2020. Now in full stride again, "What Happens in Las Vegas…" is their third production of 2021. The Savannah burlesque scene is quite robust, and also includes The Downtown Delilahs and Savannah Sweet Tease. A burlesque festival is planned for December, with a live and a virtual night. For immediate needs, get your naughty self to Club One on Thursday night. "You'll definitely laugh and see something you've never seen before," FruFru said. It's a Vegas show. Bet on it.
Tied & Tasseled Fetish Cabaret presents "What Happens in Las Vegas…" Thursday, 8 p.m. at Club One at 1 Jefferson St.