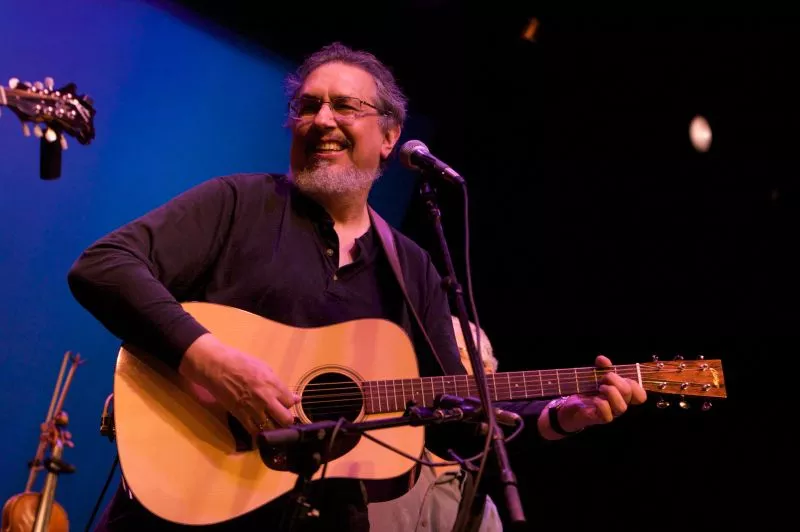 HE FORMED a career performing with the likes of Bob Dylan, George Harrison, Jerry Garcia, Willie Nelson, Carly Simon, Ringo Starr, John Prine, and Gordon Lightfoot.
He was even a guest at The Band's legendary concert The Last Waltz. Then, in 1980, he bid farewell to music.
With his ability to play lead and rhythm guitar simultaneously and stun audiences with his abilities on a variety of instruments, David Bromberg helped define Americana in the '60's-'60s heyday of folk and roots rock. But after so many years on the touring circuit, he hit a wall.
After studying violin making in Chicago, he opened a shop, David Bromberg Fine Violins, in his new home of Wilmington, Delaware, settling into a new life away from the stage, studying and repairing beautiful stringed instruments from around the world.
But playing those strings is in Bromberg's blood. In 2007, he returned with a new solo LP, Try Me One More Time, his first studio recording in almost 18 years. The album—just Bromberg, his guitar, and vocals—earned the living legend a 2008 Grammy Award nomination for Best Traditional Folk Album. The songwriter followed up with 2011's Use Me, a collection of songs written and produced by Bromberg's A-list circle of musical friends.
He even invited those pals to perform on the record, resulting in a talent-packed LP with the likes of Dr. John, Vince Gill, The Band's Levon Helm, Jon Hiatt, Tim O'Brien, Linda Ronstadt, and Widespread Panic supporting Bromberg.
His latest release is devoted to the multi-instrumentalist's first love: the blues. Bromberg returns to Randy's Pickin' Parlor to perform those songs and more with his Quintet.
We chatted with the folk hero about calling it quits, learning to sing, and the power of the blues.
The Blues The Whole Blues and Nothing But the Blues almost works like a primer for American blues music. Was that your intention when you started the project?
Most of my recordings have had a variety of genres on them, so if I was going to do an album of all-blues, since blues creeps into a variety of genres, I decided to try and cover the territory.
How did you make your song selections?
They were tunes I've liked for a long time, so I made a list of them and went over them with Larry Campbell who produced the recording, and it was kind of interesting, because one of the songs in there, 'How Come My Dog Don't Bark When You Come 'Round?'—there is a different song with the same title that was written in 1955 by Prince Patridge and has been recorded by everybody and everybody's brother. But the latest was by Dr. John. It was a great recording, but a different song. So when Larry saw it on my list he thought it was the same song.
I explained it and he said, 'We gotta do it.' But the verse was all I could remember. I figured we'd find the rest of the lyrics online, but they're not online! Not only did I not record it way back when I learned from a lead sheet when preparing for an album that went a different and I didn't record it—no one else did.
There's a guy who has a recording of pretty much every live show I ever did, and I asked him, and he had it—'Oh yeah! The show in Minneapolis!'
Wow, that's fortunate!
And I still don't know who wrote it!
How wild! So were a lot of these songs you had played in the past like that, or songs you'd been wanting to cover?
Some of them were things I'd been playing before, some are things I wanted to play for quite a while. There's a couple others that have an interesting background. I'd been doing an old country song, '900 Miles,' and we'd been doing it as a country or old time song and I wanted to do a Howlin' Wolf tune, but all my favorites had been done to death. So we decided to change '900 Miles' and make it into a Howlin' Wolf-style, and it worked well.
The first two on the album might be my favorite, the old Robert Johnson tune 'Walkin' Blues.' I wanted to do something different using that lick that kind of dominates the song, and Larry had just produced Levon [Helm] not too long ago doing the song I wanted to do. I couldn't do that with Larry, and I wanted to work with Larry, so why not use the tune the lick originally came from?
I understand you took vocal lessons a while ago. You demonstrate a real range and variety on this album.
My singing has gradually gotten better and better. From where I started from, that was the only way it could go! It's at a point where I've begun singing viscerally.
Perfect for the subject matter. These are classics and standards on the record, and they sound so fresh. When you hit the studio, how do you make these your own?
It happens in all different ways. I may have a clear picture of exactly what I want to do, and inevitably Larry will come up with an idea to change it. Say I want to do this tune—Larry will suggest a way to position it, and usually it's perfect. Sometimes I say no and we switch it around, but Larry is pretty extraordinary.
It sounds like it's a true collaboration with y'all.
I'm proud to collaborate with him. He's a phenomenal producer.
As you said, the blues filters into so many different styles of music. What makes a song a true blues song?
There are a lot of things that can. There are certainly chord structures that are typically blues, but for me, the thing that defines the best blues is always irony. If there's no irony in it, I don't see any reason to do it.
You quit music to learn how to make violins. There's something almost poetic about that—it must be a very different way to look at and interact with an instrument.
I got burned out. There was a point where I was on the road for two years straight without being home for as long as two weeks. I was too dumb to realize it was burnout, or I would have taken off a few months, you know? I just realized that when I was on the road, I wasn't writing, practicing, or jamming, I wasn't doing anything a musician does. So I thought I had to find another way to live my life. I didn't want to be a guy who drags himself onstage like a bitter imitation of something he used to love. I got into something else I love to do.
Like music, there's no bottom to violin identification, which is part of the violin world I was aiming for and why I went to school to learn how to build them. It's wonderful because I get to handle beautiful things all day.
You've truly done it all. When do you feel the most fulfilled as a musician?
There's a thing when you're playing at your best where the music seems to come from somewhere else and float through you. That's the best feeling in the world, and it comes in different times and ways.
cs