Peter Roberts, the magician behind the endless stream of brilliantly executed art shows at Savannah's Location Gallery, is a wordsmith par excellence.
In fact, in last February's inaugural show in the Gallery's new space (on the busy corner of Liberty and Bull Streets), Roberts showed his usual wit and humor with his solo show "Pundred."
He had painstakingly created one hundred intricately cutout visual representations of one hundred puns.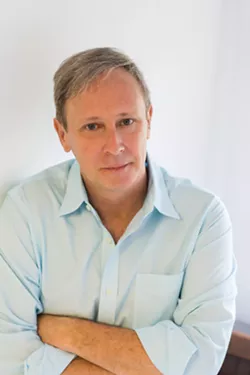 It is often this love for words that forms the genesis of the art exhibitions he so professionally curates. This Friday's show "HYPE" is no exception. HYPE's concept was born from the idea of considering what constitutes art.
Roberts believes all artists get annoyed when someone considers a framed poster of a popular saying or meme to be art. Especially when the same investment could purchase an original painting or sculpture.
He considers such memes as "Do the right thing," Hang in there, baby," "There is no I in teamwork," and "Just Do It" as particularly cloying and "cringey." However, there have been other sayings like "Don't Tread on Me," "Keep Calm and Carry On," or "We Can Do It" that are more enduring and universal.
To bend the perception of value, Roberts asked participating artists to reinterpret these sayings and memes, and to make art that was directly inspired by them.
The only requirement was that text could not be used in the work and whatever saying motivated the art is the title of the piece.
"This gives the viewers a 'wobble' between the art being seen and the title being read. In that wobble space, the connection of 'This is art' is engaged," says Roberts. "It's definitely going to be our most experiential show of the year and that's why I feel it's important."
As always, the show will benefit a local nonprofit. It feels so fitting and appropriate in this midterm election year filled with the hype of politicians and the propaganda of warring parties, that profits will be donated to The League of Women Voters of Coastal Georgia.
This nonpartisan, grassroots organization works to protest and expand voting rights while defending democracy through advocacy, education, and litigation at the local, state, and national levels. Roberts considered the work of the League and how "...they kind of beat down the hype. They ask candidates about policy in an open forum. I think it is so important that people know the candidates, their platforms and what they stand for."
Mediums for HYPE include painting, sculpture, and mixed media and the artists include Stacie Jean Albano, Chariton Alexakis, Lino Azevedo, Jenny Eitel, Maxx Feist, John Harkins, Rob Hessler, Caro Jenk, Deborah Sherron Miller, Melody Postma, Jose Ray, Adam & Michele Stafford, and of course, the Gallery Director himself, Peter E. Roberts who will be showing "This is Your Brain on Drugs," "Give Peace a Chance," and "Keep America Beautiful."
Roberts holds a BFA in Video Production from SCAD and parlayed his love of storytelling into a career in television production. Later he transitioned to the ad sales side, becoming quite expert in ad creation, media buys, ad campaigns, branding, graphic design, and messaging. Ultimately founding his own agency focusing on the packaging and branding side of business, Roberts was the recipient of several Graphic Design USA Awards.
On his connection with realtor Austin Hill, he says, "I'd been doing some graphic work for Austin, and he came to one of my solo art shows and said he was moving his real estate office to Whitaker and wanted to put a gallery in it. He asked, 'Do you want to run it?' He had seen my work doing art auctions for local organizations like the Telfair and Historic Savannah Foundation and seen how I'd raised funds while also paying the artists. His idea was to have a gallery that would raise money for nonprofits. And so, that's what we did."
Location Gallery opened in 2016 in Hill's former offices in the Design District on Whitaker Street.
"There was such a need to show local artists because there aren't a lot of avenues for them. It's a way to help them put some money in their pockets and help foster what they are doing creatively." As mentioned above, Hill's business and Location Gallery have since moved to a larger space on Bull and Liberty Streets following a merger with Three Oaks Realty and a subsequent affiliation with Corcoran.
In tandem with serving as Locations' Director, Roberts maintains a successful solo art practice. Best known for his geographical and pop culture inspired 'Headcases' series of cutout art pieces, his lighthearted rows of tiny, stylized portraits are available in the gift shop at the Jepson Center for the Arts and have led to solo shows in Oklahoma City, the Florida Keys and New York City. Roberts meticulously cuts out images on monochromatic paper often with a lustrous metallic surface. He tells me that he can obviously paint and draw, but that "there is a finality to cutting. When it's done, it's done."
The future looks as busy as ever for this energizer bunny of an art promoter.
"I'm getting ready to be part of a group show in St. Petersburg, Florida," Roberts says, while at the Gallery he has shows scheduled out through the end of the year.
Look for Jennifer Nolan's solo show next month and then the annual Hospice Savannah Summer Nights fundraiser on which I've had the pleasure of collaborating with him in prior years. "We'll have multiple artists and hold it next door (at Soho South on Liberty) on August 25. This year it's benefiting the Pediatric Hospice Butterfly Program." He continues, "We'll be doing a large group show in October for Gay Pride Month. And of course, I'll close out the year with the holiday show '$300 And Under' which will again support WRUU."
Stay tuned for the themes of the shows…the fun for wordsmith Roberts is to tie the artwork back to the nonprofit in some way….
"I think it gives the show more strength as then there is something for the artist, the nonprofit, and the patron to talk about. A slight framework is good, but there have been times when I've made artists feel they are back in school and have received an assignment," he laughs. "I've had to learn how to make the parameters a little wider, a little looser, not so specific. Sometimes I overthink things."
HYPE by Various Artists, opens Friday, June 3 from 6-8pm at Location Gallery @ Corcoran Austin Hill Realty, 251 Bull Street. Gallery profits donated to The League of Women Voters of Coastal Georgia. Find out more at LocationGallery.net or Instagram @LocationGallery